6 most important Travel Tips for better travel deals and Worry Free Trips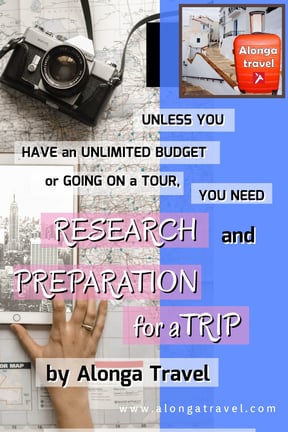 6 most important Travel Tips for better travel deals and Worry Free Trips
If You Want a Worry-Free Trip, You Need Research and Preparation for the Trip.
If you want to enjoy your vacation without worrying about any logistics, you need to do all the research, preparation and booking in advance.
Many claim that they bought a last-minute ticket, threw everything into their suitcase, went and had a great time. And many indeed had a pleasant time. They were on a vacation in some place pretty, what's not to enjoy?.. besides paying way too much for their trip?
If money is no concern at all - then it can be a viable option. Or if you don't enjoy planning at all. However, there are people to help you plan your personal trip for you and still save your money. Or you can join a tour group. There are some good ones on Viator.
But if you need to take money into consideration or you don't have many vacation days, like most of us in the US, or you don't like to follow strict rules of a tour, then you need preparation for a perfect worry-free trip. So let's see what you need to start planning your trip. Here is a quick brief of topics that will help you with your trip preparation. For detailed explanations, click on the corresponding pictures.
However, if you're like most of us - let's see what you need to plan for your trip.
Where to Go on Vacation.
To figure out where to go on vacation, you need to trust your gut feeling and use inspirational ideas from YouTube, Instagram, and Pinterest. When you see something that is calling for you there–that is where you should go. Details are here.
How to Get the Cheapest Air Tickets.
If your destination can be reached by or bus - you need to reserve your train ticket 60 days from the day or travel. You can and should reserve the bus ticket earlier than that to get the cheapest ticket. I will provide links to how to do that here. Otherwise, you need to buy an air ticket. I will show you how to buy the cheapest air ticket here.
Places You Stay on Vacation.
The place you stay on vacation will add or subtract a lot from your enjoyment. Some people prefer to stay right in the middle of everything, and they care little about the size of their room, which is the best for solo traveling. Others like to stay at some remote accommodation. If you make the wrong decision, you might end up feeling lonely, so choose wisely! I usually advice on social accommodations if you're traveling solo. Details of all listed above options are here.
Packing for Trip tips and How to Pack Light.
My favorite topic and my superpower!:) I hope I already turned you into a believer in my about me section? If I haven't yet – please, re-visit here. Or you can click here for my packing advice details.
What is the Cheapest Way to Get around Europe?
The cheapest way to get around in Europe is by a bus. There are inner city buses and intercity buses that take you to different countries in a matter of hours for around $20-30. Trains are another wonderful choice and I will explain which are fast and which are slower and slightly cheaper. There are exceptions, though. Many times I flew from a country to country for $20-25. Flying is usually faster than taking a train, but sometimes it takes the same time. Details are here.
How does public transportation in Europe work ( and Why Use It)
I will share with you points for why take public transportation vs. renting a car. Quite compelling points (in my opinion!:), so please hear me out! For now, just keep in mind that public transportation in Europe is very reliable, keeps you worry-free, has about the same system everywhere and practically always double up as a free tour:). For details, click here.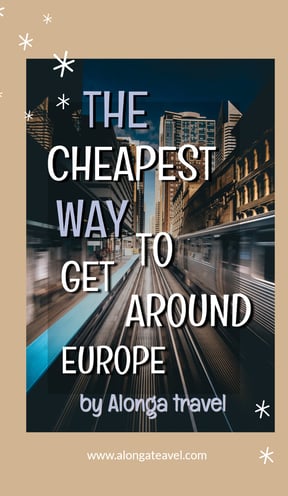 Let's connect on social media!
If you would like to support my work, that would be greatly appreciated! Thank you!
Subscribe to my periodic newsletter and never miss my latest post
Copyright © Alonga Travel 2021