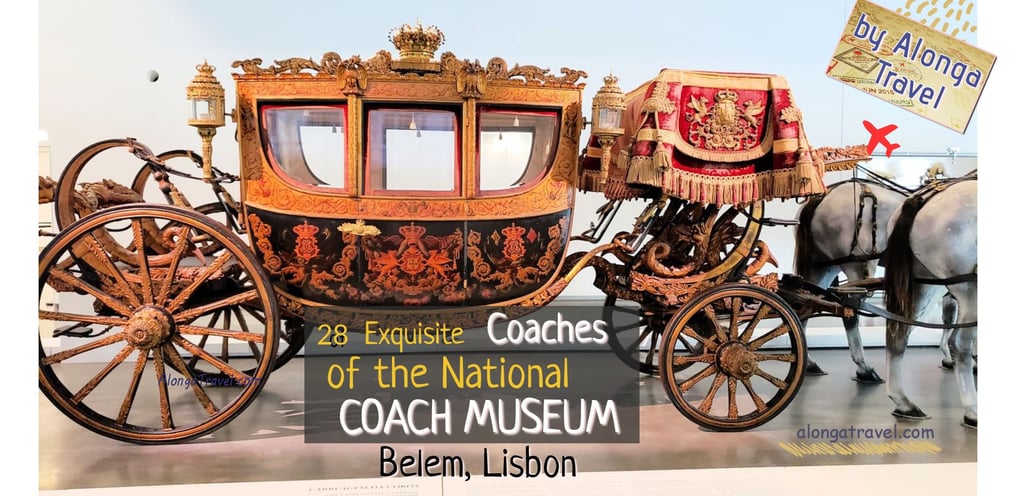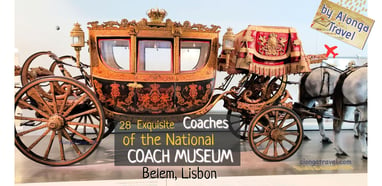 28 Coaches of National Coach museum in Lisbon; the pretty, the cool, and the "too much" carriages.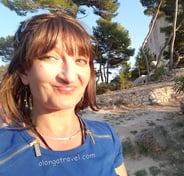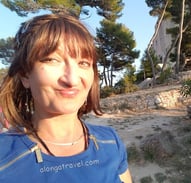 Learn here about all of the horse-drawn carriages (coaches) of the National Coach Museum in Lisbon. Some are really pretty, some are cool looking, and then there are some carriages that could only be described as too much. You decide which are which!
Let me know if you agree or disagree with my description!:)
Hello, I am Tatiana—an architecture addict fascinated with beautiful old buildings and discovering the gems of Europe. Check out my comprehensive travel tips and reviews of the best European destinations and city breaks. Let's connect on social media!
National Coach Museum and it's collection.
What is national Coach Museum of Lisbon?
National coach museum of Lisbon is a collection of over a 100 horse-drawn vehicles, called coaches or horse-drawn carriages. These vehicles were initially made for royalty and their household members to travel or hunt in style from 16th century to the beginning of the 19th century (the first cars).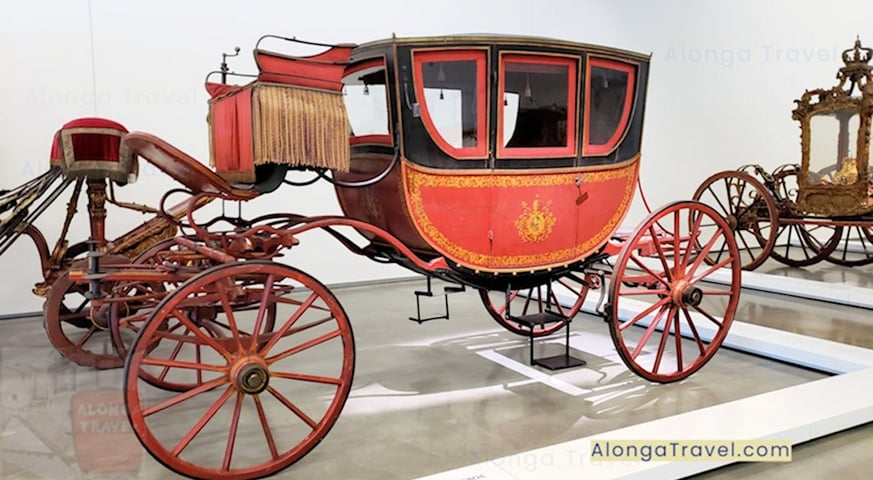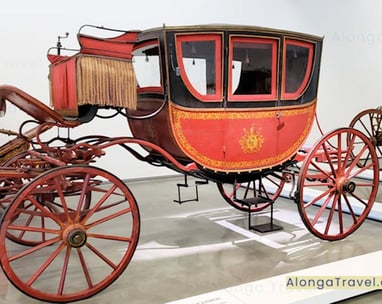 What are the highlights of the museum?
Images of National Coach Museum
Here is a video with some of the highlights of Coach Museum Lisbon Portugal. You can see a description of each carriage below on this page.
History of National Coach Museum
The Coach Museum in Lisbon was founded in 1905 by Queen Amélia de Orléans e Bragança, the wife of King D. Carlos I. It was located in a beautiful neoclassical building known as the Royal Riding Hall of Belém (above), which was designed by Italian architect Giacomo Azzolini.
Originally a part of Belem Palace, the museum showcases the magnificent wealth of the former Portuguese elite.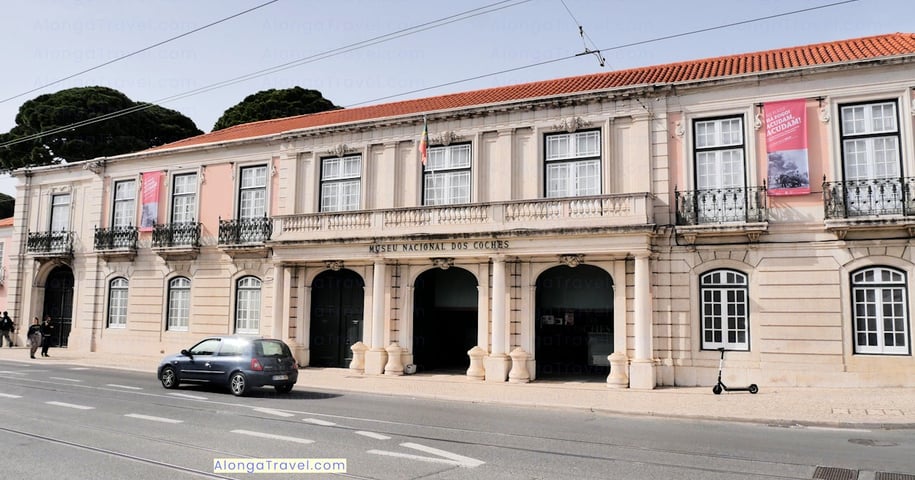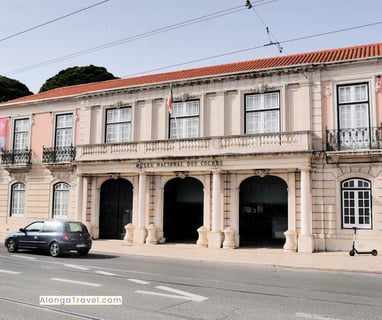 Old Museu Nacional Dos Coches in Lisbon - the Royal Riding Hall of Belém
New Coach Museum building
On its 110th anniversary, in 2015, National Coach Museum was moved across the street, to a new modern building designed by Paulo Mendes da Rocha.
Paulo Mendes da Rocha was a Pritzker Prize-winning Brazilian architect. He has contributed many notable cultural buildings to São Paulo. Read about 7 more architecture projects by Paulo Mendes da Roch here .
Since the new building of Museum Dos Coaches was larger than the beautiful but smallish Royal Riding Hall of Belém, it became possible to display accessories and carriages that weren't previously shown for the lack of space.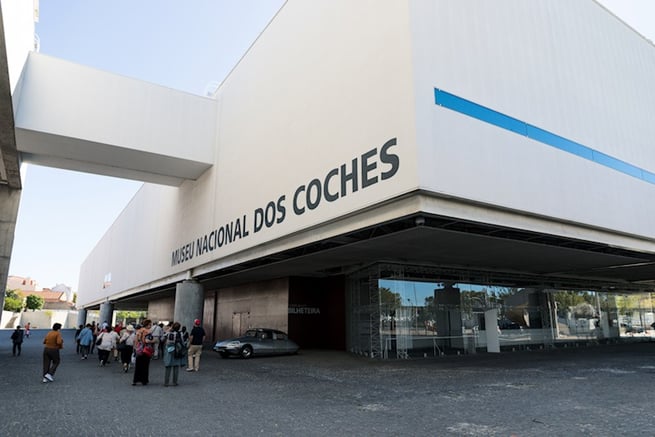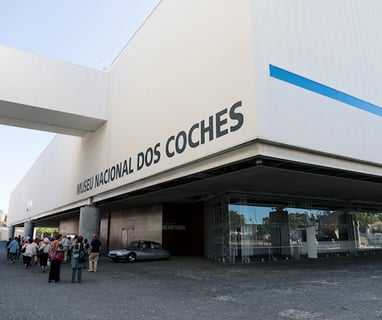 Why you should visit National Coach Museum Lisbon.
You should visit the National Coach Museum because it is an exciting experience for someone with a vivid imagination and a fascination with history.
The National Coach Museum also has one of the largest and most valuable collections of its type in the world and is well worth visiting!
I can now say that I have practically touched the coach in which Pope Clement XI traveled in 1715! This is pretty exciting for anyone interested in history or who grew up reading Alexandre Dumas' The Three Musketeers books!
I'm not sure if actual touching is allowed in the museum or not, as I didn't want to risk being kicked out😊. However, I was close enough to touch, which was quite an experience!
In addition to its historical value, it's fun to mentally try on all the coaches and imagine the right fit for yourself. I absolutely loved having some coaches and imagined all the fun things we (the coach and I) have done together… 😊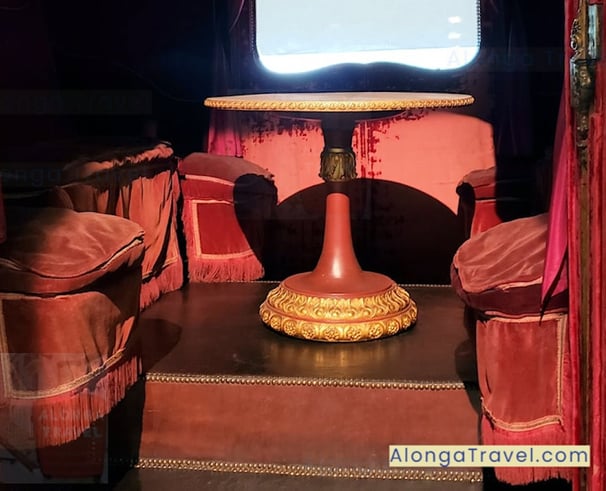 While others made me cringe and I mentally "sent" them to my neighbors (I can be generous at times! 😉), as I had no desire to set a foot in some of them.
The collection of coaches.
Lisbon museum collection includes coaches, berlins, chariots, phaetons, mail cars, sedan chairs and other carriages—all of which are uniquely looking, and some were lavishly decorated in Baroque style. Watch my video of the highlights of Museum Nacional Dos Coaches.
The collection of coaches presented in Lisbon carriage museum.
Let me walk you through some of my most favorite and the least favorite. Imagine YOURSELF trying them on. I am curious if you will agree with my assessments of the coaches or disagree?
When you enter, you notice a collection of slightly… OK, A LOT over-the-top coaches! 😊
That is because the coaches in the museum are displayed in a chronological order and it looks like people in 17-18th centuries had an interesting notion that their coaches should look like their paintings of that time?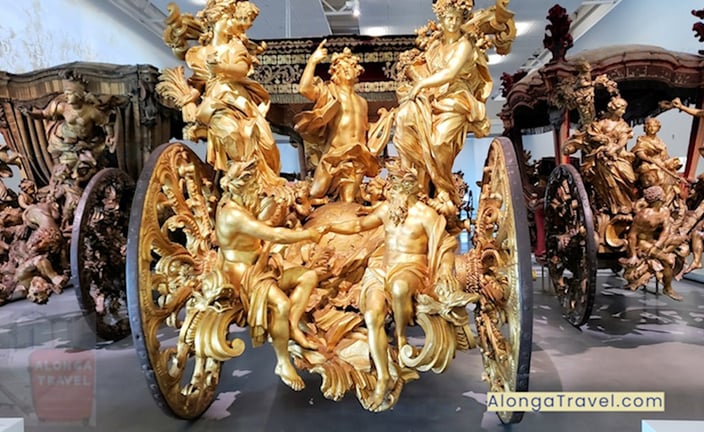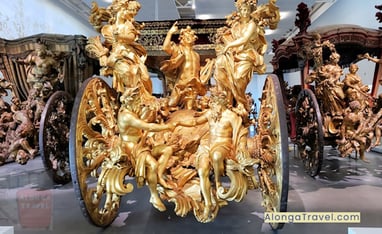 So that they assembled different golden Gods, Goddess, and family symbols together, put all that extravaganza on wheels to form a family or the nation glorifying story that weighed 2 tons? And just as an afterthought added a cabin to transport people, and named it—a coach? 😊
The historians later called it Baroque Italian style and invited smart words like "exuberant gilt woodwork, etc.". 😊
Like the coach above and below..
Visiting the National Coach Museum in Lisbon, Portugal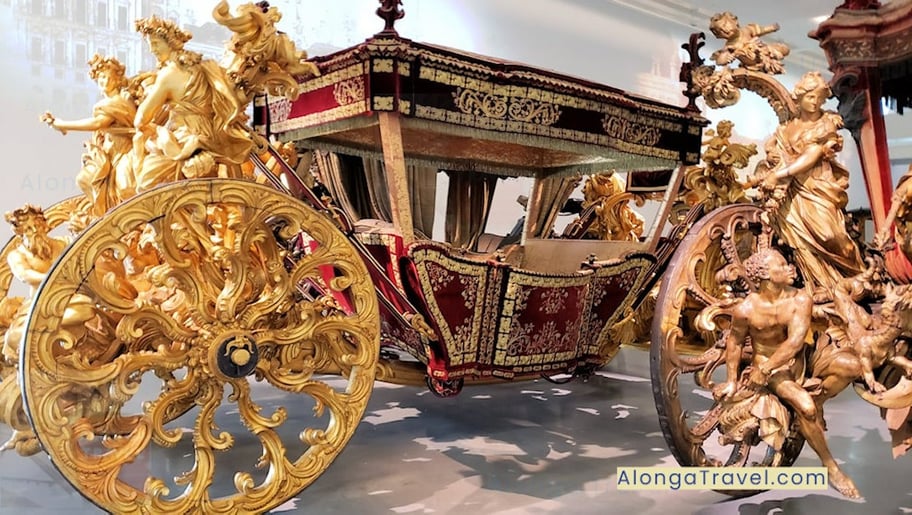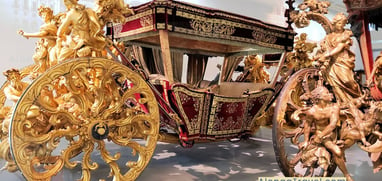 1716 Ocean coach in National Coach Museum
Ocean coach was a part of the set of 5 thematic and 10 accompanying carriages that made up the procession of the Embassy to Pope Clement XI, sent to Rome by King João V in 1716.
So let me explain what I mean by 'their coaches were very similar to their paintings'. All 16 coaches in that procession had massive statues with different representation of national history and accomplishments at the front and back of their carriages.
The scene on the back of Ocean coach is a representation of a chapter in Portuguese history, with Apollo, surrounded by statues of Summer and Spring, and with two old men at his feet, representing Atlantic and Indian ocean.
The historic reference here is the discovery of the Cape of Good Hope.
Cape of Good Hope is rocky headland at the southern end of Cape Peninsula in South Africa about 50 km from Cape town. It was discovered for Europeans by Portuguese navigator Bartolomeu Dias at the end of the 15th century on his return voyage to Portugal after exploring the southern parts of the African continent. He gave it that name because the discovery was a good sign that India could be reached by sea from Europe.
That was a wonderful discovery, indeed, but did it belong on a carriage and did it need to weigh a ton? Well, I am sure a historian will have a different from my opinion! 😊
But regardless of the possible taste disagreement, these couches are still something very unusual and fun to see!
I will not cover the rest of 15 coaches of that procession (and not all of them exist now), but there is another interesting one.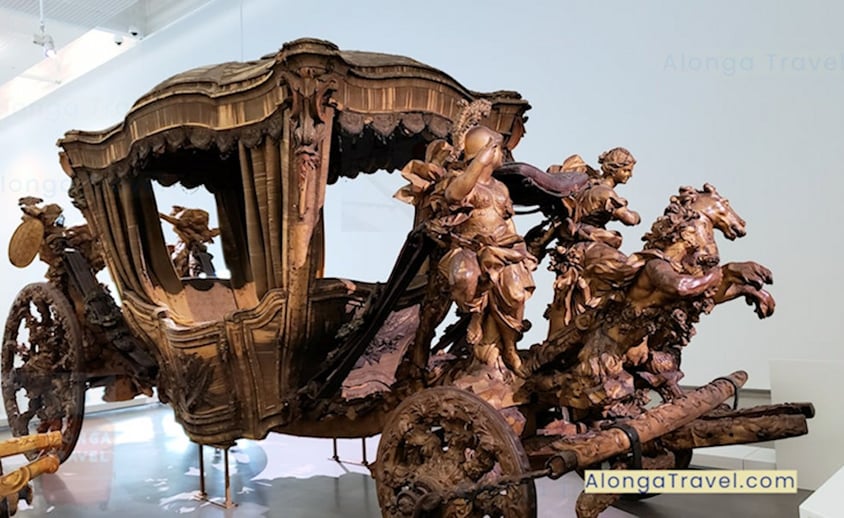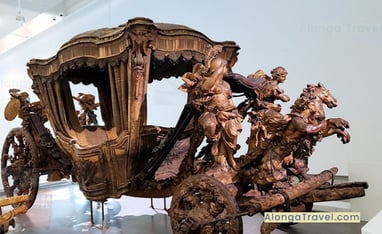 1716 Ambassador's Coach
It is the coach on which the ambassador D. Rodrigo Anes de Sá Menezes, Marquis de Fontes, entered Rome.
This is what I call "the equivalent of the modern billionaires 'whose-rocket-is-larger' competition". 😉
But it makes for an interesting-looking exemplar, so I am all for it!
OK, now that we are done with the overly lavish carriages, let's see what other coaches are there.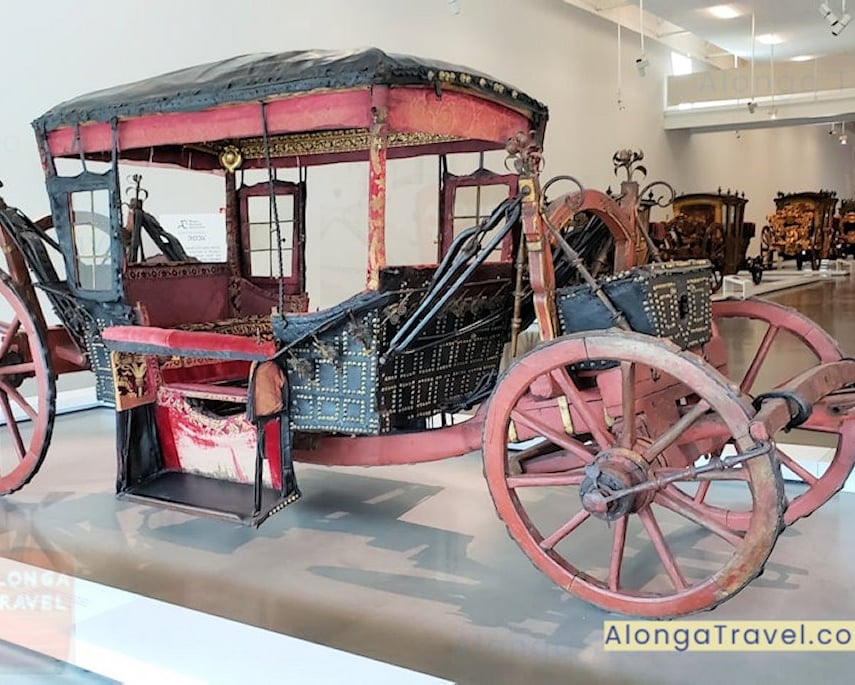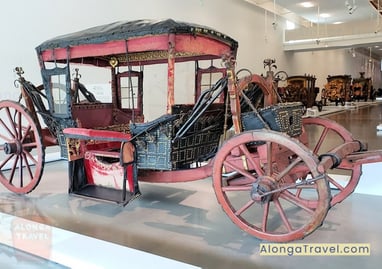 Late 16th century Philip II's Coach
This rare example of a royal vehicle is the oldest coach in the Museum's collection. It belonged to King Philip II of Portugal, who used it on his visit to Portugal in 1619. Inside King Philip II of Portugal coach.
Looks at this fabric, it's SO old!!! It feels very special looking at it up close!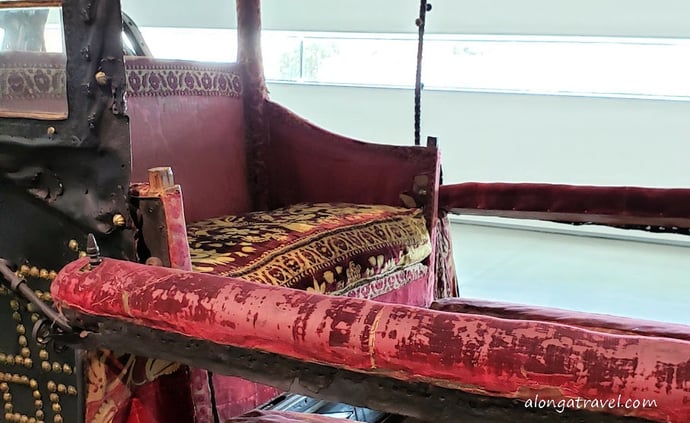 An Interesting fact: Do you know that King Philip II of Portugal was ALSO!.. King Philip III of Spain? But that double role was not enough, I guess?
So he also became the King of Naples, Sicily, and Sardinia, and Duke of Milan from 1598 until his death in 1621! I think this officially makes him the most greedy-for-the-titles King ever! 😉
1715 POPE CLEMENT XI'S COACH
This couch was offered to King João V (John the 5th) by the Pope for the baptism of the first-born prince, José.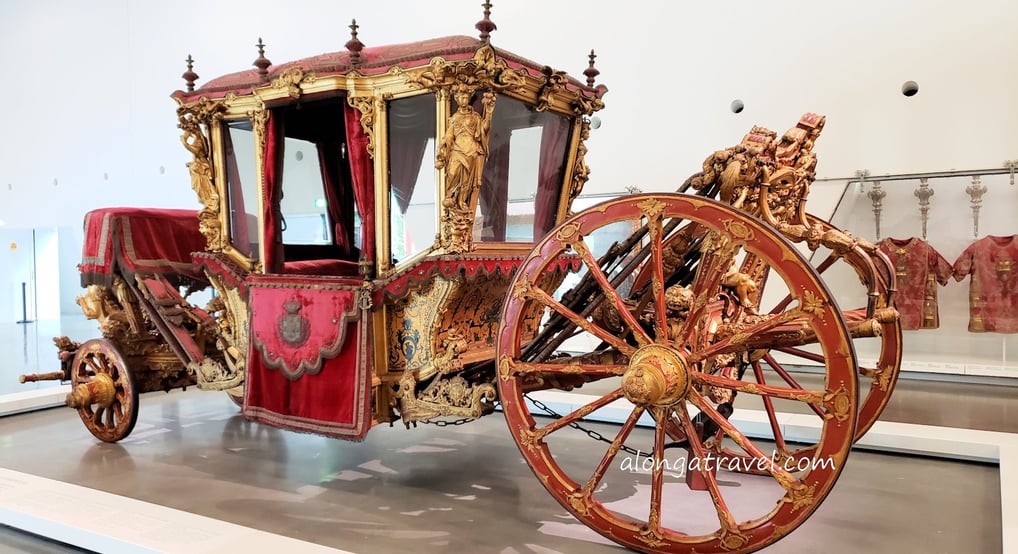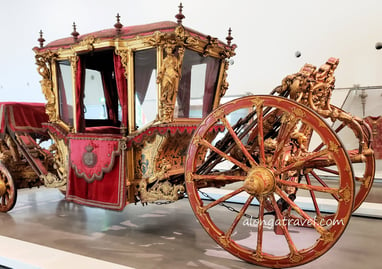 1715 POPE CLEMENT XI'S COACH UP CLOSE.
The red fabric is very impressive! It oozes centuries, history, power, intrigues and crimes!
While you can't help feeling that you are, perhaps, on a set in Hollywood around many coaches, this one somehow made it feel real for me!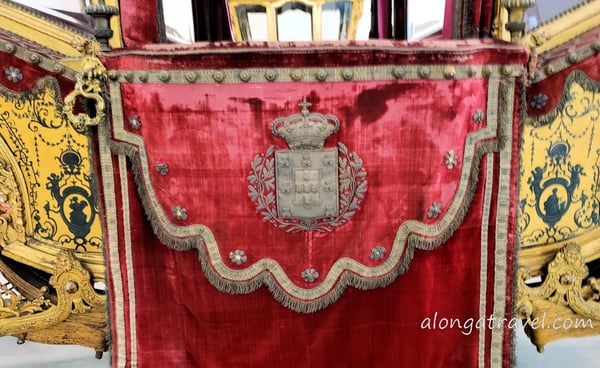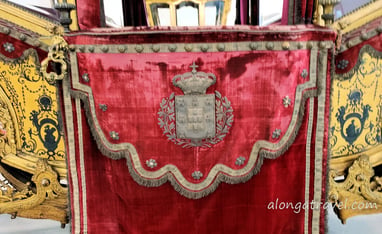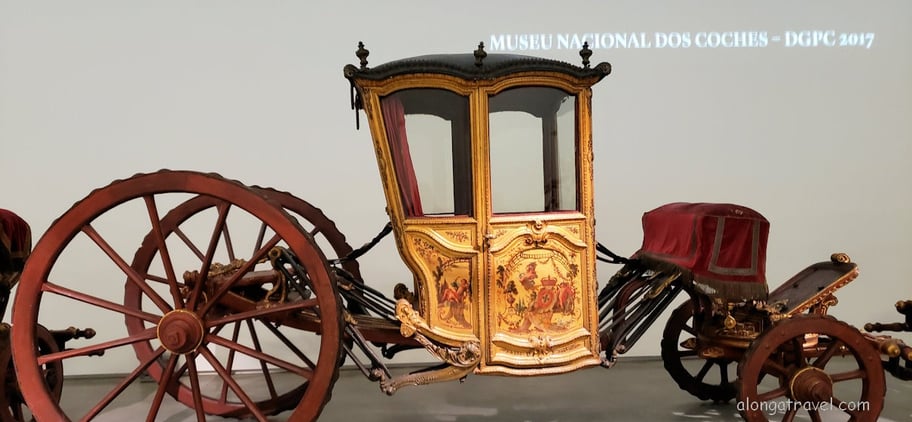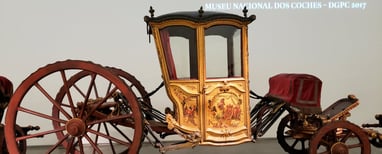 18TH CENTURY COACH OF THE "PALHAVÃ BOYS"
This coach was built for the children of Palhavã ( Meninos de Palhavã), the 3 male natural sons of King John V of Portugal (1706–1750), Infantes D. António, D. Gaspar and D. José, which were recognised by the monarch in an official document, found after the King's death.
The name of the boys comes from the fact these three children had lived in the palace in the Palhavã area, which in those times was outside Lisbon.
Today, this building is occupied by the Spanish Embassy as the House of the Spanish Ambassador and this building is within the city limits.
An interesting fact: If you think, how sweet, even though the King was unfaithful to his Queen and had kids to prove it, at least he was with the same woman long enough to produce 3 boys with her... uh... wrong! :) All 3 boys were from different mothers! They all got a great education and D. Antonio became a Doctor in Theology and later knight of the Order of Christ; D. Gaspar became archbishop of Braga. And D. Jose became… General Inquisitor of Portugal!... ☹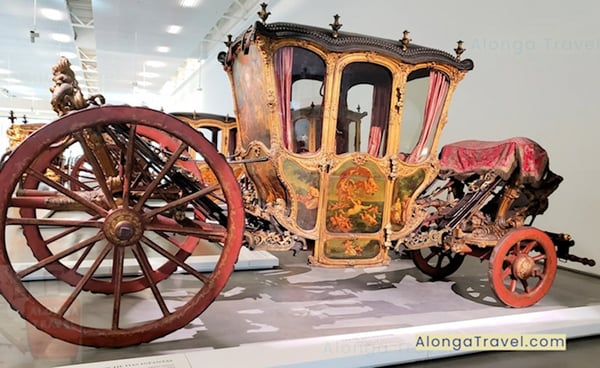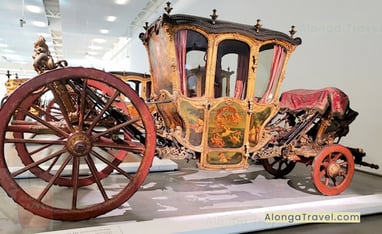 18TH CENTURY INFANTS' COACH
This was a state vehicle used by Infantas D. Maria Francisca, which later became known as D. Maria I, who had to flee to Brasilia, and I have a story about here later in this post; D. Maria Ana, D. Maria Francisca Doroteia and D. Maria Francisca Benedita, daughters of King D. José I.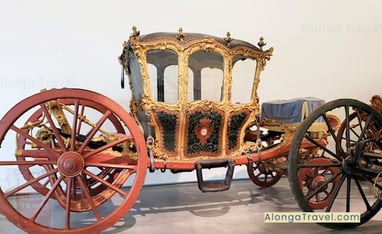 18TH CENTURY BERLINER OF THE ROYAL HOUSE
This vehicle was acquired by the Portuguese Royal House, from the Lencastre and Meneses houses. The coach has their Portuguese royal arms painted on it.
I would definitely enjoy owning this one!:)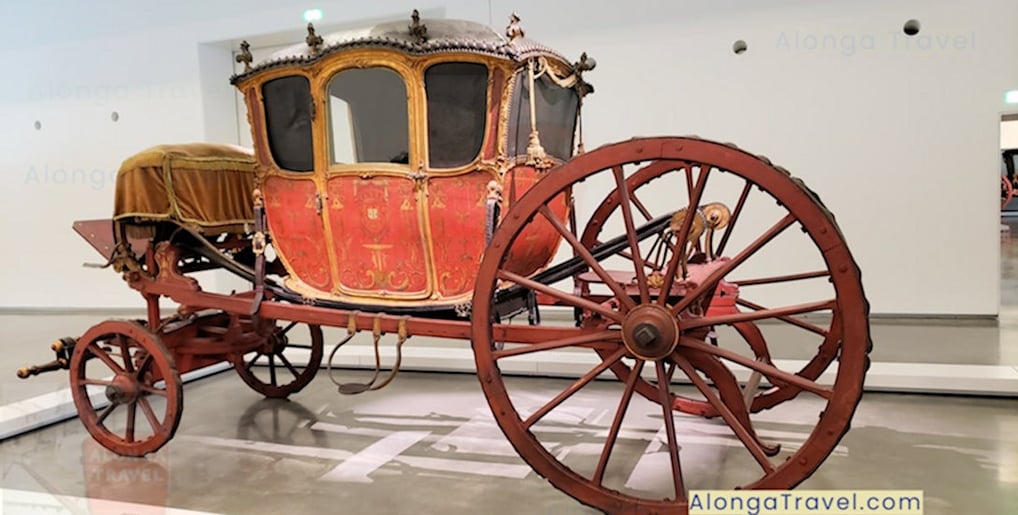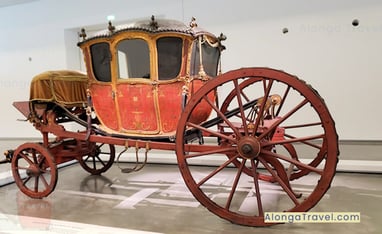 18 CENTURY COACH FOR MARRIAGE OF D. MARIA I.
This coach was used by Queen D. Maria I, and the Royal Portuguese Arms were painted on it.
Stylish and just perfect, isn't it?
An interesting fact: Dona Maria I ( 1734 – 1816) was Queen of Portugal from 1777 until her death in 1816.
She was also one of the infants in the Infant coach I was mentioning about. She was known as Maria the Pious in Portugal and Maria the Mad in Brazil (she developed a mental illness quite early on), and was the first undisputed queen regnant of Portugal, and the first monarch of Brazil.
With Napoleon's European conquests, her court, then under the influence of her son João, the Prince Regent, had to move to Brazil in 1807. Back then, Brazil was still a Portuguese colony. Later on, Brazil was elevated from the rank of a colony to that of a kingdom, with the consequential formation of the United Kingdom of Portugal, Brazil, and the Algarve.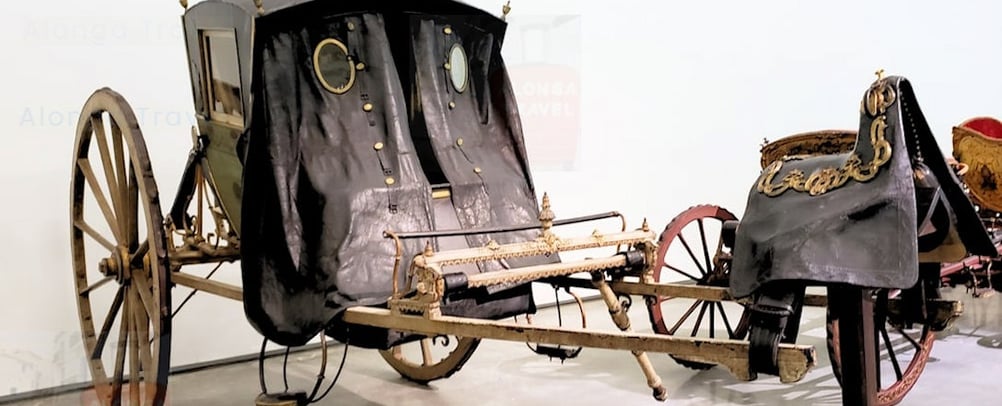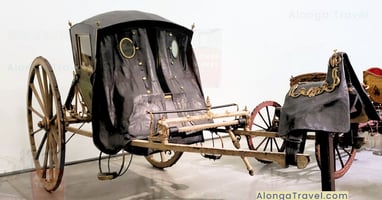 END OF 18TH CENTURY SUNGLASSES COACH.
Travel vehicle with two wheels and two seats.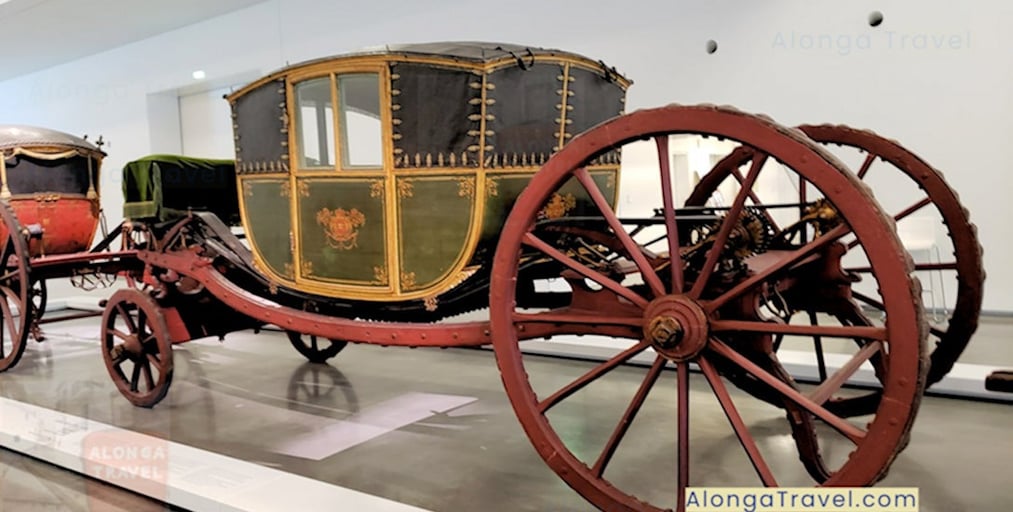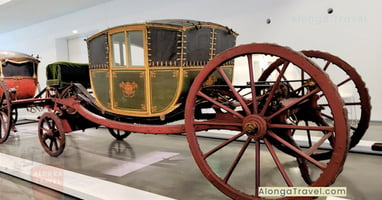 THE BEGINNING OF 19TH CENTURY BED BERLINER
This coach was actually a car for sleeping! (No wonder my check spelling keeps trying to spell this as a couch, not coach! 😉)
It could have been used as an open car, as it had a removable roof. The benches could be folded down on a platform to make a room for a bed. And it even had an evacuation door underneath for escaping! This carriage was suitable to be used for long-haul.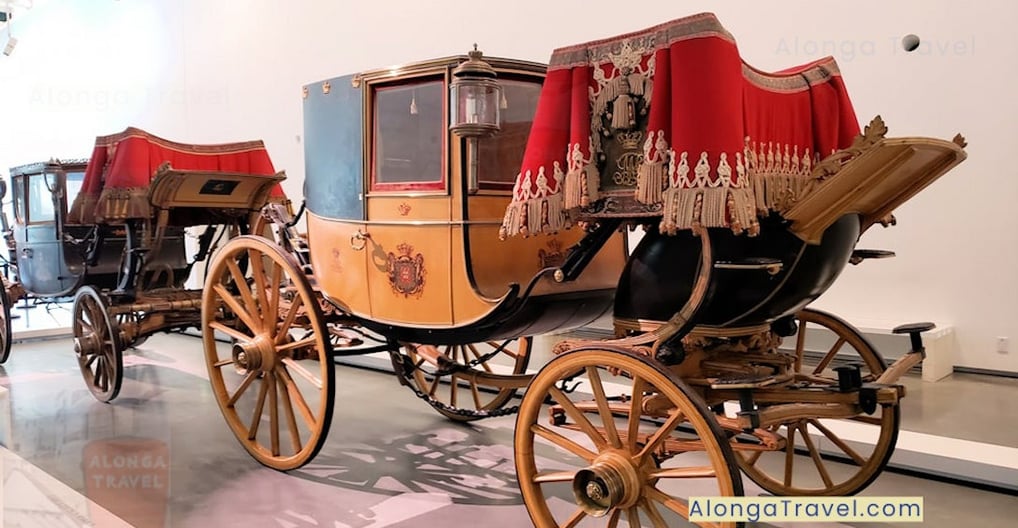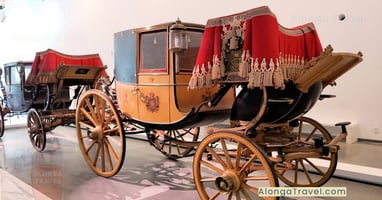 1834 COACH OF D. MARIA II.
This coach was commissioned by the Portuguese Royal House.
I have to say I was eyeing this one, I am pretty sure I would have enjoyed rides there! I probably would have enjoyed being a member of the Portuguese Royal house as well!
😉 On the other hand, they had no Internet…. So, probably not!:)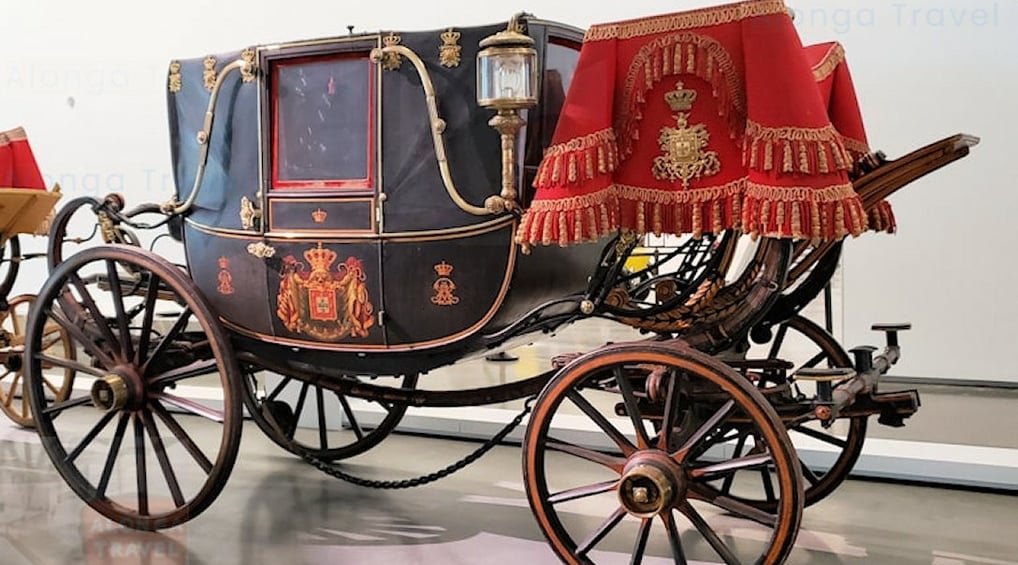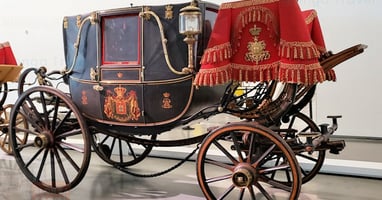 1834 LANDAU OF D. PEDRO V.
This is another carriage I would have most likely enjoyed owning.
Would you?
Is is also an apparatus vehicle. I think it's quite a stylish one. I might have even gotten this one, instead of the yellow coach of D. Maria II.
Actually, the red coach below is even better!
Which one do you like more?
19TH C. GALA CARRIAGE of Patriarchs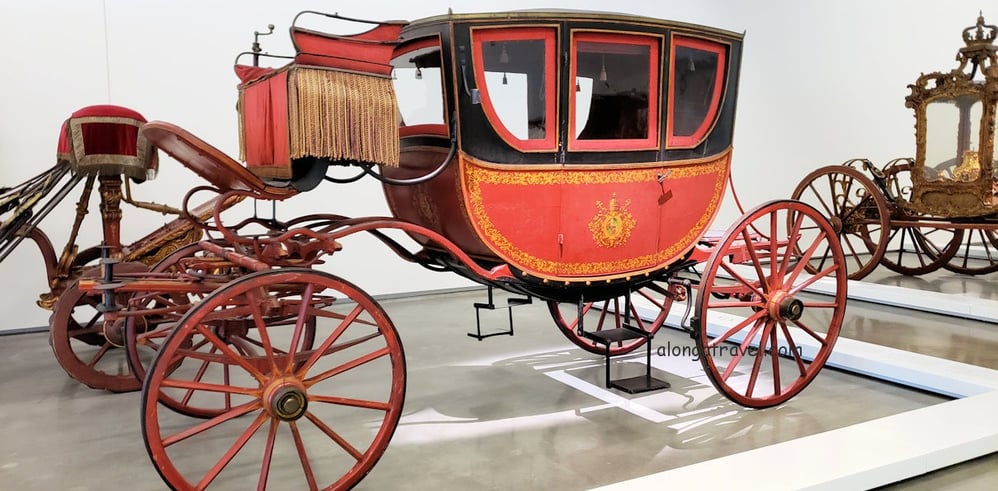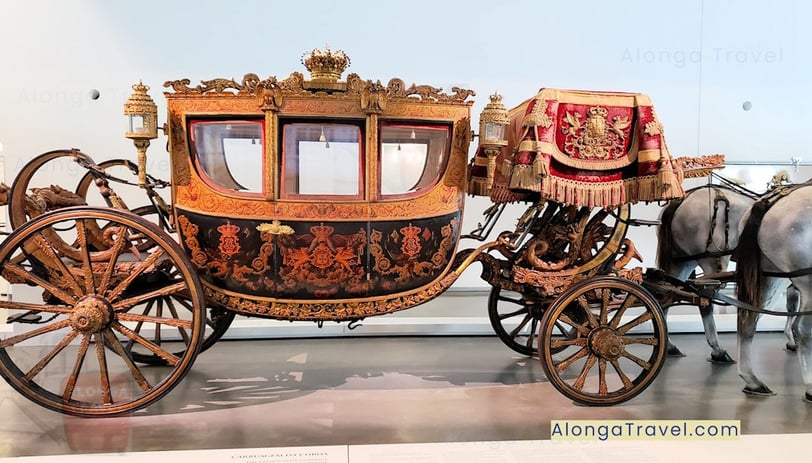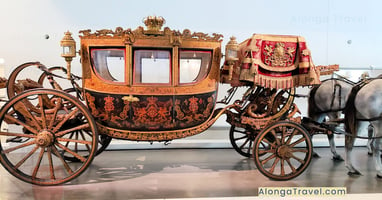 1824 CROWN CARRIAGE.
This carriage was commissioned in London for King João VI, by the Count of Póvoa, then Minister of Finance.
The coach was restored and changed for the coronation of King D. Carlos, and was used for the last time in 1957, when Queen Elizabeth II visited Lisbon.
1824 CROWN CARRIAGE WITH HORSES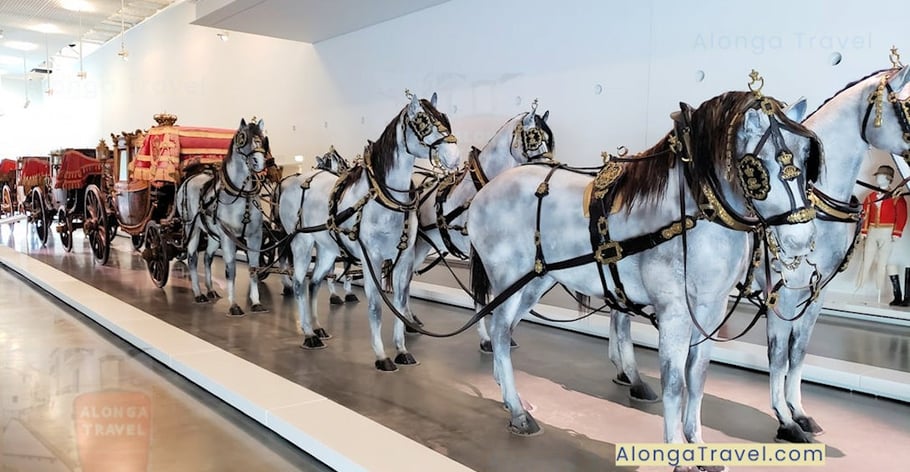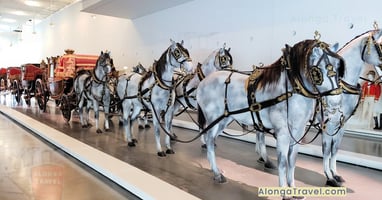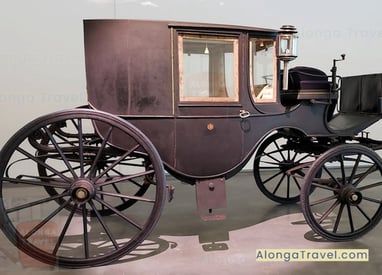 CLARENCE COACH.
This city car was given to D.Maria Pia, the wife of King D. Luis I, by her father King Vitor Emanuel II of Italy.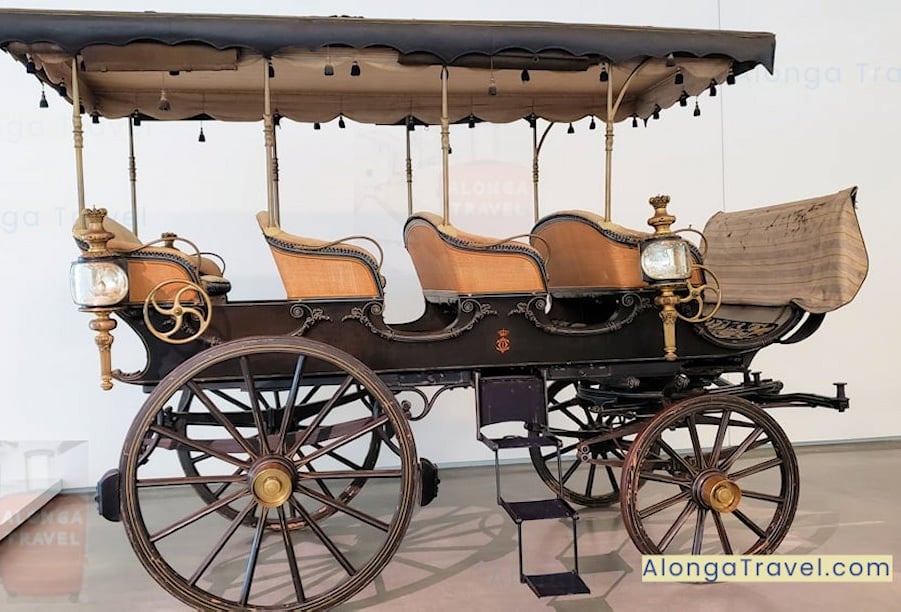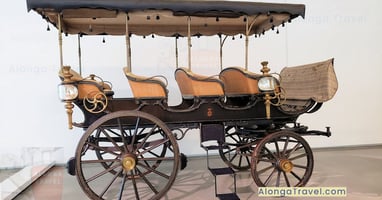 Modern days horse-drawn carriages
1850 CHARABAN
This coach was commissioned by Queen D. Maria II. Its last user was King D. Carlos, whose monogram was painted on the car.
This vehicle was intended for country trips or for transporting hunters and companions.
We are entering a display of prototypes of the modern cars here! I think I like the modern collection even more! What about you?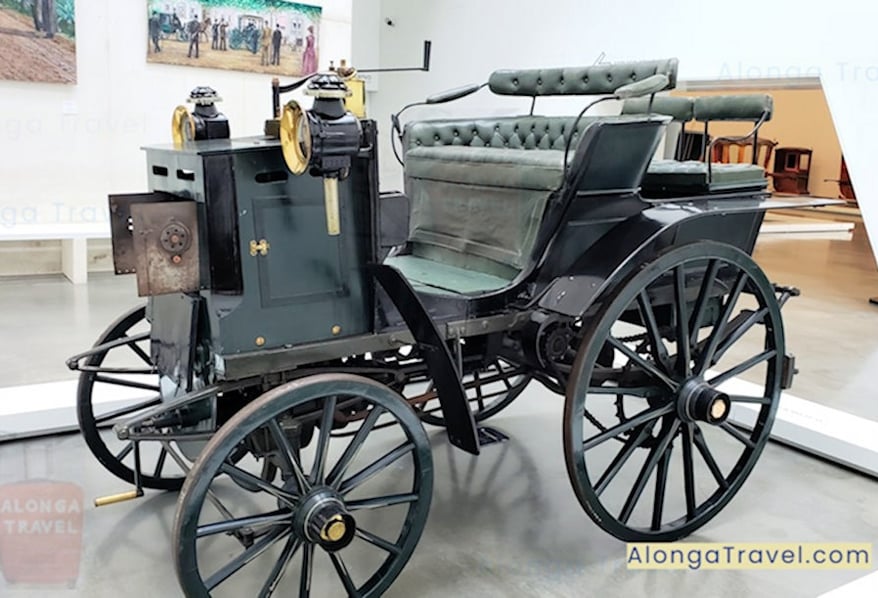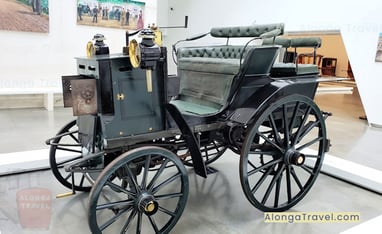 19TH CENTURY HUNTING CAR #1
When I first saw this car, I told myself that if this coach was made for transporting hunters, AND their dogs, and weapons as was stated on the explanatory plate, then both hunters and their dogs must have been VERY skinny! I mean – if they all could fit into this coach?!...
No wonder they went hunting, they were constantly hungry, poor things!:)
However, further research clarified that dogs were kept in the under-seat boxes, with breathing holes. The mystery solved!:)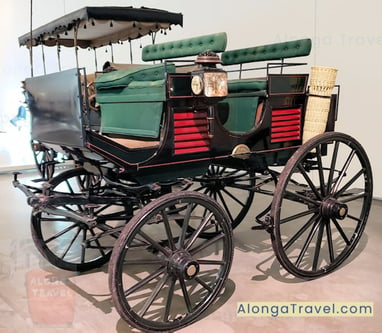 19TH CENTURY HUNTING CAR
This was a state vehicle built for the use of the Patriarchs of Lisbon.
It also served as a field vehicle intended to transport hunters with their dogs and weapons.
A very cool-looking car! Was it a prototype to the Hummer?;)
Guys, probably, will like this one for sure!:)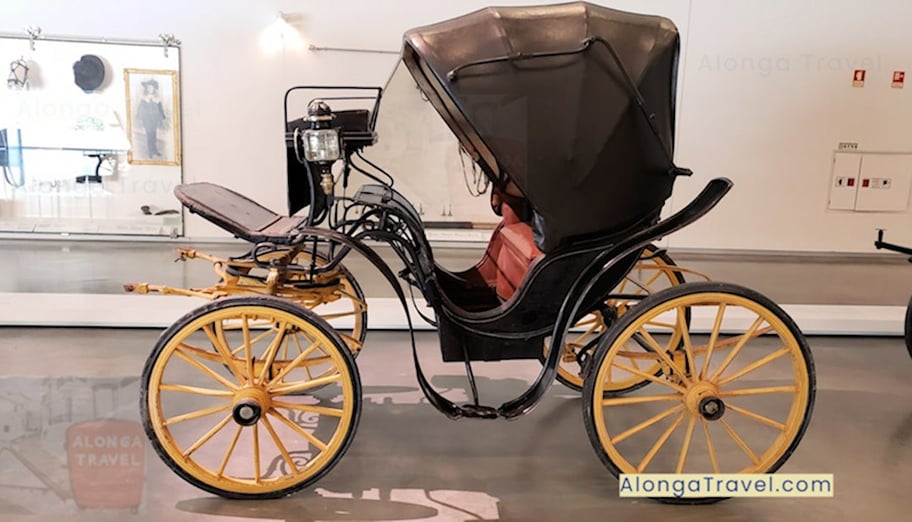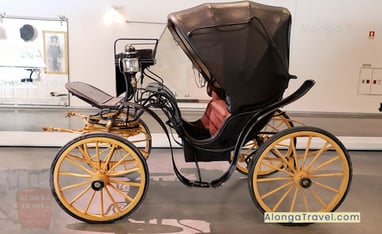 VICTORY COACH.
This passenger car owes its name to Queen Victoria of England. It belonged to the Viscount of the Court.
I think this couch looks like a photographer's car. Doesn't it look like something to do with the photography, or is it just me? 😊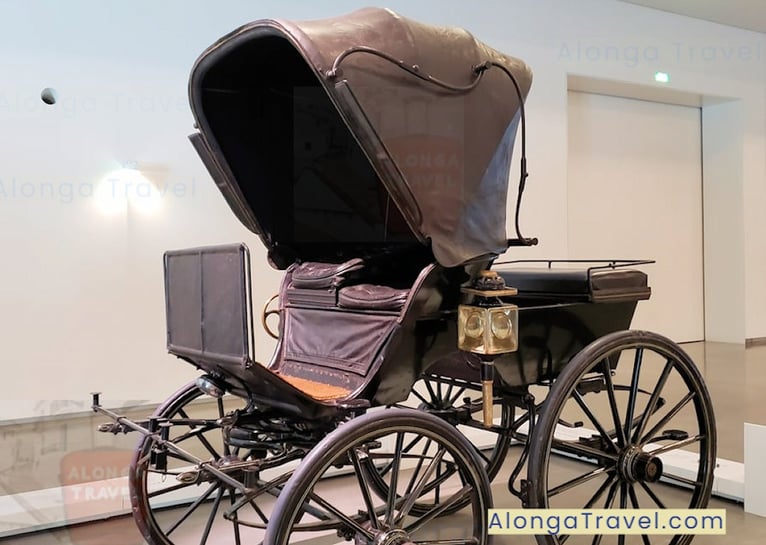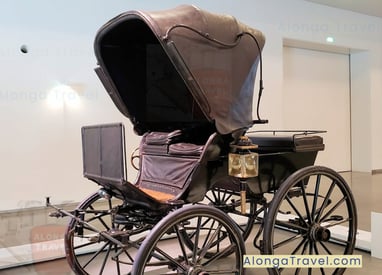 PHAETON
This car has an unusual design, because the service personal was riding in the back, while the owner was riding in the front and controlled the horse.
The service people were employed for taking care of the horse when the owner was not riding.
Guys are really starting to like these cars, I am sure!:) They like being in control!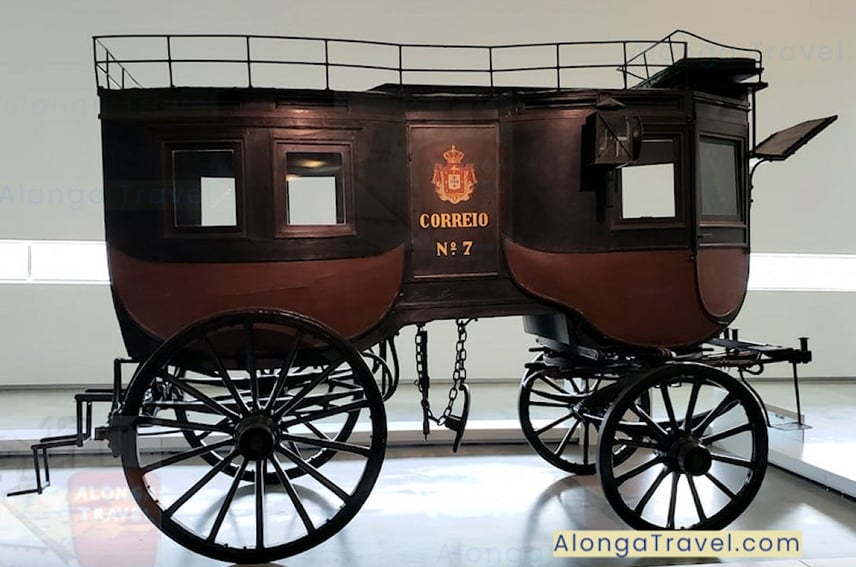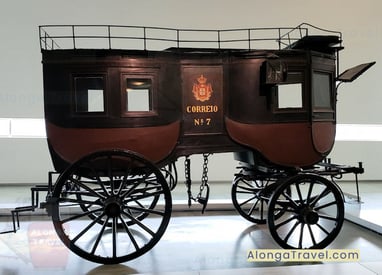 1854 MAIL COACH.
Travel vehicle for transporting the mail. It is made up of three parts: a coupé at the front, a roundabout or berlin at the rear and, in the center, a mailbox for the post office.
I guess you can call it a modern version of a long-distance 18-wheeler, where a truck driver can sleep?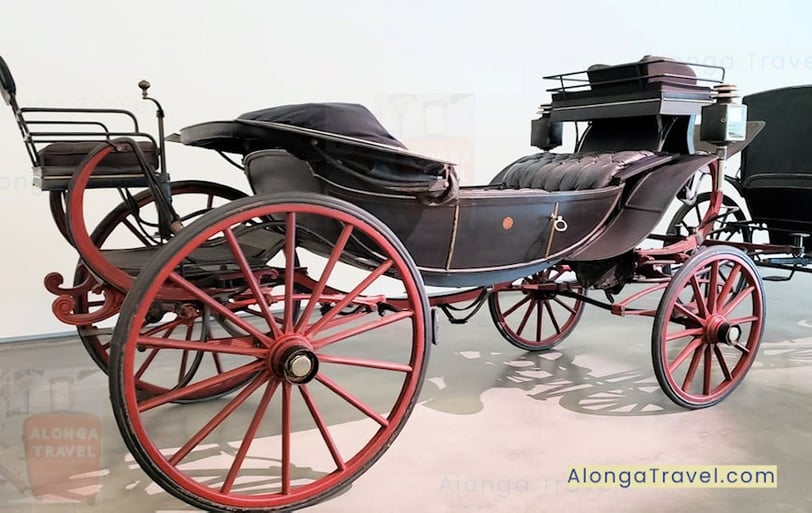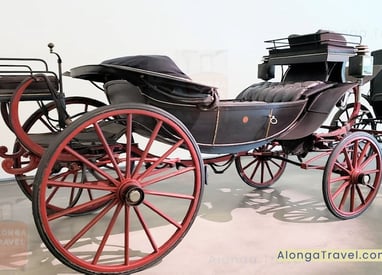 19TH CENTURY TROUSERS
Commissioned by the Royal Family, it passed in 1910 to the service of the Presidency of the Republic.
It had a convertible hood and the rider could sleep there, very neat!
Loss of popularity of horse drawn carriages
Carriages and coaches began to disappear in XX century as use of steam pressure generated more and more interest and research. Steam power won!
Nowadays, carriages are still used for day-to-day transport in the United States by some minority groups, such as the Amish. They are also still used in tourism as vehicles for sightseeing in cities around Europe, New Orleans, and Little Rock, Arkansas.
I personally think it is time to retire horse-drawn carriages altogether. Horses should be pets only nowadays. Whenever I see very sad-looking horses somewhere in Europe, I always stop by to talk to them.
Thank you for reading!
I have spent a great number of hours reading on the subject and I feel very connected to the topic now!:) And the coaches are so gorgeous! I hope you will visit and see for yourself! Let me know on social media which coaches you liked the most. I would be interested to hear that!
Practical Guide to the National Coach Museum
1. Plan a Whole Day in Belém to visit different museums, the Botanical garden, The Ajuda palace and to walk around.
2. Keep in mind that Lisbon Coach museum opens at 10 am! So visit the famous Pasteis de Belem for the best Pastels de Nata in town for breakfast!
3. Buying the Lisbon card will give you the best value for your money to visit many museums for free, along with free public transportation.
How to Reach National Coach Museum
Location of The National Coach Museum:
Praça Afonso de Albuquerque, 1300. Belém.
Museum Website:
National Coach museum hours
Schedule:
Tuesday through Sunday: 10am to 6pm.
Mondays: closed.
Closed: January 1st, May 1st, Easter Sunday, June 13th, 24th and 25th December.
National coach museum tickets
Are national museums free?
The national museums are free on Sundays and holidays, until 2 p.m, for residents in national territory and for anyone on International Museums Day on May 18th.
They are also free for kids under 12.
They are also free for everyone on a first Sunday of every month.
Tickets are also complimentary with the purchase of Lisboa card.
PRICE of ADMISSION TO NATIONAL COACH MUSEUM
Belem: Adults: € 8 (US$ 9.50)
Children (under12 years old): free
First Sunday of every month: free
Lisboa Card: free
HOW TO GET TO THE NATIONAL COACH MUSEUM:
Public Transport to Coach Museum Belem Lisbon:
Tram: line 15.
Bus: lines 14, 27, 28, 29, 43, 49 and 51.
Train: Belem, Cascáis Line. You will have to walk longer from the train, though.
Lisboa Card: free transportation
RELATED:
WHY USE PUBLIC TRANSPORT INSTEAD OF DRIVING OR RENTING A CAR
Tours and Tickets to Experience National Coach Museum (Museu Nacional dos Coches)
Standard Ticket - National Coach Museum

Skip the Line: National Coach Museum

National Coach Museum Admission with

Optional Royal Coach Tour National Coach

Museum Highlights Tour
Attractions Nearby and nearby places:
Belém Tower (1.45 km)

Jerónimos Monastery (550 m)

Archaeology Museum (643 m)

Monument to the Discoveries in Lisbon (680 m)

Ajuda botanical garden

Ajuda Palace.
Tours to nearby attractions:
Coach vs carriage?
Many, especially in the US, ask if it's Coach Museum or the Carriage museum of Lisbon.
While both used interchangeably, the older US versions are usually called carriages, and many Americans don't always register Portuguese coaches with what they know to be horse-drawn carriages.
Is it the National Coach museum Belem or National Coach Museum Lisbon?
This is another popular question! The correct answer is the National Coach Museum of Lisbon, but it is located in Belem, a district of Lisbon, to the west of Ajuda and Alcântara .
Find me on Social Media. the links are below in the footer