Packing for travel tips and how to pack light
.
Packing for travel the right way is very important! And packing light with comfortable travel gear and accessories is the right way. Packing light will make or break your trip!
Here are the pictures of items I use on every trip, and below is the description. I do not promote any particular seller , so there are no links. If you trust my advice, you would need to find these products online yourself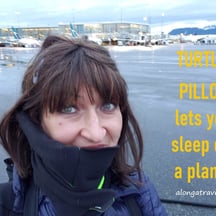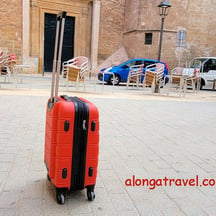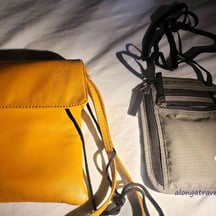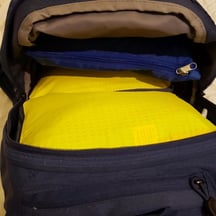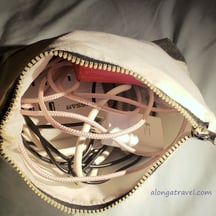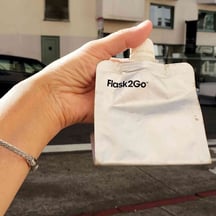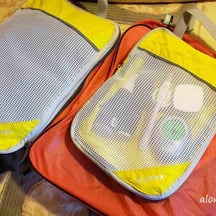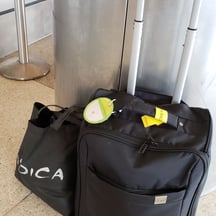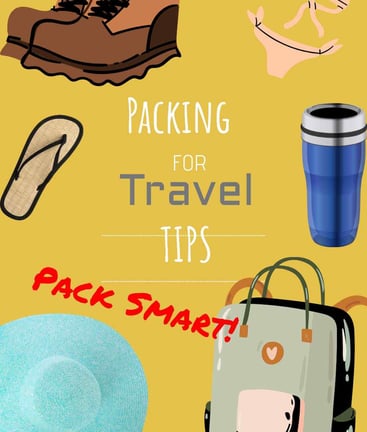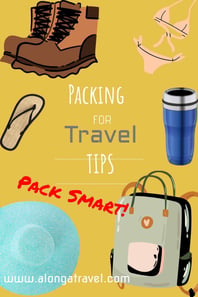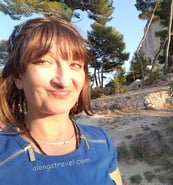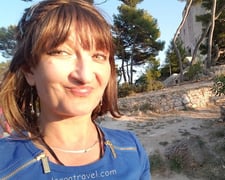 Hello, I am Tatiana—an architecture addict fascinated with beautiful old buildings and the best places in Europe to find them. I share with you how they look and the practical steps for getting there!
Let's connect on social media!
Comprehensive list of my travel gear I take on every trip, 2021 edition.
-Turtle pillow. An absolute must for an airplane sleep! It will keep your neck straight. I don't travel without it!
-Down packable jacket. It will save you in many situations, you can even use it as a GREAT pillow or a blanket. This is one of the most important items to have! More explanation soon!
- Mack's earplugs. It's moldable and you can enlarge an earplug with a chunk of another one, if you have larger ears. This way you'll block ANY sound.
-External Anker battery charger. I've wasted money on buying different brands, but Anker so far for me is the only brand that keeps going and going, while others are dead. I take 2 with me.
-An eye mask. Can't sleep without it! Choose the 3D space mask for your long eyelashes! Though I lately use only pure silk eye masks - I sleep better with it!
- A 10 feet cord for your phone, that will save you in the airport or your room . Two 1 feet cords for your other devices to charge at the hotel. Don't forget at least one 3 feet cord between your phone and the charger, so you can charge, while taking pictures on your phone and keeping your charger in your purse or backpack.
-A power extension cord/outlet. It saved me countless times. Hotels don't always have enough power plugs for your need.
-International Universal Power Adapter Travel Plug with 4 USB Ports. It works for 150 countries, it is an Adapter Type C to Type A, G, I, or E-F. It is a 120 Volt adapter so if you need different voltage (for your computer), you also need a power transformer. Small electronics don't need a power transformer! I also bring 2 small non-universal adapter the type for the country I am going to in addition to one universal. There are always uses for it as well.
-120 GB +256 GB micro SD cards for your pictures and videos.
- your camera batteries charger with 2 spare batteries, you will be re-charging every night!
-Toiletries
I am sure you don't need a list for this, you'll handle this yourself!;) Just make sure to take only small amounts poured into small travel containers.
You don't NEED many different lotions. You only need one type of face lotion ( OK, 2!:) One daytime, one nighttime, but only ONE eye lotion, and a tiny amount of it put in a tiny container meant for giving away samples that you will get from a fancy store before leaving! Or, you can buy them in most countries (but not in the US. Go, figure...)
One makeup remover lotion or I prefer - pre-moisturized pads.
1 floss box, one toothpaste, small bottle of mouthwash.
I travel with portable electric waterpik and electric toothbrush. If really pressed for space, the waterpik stays home.
-Packing cubes and

travel compression cubes

I use 6 different packing cubes, including 3 compression cubes to save space. Here is how the travel cube looks when compressed and not compressed. You put all kinds of stuff in a cube, then zip the second zipper to compress. Insert your finger right ahead of the zipper head to close! Then you put your cubes inside of your bag and pull out only the cube you need. Saves time, space and sanity!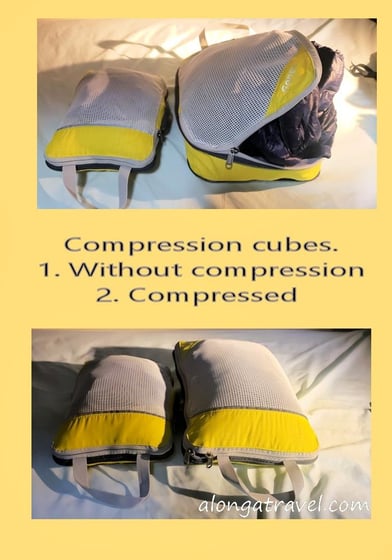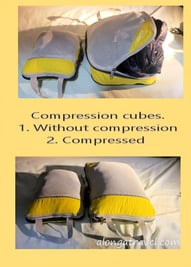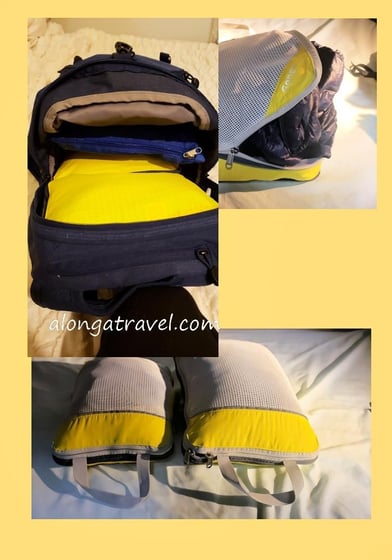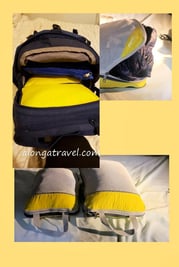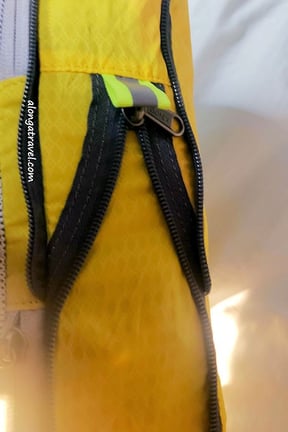 -Different light organization bags. Use the same each time, so you'll get used to your own system!
- Round pills organizer for pills you would keep on you all the time. Examples are - pain relieving pills, sleeping pills, melatonin pills, activated charcoal pills, antacid pills or whatever you need. Reinforce the container with a wrist rubber belt. It will keep the pills from spilling out ( happened 2 times to me!) and you'll have it in case you need it for your wrist during travel days.
-Vitamins organizer.
-Flask 2Go. You are supposed to pour alcohol in those, but they make for wonderful and light travel containers!:) I use white one for sun-block lotion, and red and blue ones for shampoo and shower gel.
Sunblock lotion with safe (from Harmful chemicals) Ingredients.
On one hand we need sunblock to protect from the sun, if just staying in a shade or wearing long sleeves and a hat is impossible or undesirable.
On the other hand , it's really hard to find the one that won't make you sick!!! Yes, that's true. The same could be said about every other chemicals we consume, sadly!
Here is an entire list of safe ingredients you are looking for in your safe from harmful chemicals sun lotion:
Titanium dioxide

Zinc oxide

Nothing else!!!
Have you noticed that there are only two items on the list? That is because ALL other ingredients, commonly found in 80% of sunscreen, including kids and babies sunscreen, are either KNOWN harmful chemicals, or SUSPECTED harmful chemicals. There have been many studies on this subject. What do these bad chemicals do? Either react with our hormones and create hormones' disruption, causing all kinds of sickness in our bodies, or they can cause cancer!
You can find more info from one source on this highly reputable EWG site.
OK, enough about sad stuff. We need to know about it, but no reasons to dwell on it. Let's go back to packing.
My best travel luggage
I alternate my black light carry-on bag on wheels with a light backpack, depending on destination. Sometimes I use my green backpack on wheels, but it's not very comfortable as a backpack, but great as a wheeler bag. I always pack a smaller backpack to wear while in a city as well.
One light medium bag you can use while traveling, hanging over your shoulder. Just in case you need an extra carrying bag. Try having something decent looking, to feel good :)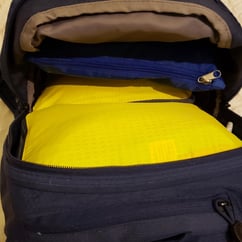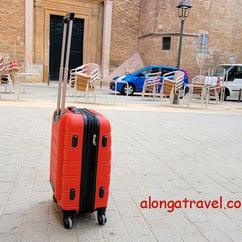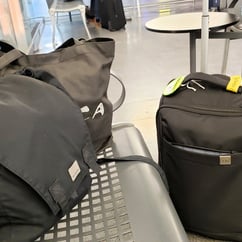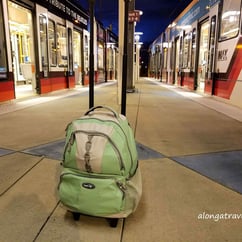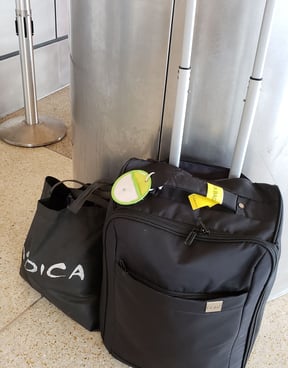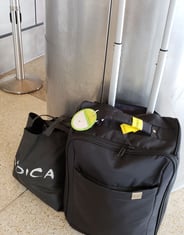 How to pack light and what to take and NOT to take with you.
Packing light
I guarantee you that many times during your trip you will either congratulate yourself on traveling light or ask yourself what were you thinking, bringing all those items with you. And right there it will hit you–there is nothing better than traveling light!
So let's go to packing for your trip now and change what you bring with you while we still can!:)
Figure out your airline luggage
First you need to figure out your airline and its baggage allowance. If you will travel by train, you can take a larger bag, but you still want to keep your luggage smaller and lighter for many reasons.
If you don't have a very good bag yet, lightweight and with great working wheels, it's time to order one now. Depending on the type of your trip and how often will you travel between different cities, you need to choose either a carry-on with wheels or a comfortable backpack.
The second step will be go to https://weatherspark.com/ and figure out the average temperature of your travel city during your month of travel. Keep it in mind and pack for that, but definitely have one outfit for both colder and warmer variations just in case.
If you go to Europe or Asia, don't bother with an umbrella. You'll get it there in some stand 4 times cheaper than in the US and you can keep it as a souvenir.
Mix and Match
The best is to pack lightweight clothes in safe shades that can be worn in layers. Try to avoid any patterns on fabric and keep the colors solid. This will give you a lot of flexibility for your outfits to mix and match items, thus minimizing the number of clothing items you bring with you.
It's better to keep your outfit colors to black, white, and gray or beige, they'll be complimenting each other and interchangeable.
But you need to have ONE very colorful dress, one colorful summer skirt and a scarf. This is particularly important if you are going to Europe, where people are more fashion oriented than on other continents. You will enjoy them after constantly being on a bit of underdressed side, compared to locals, if you packed light as we're trying to do!
I call them my three "extra" allowable items. This is me wearing one of my three "extra" items in Rome. It feels good to be on a "dressy" side here and there.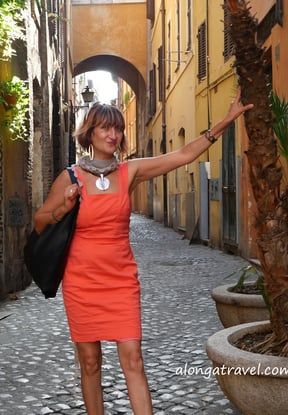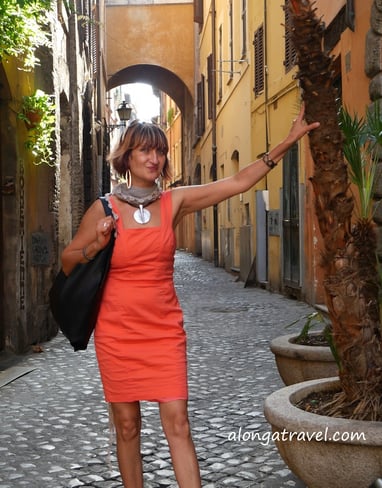 I

temized list of the travel gear for your summer and winter trips.

Depending on the weather the itemized list of items for your trip could be:
1. Packing for a summer trip:
- 1 pants (wear them on the plane).

- 2 skirts.

- 2-3 sleeveless tops or t-shirts

- 1 long sleeved top.

- 1 simple dress + one dressy.

- 1 light jacket.

- 1 packable feather jacket, will serve you as a pillow as well, when you bring a small travel pillowcase. That is going to be a very important item, and it's light and takes no space.

- 4 socks and underwear and 1 swim suit.

- 3 pair of shoes total, one comfortable good quality walking shoes, one sandals and one pair of flip-flops.
2. Packing for a winter trip:
2 pants.

1 underpants

3 long sleeves top. 1 dressy top.

Hotel lounging pants and shirt.

2 light merino wool or cashmere sweaters.
You will use these sweaters a lot! For many things. Like as an extra scarf, extra wrap around any area of your body that is cold. Or as a blanket on a plane, or wherever else. Do NOT spare an expense for these 2 great sweaters/wrap/whatever else. TIP: Buy off season to get a great bargain!
Shawl, gloves and a hat.

1 light packable feather jacket. You can still use it as a pillow, among other things.

1 long feather jacket, wear it on the flight.

1 boots, one pair of walking shoes, one pair of flip-flops.
Wash CLOTHES in a sink while traveling.
Now, if you're asking yourself how you are supposed to survive with that few clothing—it's simple—you will do sink washing. No, it is not as scary as it might sound😊. It only takes about 10 minutes of your time. You can use a thick reusable plastic bag for putting it in the sink, put a few of your items there, pour washing liquid , shake, wash by hands some spots if needed, then rinse everything in the sink.
And then you just hang everything on hangers and by the next morning everything is clean and dry, as all your items are lightweight and dry fast!
Of course, you can find washing services. Your hotel might provide it, but it is just so simple to do a sink wash that I just don't bother.
By the way, even if you use a washing machine, don't be surprised that there might NOT be a dryer machine in your hotel in Europe! I found myself very surprised the first time, but was advised to use a hair dryer to speed up the drying time, if needed!
Now comes the main rule—do NOT take anything extra or "just-in-case". Unless you're going to a very remote area, you can buy whatever you need in the country of your travel. But if you bring all the items I advise you to, you most likely won't need anything else.
There is a saying - lay out everything, take half and twice the money! I agree with the money part😊, but you'll be able to pack all the clothing items in 2 small compressing travel cubes. Don't forget to wear the heavier clothes on the plane.
You will be SO HAPPY that you packed light! Guaranteed!
Let's connect on social media and subscribe to my periodic emails for more tips!