Is kiwi.com safe to book flights; 3rd party flight booking
Is Kiwi.com safe to book flights? How to avoid being overcharged on kiwi.com. 3rd party flight booking vs buying direct from an airline.
Air tickets are getting more expensive, and to save money we turn to 3rd party flight booking. Buying airline tickets from a third party is often (but not always) cheaper. And Kiwi.com provides the cheapest air tickets out of all 3rd party flight booking sites. So, great, right? Not so fast…
Is kiwi.com trustworthy
The answer is – yes, Kiwi.com, a Czech-based online travel agency since 2012, is technically a legit company, that offers the cheapest air flights. But that doesn't mean they are trustworthy with everything! So, if your real question is can kiwi.com be trusted, then the answer is - it depends.
Kiwi flights rating
There are many poor reviews and concerning customer feedback about Kiwi, followed by low ratings.
Kiwi.con on BBB
Better Business Bureau has a one-star for Kiwi.com.
Kiwi.com on TrustPilot
TrustPilot, an online review platform, has an 1.6 star average for over 60,000 separate reviews.
Why do people book on Kiwi.com
People book on Kiwi.com because kiwi flights air ticket price will be listed as the cheapest option on Google flight air tickets search page.
It is also easier to buy through them, as let's say, from the EasyJet website, which freezes often and is hard to manage.
Kiwi.com also offers a convenient service of an automatic check in, if you choose to provide the site with your passport data. So, booking on kiwi.com seems to be a reasonable choice!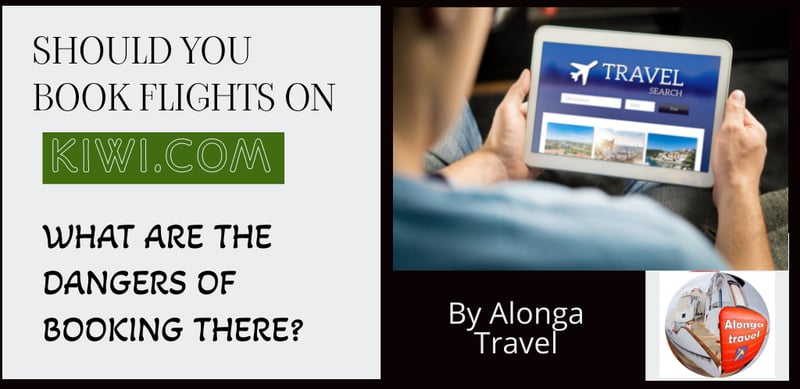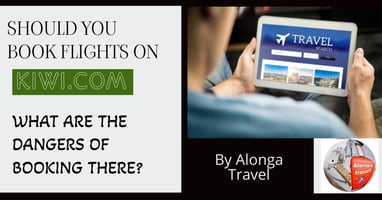 Why are kiwi flights so cheap?
Kiwi, a small agency, often offers the cheapest airfare. How does it do that? Let me explain in details, and the answer is both good and bad! To answer this question is also to answer another question: why are flights cheaper on third party sites—an advantage of booking on 3rd party flight booking sites.
The legitimate way kiwi.com has cheaper air tickets prices
Kiwi.com offers cheaper than the Google flights or direct airline air ticket prices, because Google only offers itineraries from the same airline on a round-trip ticket. Kiwi combines a few different airlines to get a cheaper air ticket, offering flight segments on different carriers, for bottom barrel prices.
The problem with this though, is because there are different airlines involved, it doesn't offer a protection of late or delayed or missed flight. Meaning, if your first flight with one carrier is delayed, and you missed your second flight with another carrier—you're on your own. (P.S. You CAN buy a protection against that on kiwi.com for an extra fee.)
Kiwi also does something most other flight search engines don't. It finds the one-way prices that are just a half the price of the round-trip tickets. Normally, one-way tickets cost almost as much as the round-trip ones.
All that usually enables Kiwi.com to offer the cheapest prices. But it's not always the case, read on to learn about hidden fees.
Is kiwi good for flights
So, yes, kiwi.com could be a useful tool for finding one-way tickets, or buying your round-trip as two separate tickets. However, here comes a description of some shady practices Kiwi has taken part in lately.
3 Questionable practices of kiwi flights
Yes, kiwi flights often offers the cheapest air ticket price, but they'll try to scam you by charging 2-3 times more for an extra baggage if you need it. And it is easy to need an extra baggage when all airlines tightened their restrictions on the allowable free cabin bags.
Kiwi.com scam with overcharging for baggage
How will Kiwi dot com overcharge you? Well, they offer a complimentary service of automatically checking you in 3 days before your flight. Then, or maybe right after you bought the ticket, they will send you an email, offering you to manage your booking.
And if you want to add an extra bag, they'll offer you a €59 fee for checking your bag or 1 extra cabin bag. You have no other choice but to agree, as they don't offer Up Front or Extra Legroom tickets, as Easy Jet website does.
I got taken advantage of twice (that I know of)! After which I decided to investigate and compare how much it would cost me to add the bag directly from the EasyJet website.
I don't know if it was by design or not; it took EasyJet a long time to find my reservation by reference numbers provided by the Kiwi website. I was informed that EasyJet can't find my flight, and if I bought my air ticket from a 3rd party site (like Kiwi.com), I should go there to manage my trip.
Here I just listed another danger of booking on third party booking sites—difficulty to manage your trip on the flight airline site!
But I persisted through clicking on different links and finally made EasyJet find my flight. And the first thing EasyJet website has offered me was €27 Extra Leg Space ticket fee, where I get to have an extra space for my legs + choose a seat for free + bring a large carry-on besides the 1 offered for free without paying! So, all these listed above extra perks for €27! Or, even - all the above but minus extra leg room - €24 for an Up Front ticket.
While Kiwi.com wanted €59 for just one extra bag! So, Kiwi.com was trying to charge me €35 more than I would pay on the airline website for less perks! But that's not the only way they scam you…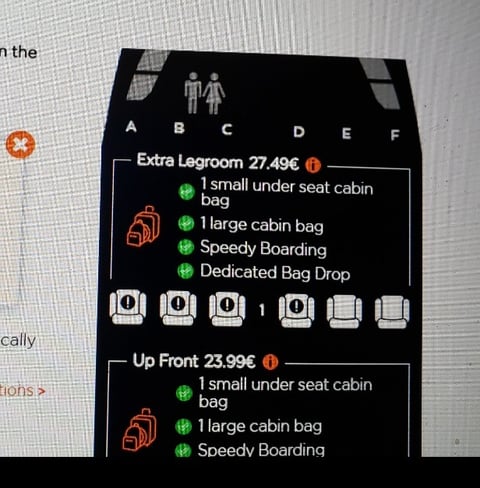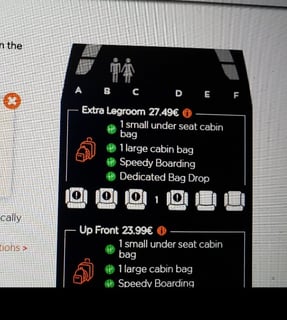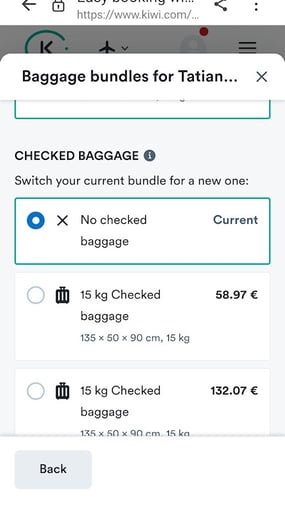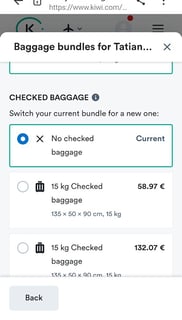 Extra Legroom offering by Easy Jet for 27 euro
59 euro bundle from kiwi.com for less perks than 27 euro bundle on EasyJet
Kiwi dot com scam with not showing you paid bags on your phone app to make you buy again
Another scam by Kiwi dot com is not to show you your extra paid bag you already pay for! Kiwi will send you an email upon automatically checking you in, where they only list your one free small cabin bag, and the extra bag you're planning to check in and already paid for during the ticket purchase through them is not listed.
Now, if you bought your air ticket in advance, do you remember if you already paid for the extra bag you are planning to check in, or not? I didn't—and paid for the bag again. And then, when you already paid for the same bag again, they send you a new email, where they show that you have 2 paid bags to check in! When you only need one! And it's too late to do anything about that, you already paid!
Good luck reaching them and demanding a refund, or, explaining to your bank why you want to dispute the transaction! Technically, it's your fault!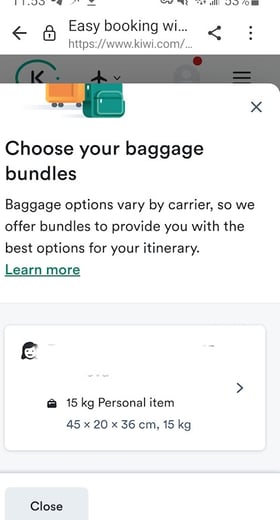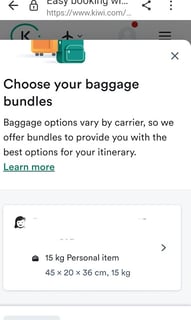 Do you see the checked bag I already paid for on this screen? Well, I didn't either and paid for it again!
Kiwi.com not refunding you money that the airline paid them when they cancel your flight
Here is the 3rd questionable practice of kiwi flights company ! If your flight was canceled by the airline, you're entitled to a full refund. The airline refunded the 3rd party booking agency, Kiwi being one of them, the money. They supposed to refund you immediately. Except, that doesn't always happen!
Read through TrustPilot reviews. There are so many complaints about that! Supposedly, air ticket purchases on kiwi.com come with 24/7 customer support & the Kiwi.com Guarantee, but it seems it's not always the case.
So, here are the 3 scams by Kiwi.com to watch out for. Do your math! I did mine, and, while I might still buy air tickets from Kiwi dot com in the future if I see a really good deal on one-way air ticket ( without the extra bag during the ticket purchase). I will make sure to go to the EasyJet website 30 days before a flight, when check ins are already open, and add some extra perks.
Let's connect on social media and please, sign up for my periodic emails with new blog postings! The links are below.