let's connect on social media

Portugal is the best European destination to visit: what to expect from visiting in 2021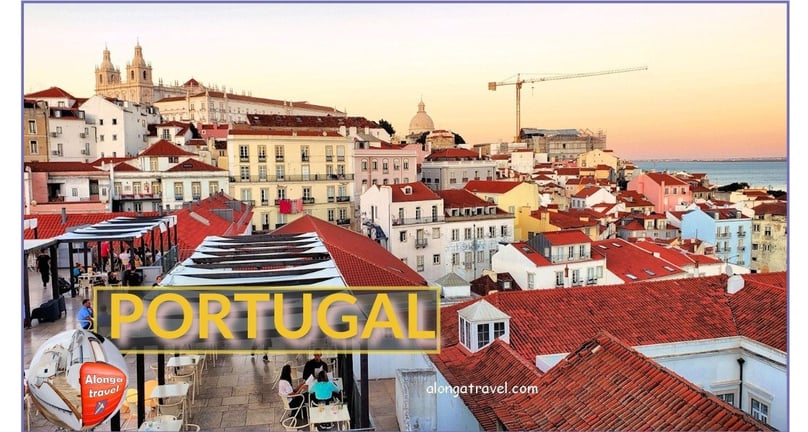 Portugal is the best European destination to visit! I explain here why is that and what to expect from visiting Portugal in 2021.
Portugal is a place with a rich history, architecture and many points of interest and natural wonders. The architecture in Portugal is absolutely stunning and unique. The use of azulejos everywhere, even for street pavements, makes everything looks amazing.
Portuguese museums are unlike anything you can find anywhere else because of the 15th Century Age of Discovery and what came with that.
There are several wonderful beaches from which to choose from, from some with some of the best surf in the world to those which are more serene and relaxing.
The cuisine is one of the most diverse in Europe, with some dishes including, but not limited to, squid ink pasta, octopus salad, and codfish stew.
Portuguese culture is rich in tradition, with fado music and cherry liqueur shot - ginja, among many other things.
Because of all that and more, Portugal is a perfect destination for a solo traveler, or anyone looking for a more economical, safe and perfect international destination. There are so many things to do in Portugal that you will have the time of your life, even if you are on a tight budget!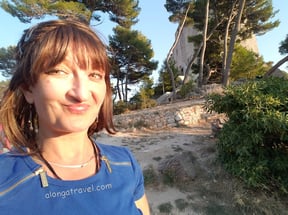 Hello, I am Tatiana - nice to meet you!:)
If you would like to know more about me, you can read it here.
my GUIDEs to Places in Portugal
What to visit
Why visit Sintra National Palace on a one-day itinerary to Sintra, Portugal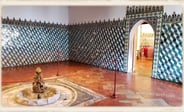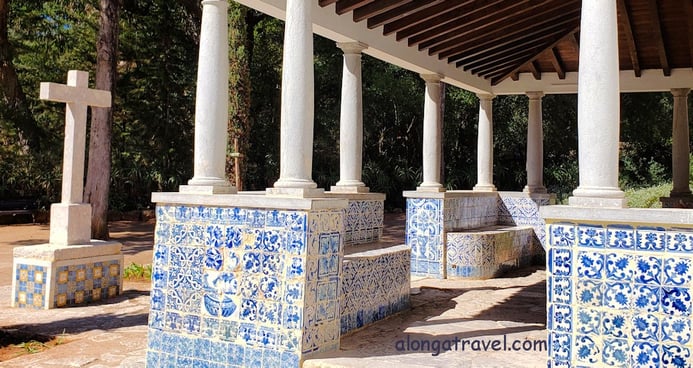 Azulejos in Chapel Sao Sebastiao Cascais Portugal
9 Reasons Portugal is the best place to visit
There are many reasons Portugal is the best place to visit! Here are 9 most important reasons:
1. Uniquely beautiful towns and architecture
2. Great climate with almost endless sunshine.
3. Reasonably priced and affordable accommodations, food and drinks.
4. Friendly and helpful locals.
5. Beautiful beaches perfect both for sunbathing and best surfing in the world
6. Fantastic food and irresistible Pastels de Nata!
7. Azulejos.
8. The unique and majestic museums due to Age of Discovery of around the world treasures.
9. Portugal is safe, including covid-19 mitigations.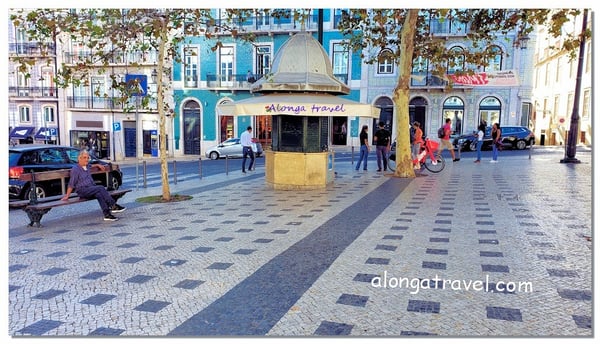 Azulejos pavement in Lisbon, Portugal
Where to go in Portugal: 19 Best places to visit
1. Lisbon
2. Sintra
3. Porto
4. Madeira
5. Lagos
6. Evora
7. Obidos
8. Tavira
9. Coimbra
10. Elvas
11. Braga
12. Parque Nacional da Peneda-GerêsGuimarães
13. Bragança
14. Mértola
15. Faro
16. Aveiro
17. Beja
18. Parque Natural da Arrábida
19. Nazare.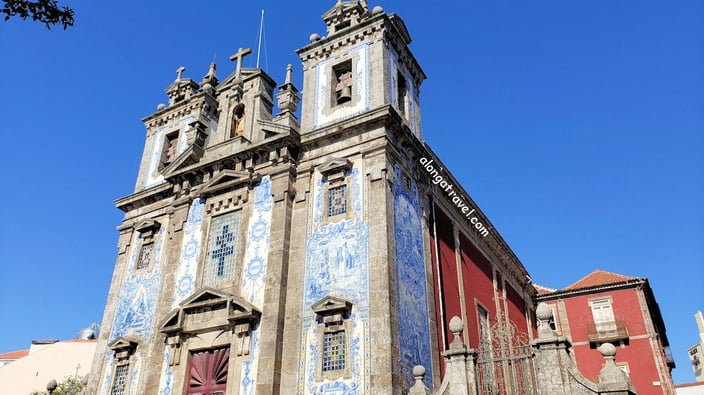 Church Santo Ildefonso Porto, Portugal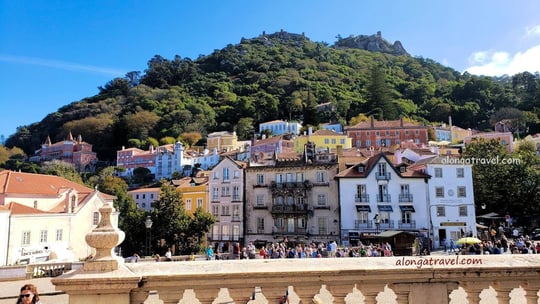 13 best Coastal Towns in Portugal
Tavira
Cascais
Peniche
Aveiro
Ferragudo
Viana do Castelo
Aljezur
Azenhas do Mar
Carvoeiro
Azeitao
Ponta Delgada
Nazare
Santana of Madeira Island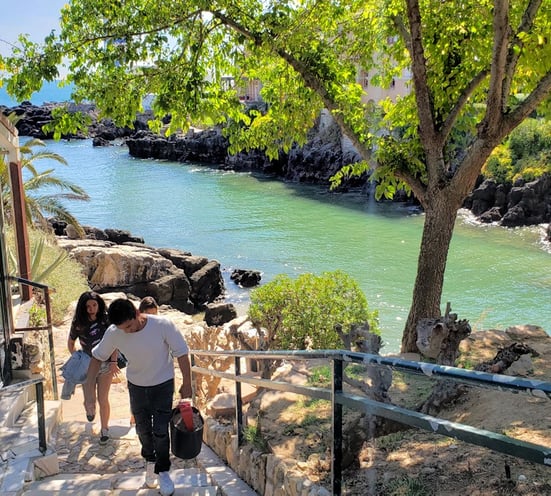 let's connect on social media

10 top Famous Landmarks in Portugal
1. Top Famous Portugal Landmarks – Dom Luis Bridge
2. Benagil Sea Cave
3. Pena Palace
4. Sao Bento Train station Porto
5. Jerónimos Monastery
6. Castle of São Jorge
7. Óbidos Castle
8. Belem Tower
9. Alcobaca Monastery
10. Quinta da Regaleira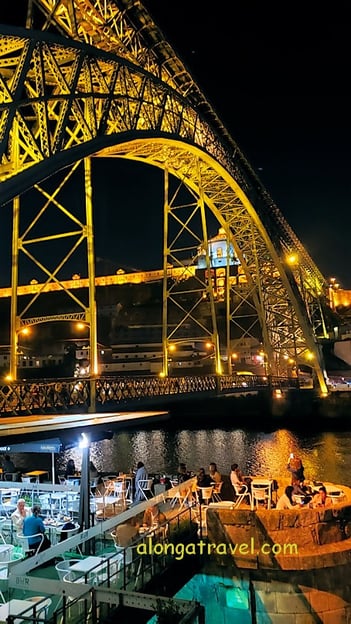 Dom Luis bridge Porto Portugal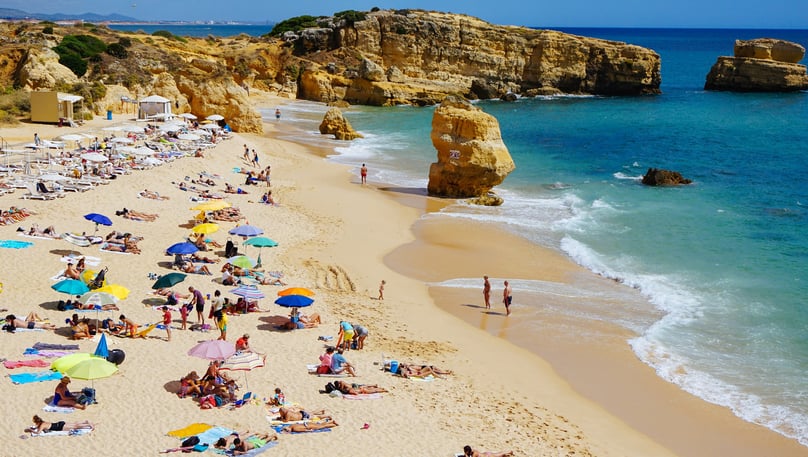 Praia de Sao Rafael Portugal
9 Best Beaches of Portugal
1. Praia de Tavira, Algarve, Ilha de Tavira island
2. Praia da Marinha
3. Nazaré, Ribatejo - the surf beach with famously huge surf.
4. Benagil in Algarve
5. Praia de Sao Rafael
6. Praia da Figueira, Algarve
7. Praia Galapos, Parque Natural da Arrábida
8. Porto Côvo, Alentejo
9. Foz de Minho, Minho on the north side.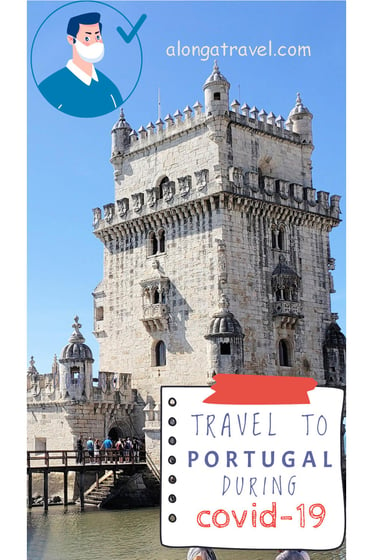 Do vaccinated people need a Covid-19 test before entering Portugal [2021]
Do vaccinated people need a Covid-19 test before entering Portugal in 2021? This question is on everyone's who planning to visit Portugal in 2021 mind!
There is not a simple answer to this question. Some people do and some don't, depending on your country of origin or the country where you stayed last 7 days.
Since the situation changes frequently and to make sure you have the latest requirement for the entry, it is better for you to visit this site:
Make sure to visit that site again a few days before your trip, so that if situation changes and you need a covid-19 PCR or antigen entry test, you will have sufficient amount of time for that!
Best time to visit Portugal
It is a wonderful place to visit any time of the year. Portugal has over 300 days of sunshine on average year.
Portugal has the best climate in Europe
Portugal quite possibly has the best climate in Europe.
It is a wonderful place to visit any time of the year.
However, some months of the year can be more preferable for your visit. Here is why I think spring – when everything is in bloom and temperatures are mild- is the best time to visit.
Alternatively, you could also go in fall, mid-September through October, when the sun is still shining, the weather is warm, but crowds are thinner. Since it's off season, it's also more economical to go during that time.
Winter in Portugal is time to escape cold.
Portugal has a warmer climate compared to the majority of other European countries, so many Europeans and anyone who leaves in colder climates in winter, love to visit Portugal in winter to escape cold!
Madeira is an all-year-round destination
Madeira is a beautiful, all-year-round destination that offers lush landscapes and stunning views. The island has an amazing climate with warm temperatures throughout the year. Madeira is also home to some of the world's best wine, making it a perfect destination for those looking to relax.
When is the rainy season in Portugal?
November and December are the wettest months in Portugal, with the rainy season lasting on average for 2 weeks a month. However, Portugal has still more sunshine on average than other countries in Europe.
And the Algarve usually remains sunny and pleasant and attracts many European visitors looking for a winter getaway.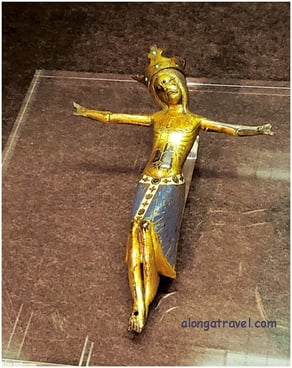 Museums in Portugal
Portuguese museums are very unique because of the 15th century age of discovery and as a result the object of art brought to Portugal. Add to this Portugal being the stronghold of Christianity early on and exquisite objects of religious art it created, and you get museums like nowhere else in the world.
I can guarantee you that even if you're typically not into museums, Portuguese museums will excite you!
Lisbon has the largest concentration of the best Portuguese museums.
5 best museums of Lisbon
National Museum of Ancient Arts (Museu de Arte Antiga)
The most famous is the Museu Nacional de Arte Antiga is the largest museum in Portugal. The principal collection of this museum comprises pieces from different archaeological sites, including Neolithic settlements and Bronze Age tombs.
It also has paintings, sculptures, furniture, ceramics, textiles, gold, and silverware reflecting Portugal's history from the Middle Ages through the 19th century.
The was my favorite museum! I highly recommend visiting, but keep in mind that this museum keeps some rooms closed on rotating schedule. So you may or may not the most interesting pieces when you're visiting.
National Museum of Ancient Arts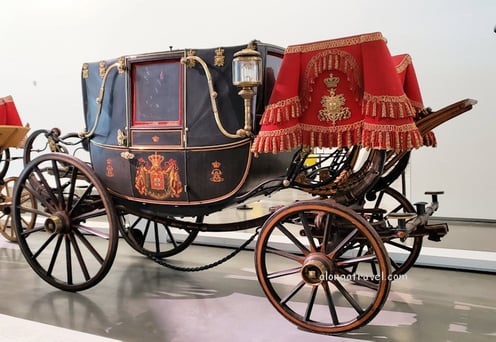 National Coach museum
The National Coach Museum hosts over a 100 horse-drawn vehicles, called coaches (carriages), that were in service of transporting people in style from 16th century to the beginning of the 19th century (the first cars).
It's located in Belem
This is a must-see museum. Here is my post for more details about this museum!
The National Azulejo Museum
The National Azulejo Museum of Lisbon. It was established as a museum in 1975. I enjoyed this museum a lot.
The museum houses the largest collection of azulejos in Portugal, with more than 3,000 pieces from all corners of the country and much documentation about their history and technique.
A horse-drawn carriage at National Coach museum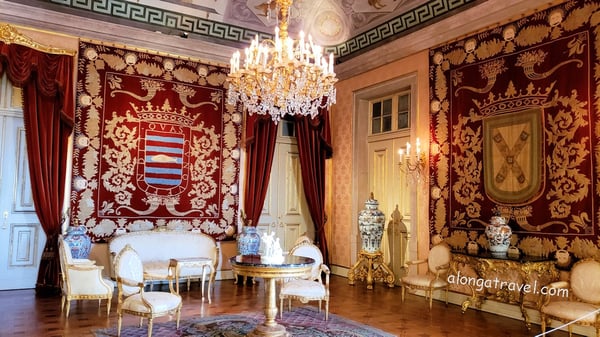 The National Palace of Ajuda (or Palácio Nacional da Ajuda)
Nacional Palace of Ajuda is a magnificent former home of the Portuguese royal family. It is housed in a neoclassical building and you can see very impressive classical, renaissance and Asian collections.
Describing this museum in a few words won't do it justice. You have to see it to understand the magnificence of this museum. I will write a post with a video about it soon.
Museu Nacional de Machado de Castro
The Museu Nacional de Machado de Castro is a museum of national archaeology and art . The collection includes works from the Neolithic to Contemporary periods, with many objects from the Roman, Visigoth and Moorish periods.
There are many other museums, including the Royal Palace, National Archaeological Museum and Maritime Museum.
Museums are free on Sundays, but usually only for the locals.
Ajuda national palace museum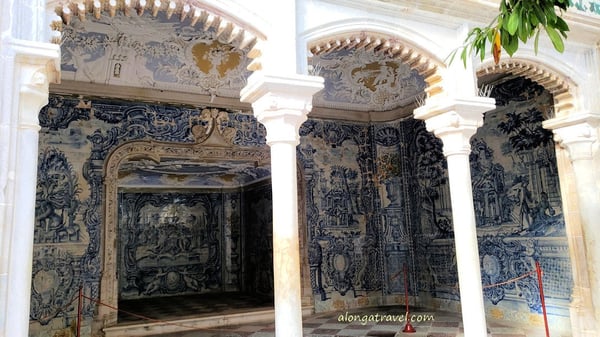 An example of influence of Moorish culture on Portuguese architecture.
Portuguese architecture
The architecture of Portugal has deep influences resulting from the 8th century occupation by Moors and later the major stronghold of Christianity with resulting religious architecture.
The architecture in Portugal is absolutely stunning and exciting. The Azores Islands, the ruins of Roman baths, and the Roman bridges. The examples of Portuguese Baroque in the monasteries of Alcobaça and Batalha. The Romanesque jewels in the Santa Maria da Feira and the convent of Covilhã. And architecture of Lisbon, Porto and Sintra is most likely the most interesting in entire world!
Influence of Portuguese history and Moorish culture on architecture of Portugal.
Portuguese architecture reflects the artistic influences of the various cultures that have either inhabited Portugal, conquered Portugal ( Moors), or come in contact with the Portuguese people throughout the rich history of Portugal.
Various artistic styles have dominated Portuguese architecture throughout the ages, including Romanesque, Gothic, Manueline, Portuguese Renaissance, Portuguese Baroque, Rococo, Neo-Manueline, Soft Portuguese style and later – contemporary style.
Some places in Portugal, for example – Sintra National Palace – have many of the listed above architectural stiles intervened together as an organic architecture, peacefully and gracefully coexisting together in the same building.
That creates such an uniquely beautiful experience, that these remarkable buildings are must-visit places! You can find quite a lot of them in Portugal!
Modern day Portugal's architecture
Modern day Portugal's architecture can be seen in modern-day territory in Continental Portugal, the Azores and Madeira.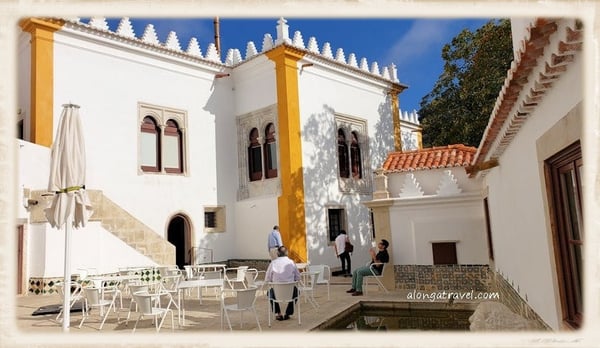 Another example of influence of Moorish culture on Portuguese architecture.
Moorish azulejos in Portugal
Azulejos in Portugal
Azulejos in Portugal are deeply embedded in history and culture and they are now a symbol of Portugal.
They are also a huge part of an attraction of Portugal architecture and decorations. And they are one of the main reason I am absolutely in love with Portugal!
Azulejos are everywhere you look in Portugal. You will see them on the streets of Portuguese cities. You will admire them on the houses's, restaurant's facades, making every building unique and pretty. You can find them on the walls of train stations and public murals. They decorate fountains and even churches! Churches in Porto are the most beautiful churches in the world!
What are azulejos?
Azulejos are glazed DECORATIVE CERAMIC TILES. Because the majority of older azulejos are blue, many people think that the word – azulejo – came from azul (the Portuguese word for blue).
But that is not true. Azulejos have orientated from the Arabic term for a small, smooth polished stone.
Azulejos also DID NOT ORIGINATE IN PORTUGAL BUT go back in time TO ANCIENT ASSYRIA & BABYLON.
Well, whoever has invented them brought me a lot of joy! And I am grateful!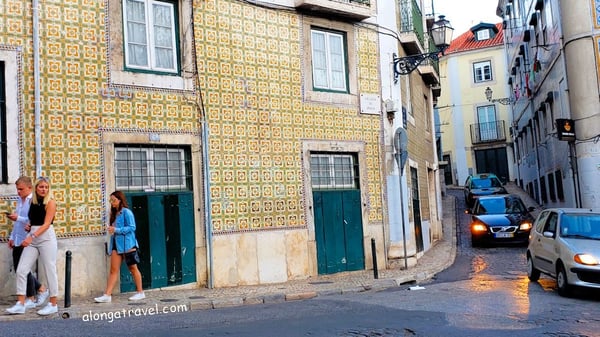 azulejos on a house in Lisbon Portugal
let's connect on social media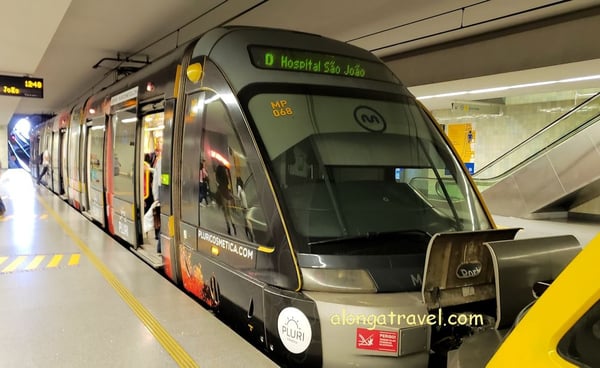 How To Get Around Portugal
Public transportation.
Portugal's public transport system is extensive and well-developed. The country has bus routes that run through major cities, as well as out to surrounding suburbs.
Zapping ticket
There are three main public transportation methods in major cities of Portugal, Lisbon and Porto: the bus, the train, or the underground. The rest of the country mostly relays on buses and trains and it could be tricky to get to some more remote places without renting a car.
The cheapest way of traveling in Lisbon is to get Zapping tickets, which work similarly to SmarTrip cards in Washington DC, Clipper cards in San Francisco, Oyster Cards in London, saving you around 30% on all public transportation. They work on all types of transport, automatically choosing the cheapest ticket price.
Unlimited daily ticket
If you plan on traveling a lot using public transportation, then a daily €6 ticket will give you full access to Lisbon or Porto's public transport grid.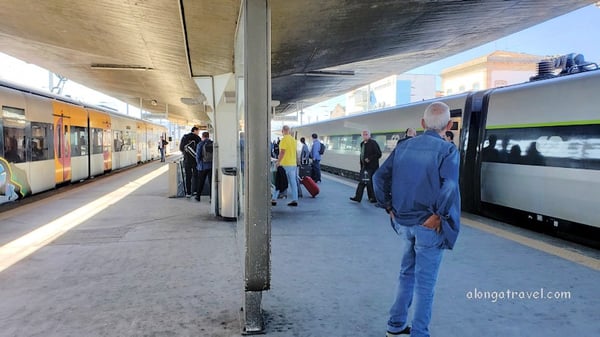 CP train company daily tickets
Alternatively, CP is the train company in Portugal, and they provide Tourist Tickets valid for 1-3 days, €6 for one day and €13,50 for three consecutive days, which includes unlimited travel in Sintra/Azambuja, Cascais, and Sado lines. You can also use them to get to the main Lisbon's beaches and attractions.
There are also trains connecting major cities with each other and smaller towns.
Another way to pay for public transportation is to buy Lisbon card at the airport or on-line. It is included for free, but you still have to swipe the card each time you enter you mean of transportation.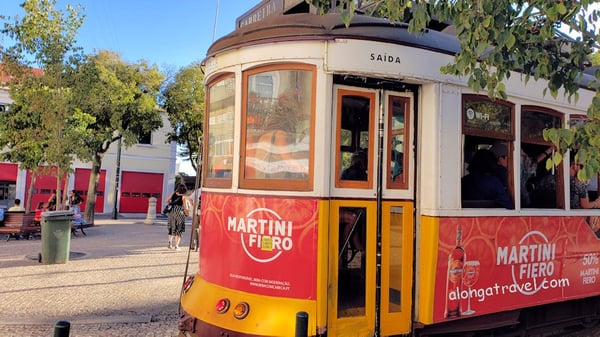 Trams in Lisbon - public transport the fun way!
Now, even if you don't like using public transport, you can't miss a fun ride on trams number #28 and #25- they're famous for a reason! For the price of a regular ticket on public transportation grid, you get to experience something very fun!
Note: make sure to get in on the last stop to avoid crowds trying to get in and try to secure a window sit. Enjoy!:)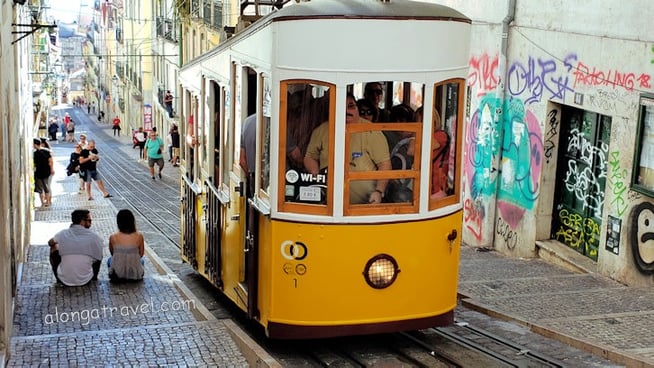 Funiculars in Lisbon
This is another special treat, when you are in Lisbon! The price is separate from public transport grid, and the ride is usually very short, but very pleasurable!
Uber
Ridesharing: Uber is available in Portugal's larger cities but it's not much cheaper than the taxis. It Is still cheaper. But you will have more opportunities to find a taxi.
FLIX BUS
Budget Airlines are available for exploring the Azores.
Lisbon to Madeira Island
Starting price is about 35 EUR for Lisbon-Madeira Island
Lisbon city card or Lisboa card
Lisbon city card gives you an excess of 26 different museums, monuments and points of interest in Lisbon and around. The Lisboa Card is the official tourist pass of Lisbon. The card is a 3-in-1 transport card, museum pass and discount card.
What is the best way to see attractions without breaking the bank?
If you re looking to squeeze in a lot of sites around Lisbon in a short amount of time, the Lisbon Card is a great option and money saver. You will be able to see many museums without breaking the bank and you will have free public transportation for you to get there, included in the card.
Lisbon city card is affordable, it starts from 20 euro for 24 hours. Plus, if gives you free public transport during the days you activated your card for.
The best value is to get a 72 days card. The price of 2021 was 40 euros. You will really enjoy all amazing places you can excess for free.
You will see as many attractions as you can handle per day. Considering most attractions charge 6-10 euros, you save a lot of money.
What is a tourist card?
A tourist card will allow you to receive discounts on museums and transportation.
Lisbon city card is a tourist card.
Is Portugal Safe?
Portugal is a very safe country to visit, and you can feel secure exploring the cities of Lisbon and Porto. Portuguese people are warm and friendly and make great hosts.
However, as with any country, it is important to be aware of any potential dangers and scams. If you follow some simple tips, like avoiding visiting some of the poorer neighborhoods after dark, not wearing expensive jewelries you will be just fine.
It always pays to be aware, careful, and prepared!
Is Portugal a safe destination for a solo traveler?
I highly recommend Portugal for a solo traveler, as you will feel safe, have an easy and reliable access to public transportation and great hotels and the best in Europe public hostels. Besides, if you are a solo female traveler, I can guarantee you the local ladies will help you without being asked! The fact that many won't speak English won't be the problem, as they're good at explaining without any languages!:)
The Most Common Scams in Portugal
Read about The Most Common Scams here
Scams to avoid in Portugal:
The scams you might encounter in Portugal are about the same as in any other European city. The only one that is specific to Portugal has to do with the confusing legal status of marihuana in Portugal. This leads to the next topic.
Is weed legal in Portugal ?
Cannabis in Portugal is decriminalized because of the decriminalization of all drugs in Portugal in 2001. However, that doesn't mean that weed is legal! Confusing, isn't it?
Medical use of cannabis-based medicines was legalized in 2018.
The non-medical use of marihuana is decriminalized, which means you won't go to jail for weed (or any other type of drugs) or get in any serious trouble. The charge would typically vary from no charge at all to having to attend a rehabilitation program and maybe some fine. However, the use is not legal!
So, here comes a common scam.
Marihuana (or any other type of drugs) scam:
Here is how Marihuana (or any other type of drugs) scam work:
You can often notice guys, mostly in Lisbon and Porto, who offer marijuana, hashish or cocaine as you walk past. Most people heard something about drugs being decriminalized in Portugal, so they might assume that this offer is legitimate. Especially since there are usually police officers presented not far away.
What they sell, though, is bay leaves and other harmless household ingredients.
And if you wonder why the police have done nothing about it, it is because these people are technically not selling drugs.
However, this has become such a nuisance to everybody that the government is expected to step in soon.
New 2021 change to medical cannabis-based medicine
Since the April 2021, the Portuguese government has approved the first-ever cannabis-based medicine in the country. If you have medical conditions, you are allowed to buy the cannabis-based medicine in approved stores.
Disclaimer: All this provided information has the only purpose; to help you avoid being scammed and, in no way or form, advocates the use of any drugs.
Portugal History
Portugal's History is Fascinating and rich!
In fact, Portugal history is so rich that it would take too long to post even a short version here. So here is a link with more details https://en.wikipedia.org/wiki/History_of_Portugal
What are the people of Portugal Like?
The people of Portugal are welcoming and are warm hosts who love to share their culture with travelers. Portuguese people are also friendly and patient, and they will do their best to make sure that you have a good time during your visit.
One of the most memorable moments for me was having conversations with Portuguese grandmas without knowing more than a few words in Portuguese (me) and in English (them). And yet, we had many animated memorable conversations with lots of smiles and hand gestures.
And they absolutely loved my crazy British umbrella I used against the sun's rays! (long story!:)
They were also kind and initiative, and helpful to me in figuring out which direction to go to or which bus to take, as it's slightly less obvious in smaller cities like Cascais, with worse mobile coverage for my free in Europe T-Mobile service.
It's important to note that while most Portuguese people are very friendly, they may not be the best at English, so it is helpful to know some basic phrases in Portuguese. I knew about 5 sentences, and they have really helped me to get the answers.
Do you speak English in Portuguese
Note: Don't forget , when asking a Portuguese person, if he speaks English, ask this IN PORTUGUESE! Don't just ask; do you speak English? Say - Você fala inglês? This guarantees a person will get more relaxed and helpful.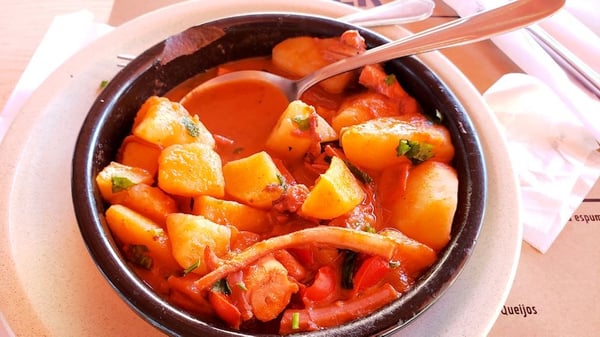 caldeirada de polvo or octopud stew in Porto.
Eating and drinking like a local in Portugal
What is the local food in Portugal?
10 Most Popular Portuguese Dishes
1. Bacalhau or dried and salted cod fish - is Portugal's national dish and the most favorite dish by locals, cooked in many ways. There are over 300 ways to cook it. My favorite is a Portuguese cod fish pie.
2. Caldo Verde ~ Portuguese Green Soup.
3. Grilled and Canned Portuguese Sardines.
4. Chicken Piri-Piri – very delicious Portuguese Chicken Dish. The secret is that Piri-Piri sauce!
5. Bifanas – The National Portuguese Sandwich. A bread roll filled with marinated pork cutlets. The secret is in the marinade and how pork was cooked.
6. Francesinha Sandwich – The Famous Portuguese Food from Porto.
7. Polvo à la Lagareiro – the Traditional Portuguese Octopus Dish
8. Porco Preto – famous Portuguese Cured Ham
9.Pastel de Nata – Iconic Portuguese Dessert.
10.Ginja, which is not a dish, but an alcoholic liquor, but very popular!
bolinho bacalhau in a restaurant in Porto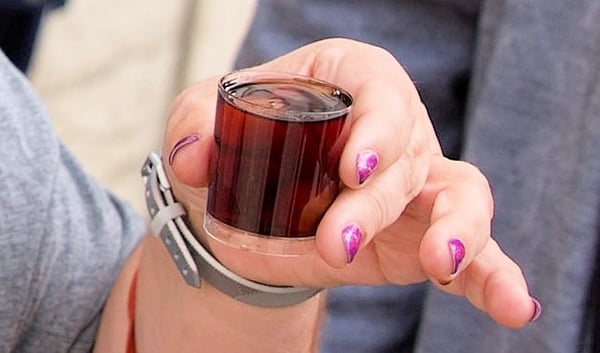 Ginja
Ginja (or Ginjinha) - is a very popular Portuguese liqueur made by infusing ginja berries (mostly cherries)in alcohol with other ingredients. Drinking small shot glasses of ginja is a very popular pastime.
Sometimes the shot glass is made of the chocolate, the best!:) Drink it slow, like a local and suck on a cherry, if you ordered "com ginja". If you didn't want the cherry, you should order "sim ginja". It's customary to drink it any time of the day, even early in the morning! Keep it mind, ginja is very sweet and very strong.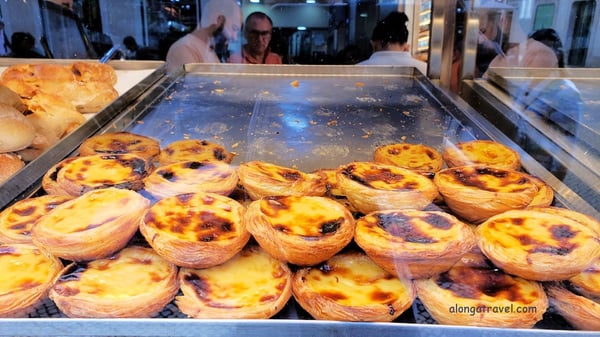 Pastel de Nata .
Pasteis de Nata – the plural form of pastel - are Portuguese egg custard tart pastries. Some are dusted with cinnamon and some are not. I prefer the ones without the cinnamon.
Pastel de Nata is as much a symbol of Portugal as street cars of Lisbon are.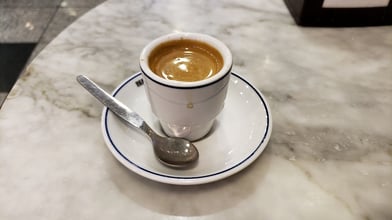 How much does food cost in Portugal
A typical meal in Portugal will have different costs, depending on where you eat. When picking where to eat, keep in mind it's a few extra dollars for an outdoor space spot in a restaurant.
If you eat away from the touristy areas, you will pay only 1.5 euro for a cup of cappuccino with a multi-million dollars view on a rooftop terrace, overlooking the famous suspension bridge, The 25 de Abril Bridge. Or – 60 cents without a view.
Locals usually drink bica (a strong, small coffee) in the morning and its price can range from €0.60 to €1.50. Espresso is the most popular choice.
A sandwich, like a tosta mista (grilled ham and cheese toast), or bifana - a traditional Portuguese sandwich of a bread roll filled with marinated pork cutlets will cost around €2.
Pastel de Nata cost around €0.80 to €2, if you get them fresh from the famous shop in Belém or popular Padaria Portuguesa in Lisbon. You can watch through the window how they are getting baked.
Lunch or dinner could be anywhere from €5 to €30 .
Drinks in restaurants will range from €1.50 to €20. Cocktails are usually sufficiently more expensive than local house wine or beer.
popular Padaria Portuguesa in Lisbon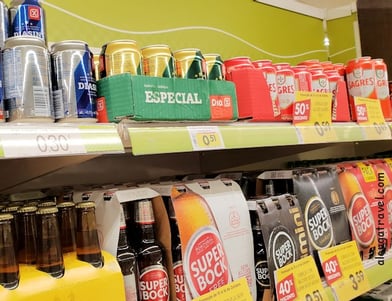 Eating on a budget in Portugal.
What is a cheap way to eat in Portugal?
As always, my advice is to eat from street carts, local fruit shops, markets and supermarket packaged food. Most things there will cost starting from €1-2. Canned beer or wine from a store will be less than 50 cents. The same or less for water bottles.
If you want to buy famous pastels de Nata, it's cheaper to buy a box of 6. And they're so delicious, I didn't know how to stop eating them. They're really tricky!:)

What are the ways to save in Portugal?
Some of the best advice for the budget travel tips in Portugal includes traveling during off-peak season (winter) so you can get more bang for your buck without having too many tourists around.
Additionally, not staying at hotels - but rather renting apartments or staying in hostels - will help give you a more authentic experience on way less money.
Budget travel tips for Portugal
When traveling to Europe, it is possible to save money while still enjoying time in Portugal and visiting other countries or cities throughout the continent.
Use public transportation. Taxis add up so use the metro system for transportation needs
Avoid tourist traps at restaurants and bars. As long as you're not splurging on a lot of booze or eating at overpriced tourist restaurants, your food will be affordable.
Buy Lisbon city card. Lisbon city card is a great card, if you're on a budget! more here
Portugal is a country that's perfect for those who want to travel and have an authentic European experience. There are a number of food, accommodation, wine options available in Portugal which will ensure you can eat well without breaking the bank.
Is tap water safe to drink in Portugal?
The tap water is safe to drink so bring a reusable water bottle. Bring reusable water bottle to save money and reduce your plastic use.
LifeStraw has built-in filters to ensure your water is always clean and safe
What is the cheapest way to get around Portugal?
Use public transportation! See here for more.
What Not to Do in Portugal
Do not try to ask locals in Spanish! Spanish and Portuguese, while similar in some ways, are two different languages!
When visiting churches, make sure your shoulders are covered!
Don't discuss local politics - the same with visiting any country.
Portugal is amazing and beautiful country - go, visit and enjoy!
Let's connect on social media and let me know if my advice helped!
If you want me to create a custom travel itinerary for you, let me know by emailing me! I am running a 50% off promotion right now!
Let's connect on social media!
If you would like to support my work, that would be greatly appreciated! Thank you!
Subscribe to my periodic newsletter and never miss my latest post
Copyright © Alonga Travel 2021