There are two different routes to get from Sarajevo to Montenegro. This post is about Sarajevo to Podgorica incredibly picturesque bus route.
You can learn all practical info about Sarajevo to Podgorica bus ride and the bus stations. Check out pictures of the stunning scenery of the bus route & learn about Bosnia & Herzegovina to Montenegro border crossing.
The most common route available from Bosnia and Herzegovina to Montenegro will take you from Sarajevo, to Mostar, then to Stolac, Trebinjë in Bosnia and Hercegovina, then Herceg Novi in Montenegro, and the last stop-Kotor.
This is a different route, traveling from Sarajevo to Podgorica.
I've taken a bus on both routes, and I can't decide which was prettier, because both entertained me with incredible, but slightly different, views.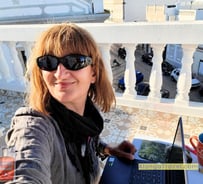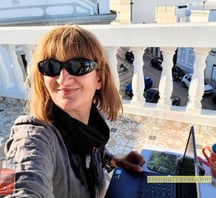 Hello, I am Tatiana—an architecture addict fascinated with beautiful old buildings and discovering the gems of Europe. Check out my in-depth travel tips and reviews of the best European destinations and city breaks. Let's connect on social media!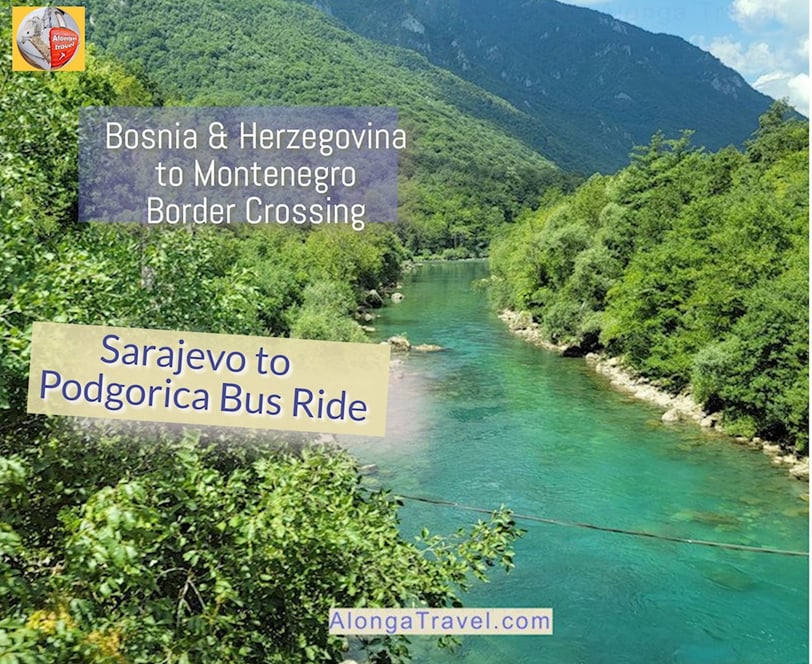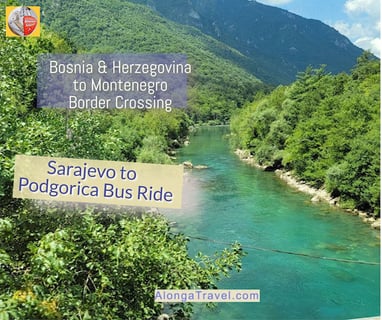 Sarajevo to Podgorica Bus: Info, Route Pictures & Border Crossing
Luckily for me, the drivers from Sons bus company that I was using for this ride are good about keeping buses' windows clean. Because of that, I could take lots of videos that look presentable. I will edit the video soon, as I really want to show the beauty of the route.
Practical information
How to book bus ride from Sarajevo to Podgorica
You can book it here from GetByBus website. Just change the date of the search for your date. The coast is 20 euro.
Where does bus Sarajevo to Podgorica leave from?
Sarajevo to Podgorica bus leaves from Sarajevo East, which is the furthest away from the main Sarajevo bus station in the center. This is important to keep in mind, as many people go to the central bus station, the one that is right next to the train station. This is not it.
Sarajevo has two bus stations: the main one near the city center and the one in Lukavica, called Sarajevo East.
The main Sarajevo bus station
The main Sarajevo bus station is near the city center, right next to the main railway station. You can take a bus or just a 25 minutes' walk to the center of Sarajevo from there.
The station is large; it has over 10 platforms and offers cafes, small restaurants, shops, kebab stores, and kiosk and toilet facilities.
The main station Sarajevo serves as the departure point for most buses heading to other parts of Bosnia and Herzegovina, as well as to Croatia, Slovenia, and Western Europe.
How to get there: take almost any bus or tram from the center. Some go directly, some to a stop 5-min walk away. Check your directions.
Address: Put Life 2, 71000, Sarajevo
Phone: +387 33 21 31 00
However, if you're traveling to Serbia, some cities in Montenegro, or Serbia and Kosovo, your starting station will be in Lukavica, or Sarajevo East station.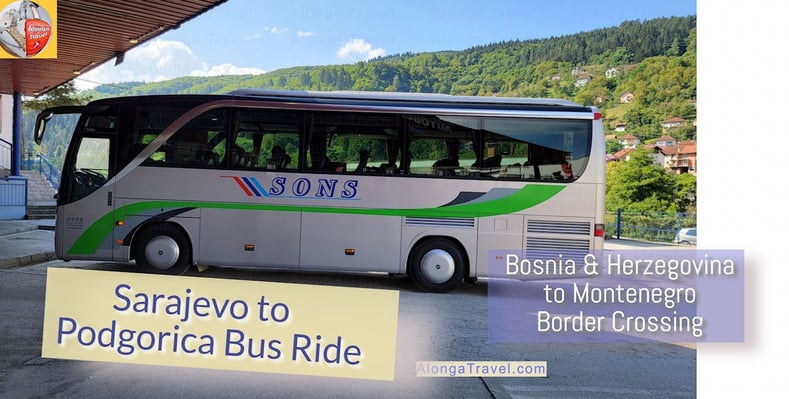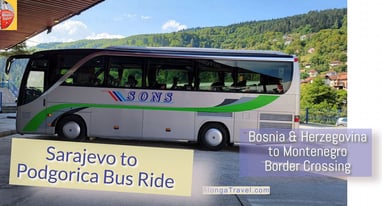 Sarajevo East bus station (Lukavica)
How to get to Sarajevo East bus station
No public transport going there directly, but they go to Dobranja station (3-minutes' walk away).
Avoid the advice to take a tram (trolleybus} No. 103 or 107 to reach the Dobrinja station. Tram lines are being repaired at the moment (August 2023) in Sarajevo.
Take bus 31E from the center to go there and takes about 50 minutes (could be slower at times). Once you got to Dobrinja station, turn left (with you back to the station), and walk about 3 minutes on the road – you'll see Sarajevo east station. It's very easy to find, so don't worry.
Or, you can get a taxi. If you know how to call the taxi, the ride will be only 18 Bosnian Marks, which is 9 euros. But, if you order a car in advance through your hotel, or will try to get one from a street, they will ask for 20-25 euros.
Once at the bus station, there are few amenities. You will have to pay 1 euro for a pretty scary toilet usage, but that's a normal thing in Bosnia and Herzegovina. So, don't arrive too early.
Sarajevi East bus station Address: Srpskih vladara 2, 71123, Istočno Sarajevo
Phone: +387 57 317 377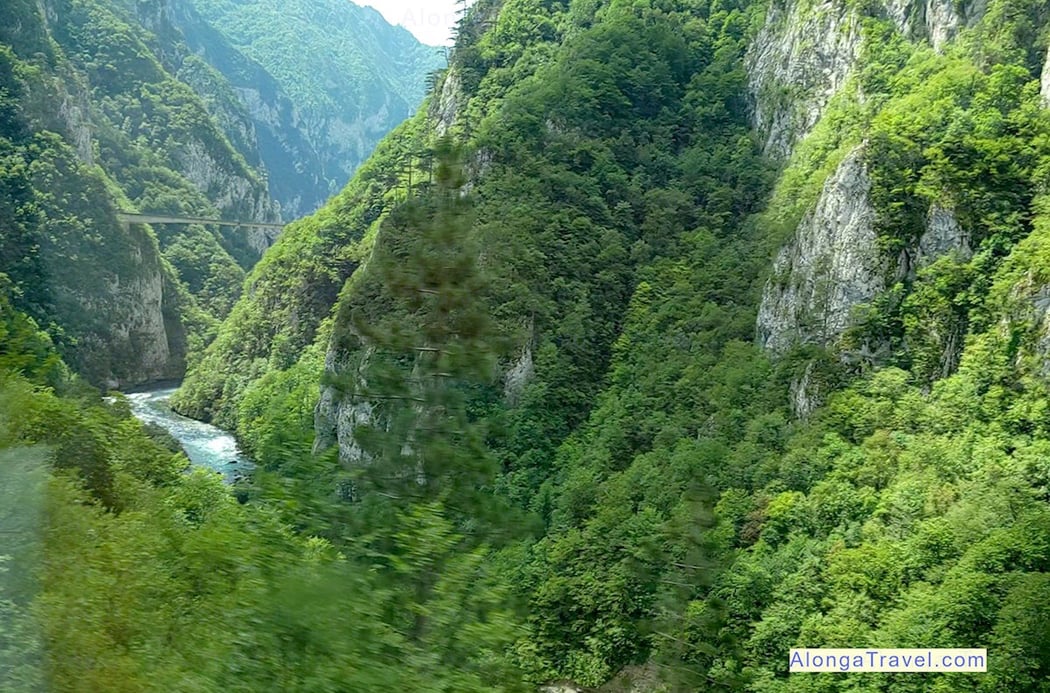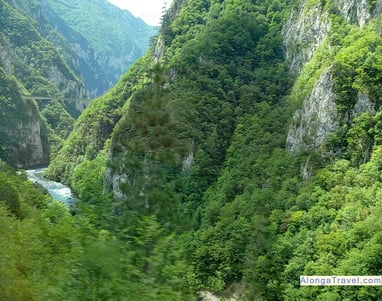 Additional info about the ride
Make sure you have your passport or travel documents with you!

Bring your water and food with you. There is a café, though, you can buy it there.

Once at the bus gate, you'll be asked to pay 2 euro just to enter the bus area, plus 2 euro for each bag you're stowing in the under the bus box. Don't be alarmed, unfortunately it's also a normal thing. It could be an extortion, but what can you do?

Try to get a seat on the right side of the bus – the views will be fantastic!

One important thing to keep in mind, when considering buses in the Balkans area of Europe. By far the most bus companies, except for FlixBus buses, don't have bathrooms (toilets) aboard. But the bus drivers usually are pretty good about stopping at the regular 1.5 hours intervals for a restroom break. But don't count on it! If the bus is running late, they won't.
So, maybe don't drink coffee and lots of water on the bus just in case? I found this to be the best strategy for myself, if my bus don't have (an unlocked!) toilet aboard. Because most of them technically have a toilet aboard, but it's locked. Yeah… strange...!
However, FlixBus buses always have working bathrooms (toilets) aboard!
Be careful, though. Some routes that are sold on FlixBus website, are run by other bus companies (possibly, without a toilet aboard). Read more about different European bus companies in my other post. You can find there more information about the advantages of using FlixBus for your bus service provider as well.
One of the scenes from the bus route you will see during the ride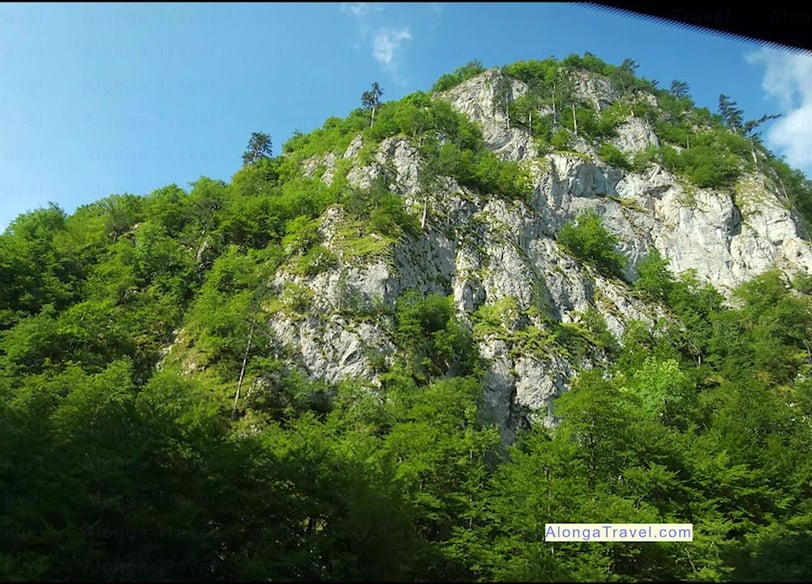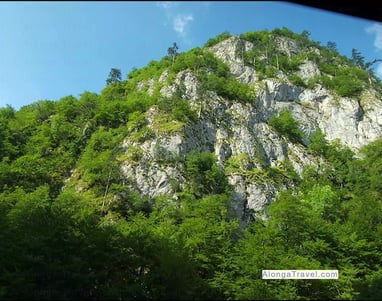 Sarajevo to Foča route
The Sarajevo to Foca part of the bus ride to Podgorica was rather uneventful. It was pretty enough, and it was comfortable enough to take a nap.
Here are a few pics.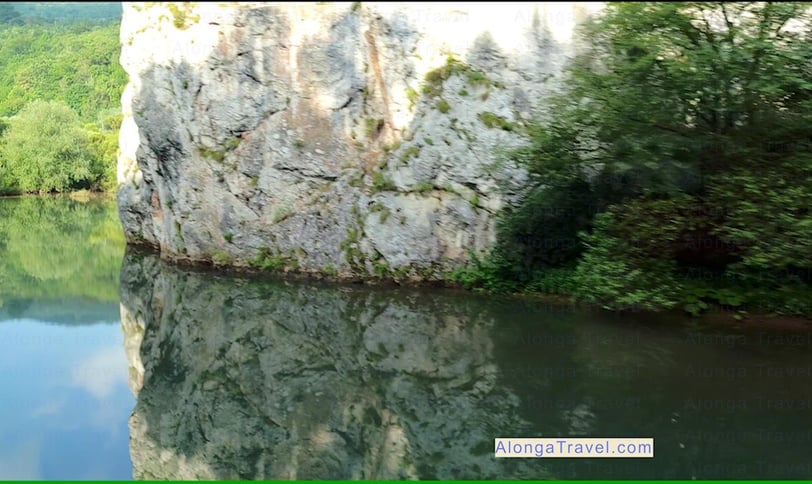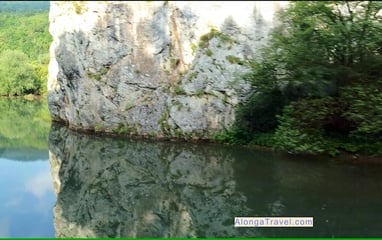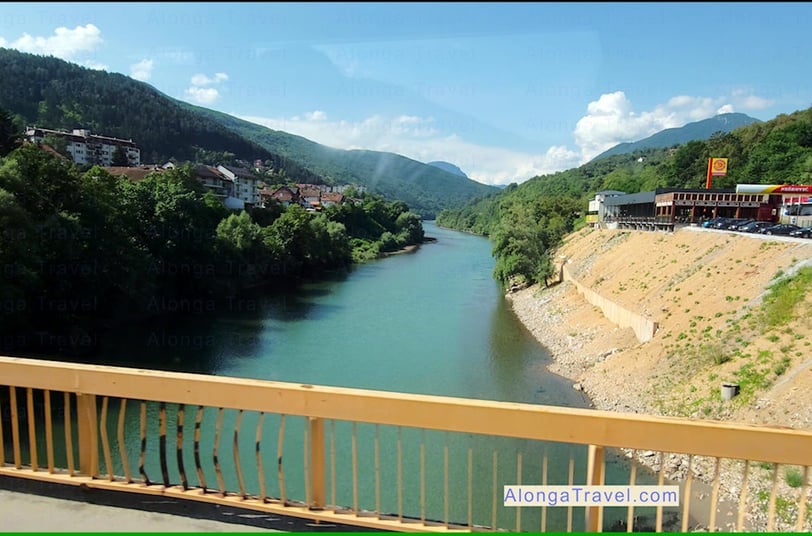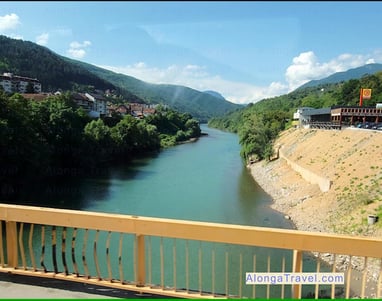 You will make a small detour to Foca bus station, and you will cross Drina river to get there.
Foca bus station
You will stop at Foca bus station(Autobuska Stanica Foča) to use a restroom and buy some food/coffee. You will have 10-15 minutes for that.
Below is a picture of the inside of the bus. You can bring 2 small backpacks or bags with you, but you will have to stove big bags in the under bus compartment.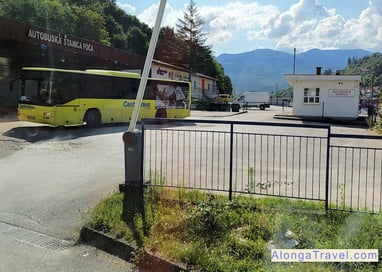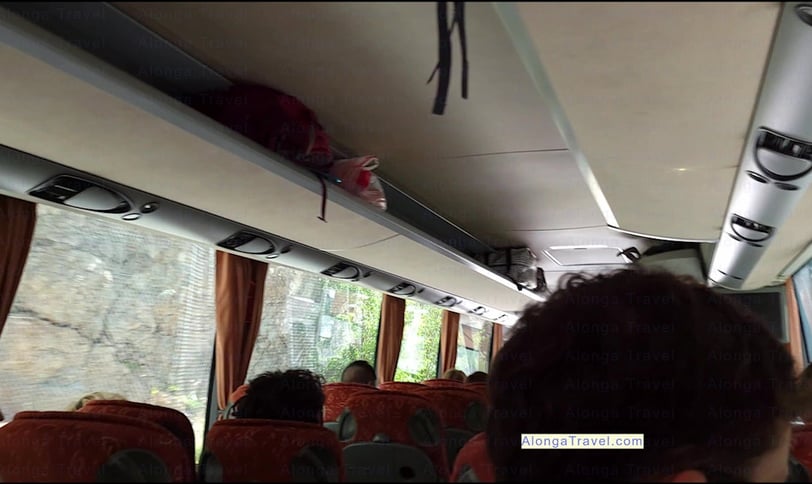 Foča to border crossing route
Things become more interesting along this part of the bus route.
Bus route will start following beautiful Drina River, and the road will start getting some higher altitudes right after Foča. Here are a few pics of Foca and Drina River.
It will also become a bumpy ride. Most highways in Bosnia and Herzegovina are one-lane in each direction highways. They try to enlarge them, but that often leads to the roads being a bit uncomfortable while that is happening.
And right after Foča bus station, you will ride not on a highway, but on a stretch of a road, called R457. That will be the bumpiest part. You will enter a highway eventually.
But you might even not notice the shakes when you see scenes from this route!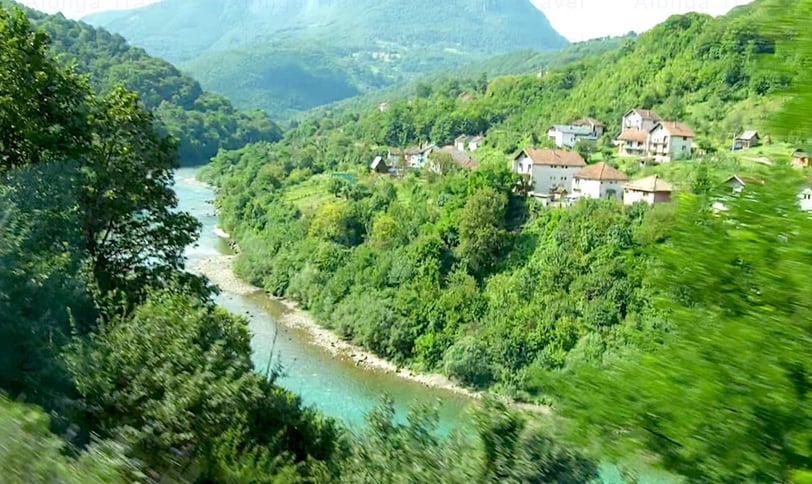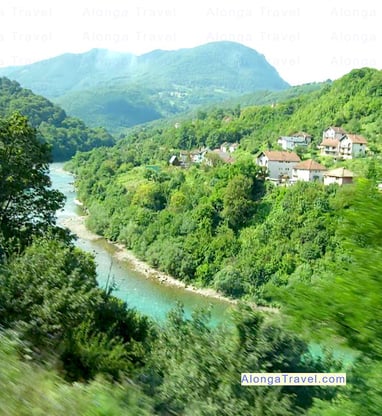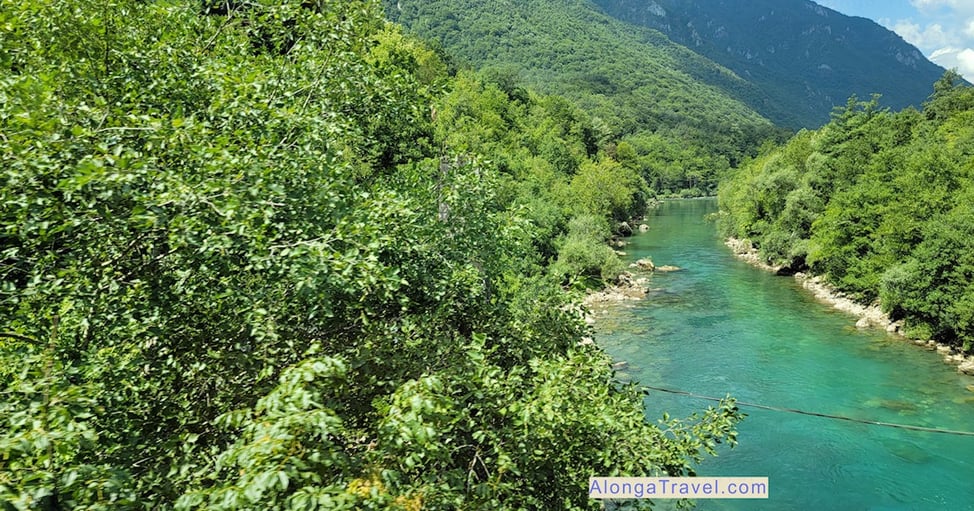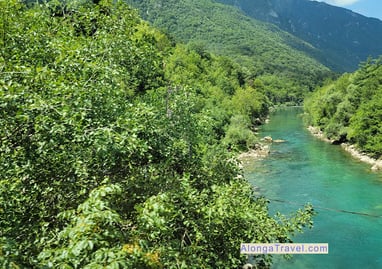 Attractions you will see along this route.
Because the scenery here is so picturesque, and Drina River (Rijeka Drina) and Drina Canyon is popular for hiking and white river rafting, there are many camps and resorts along the route, located by the river.
You will see:
Rafting Camp (kamp) Stari Dud

Duceli Rafting Center

Trio Lux Resort-Rafting Tara

Rafting Centar Drina-Tara (see picture above)

Rafting kamp Rajska Rijeka

Tara Inn rafting resort

Rafting camp Konak

Rafting Camp Tara 87

Rafting camp "Eden"

Rafting center RT with swimming pool ( see picture below)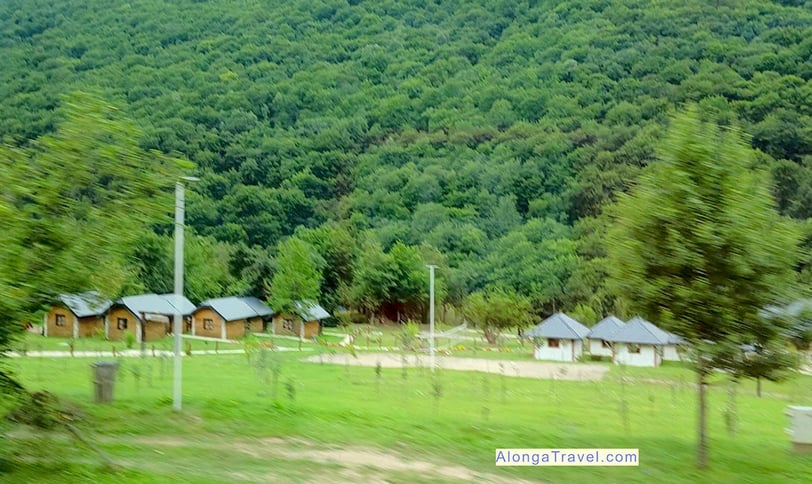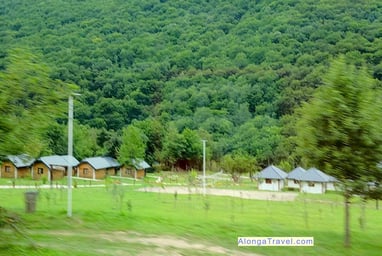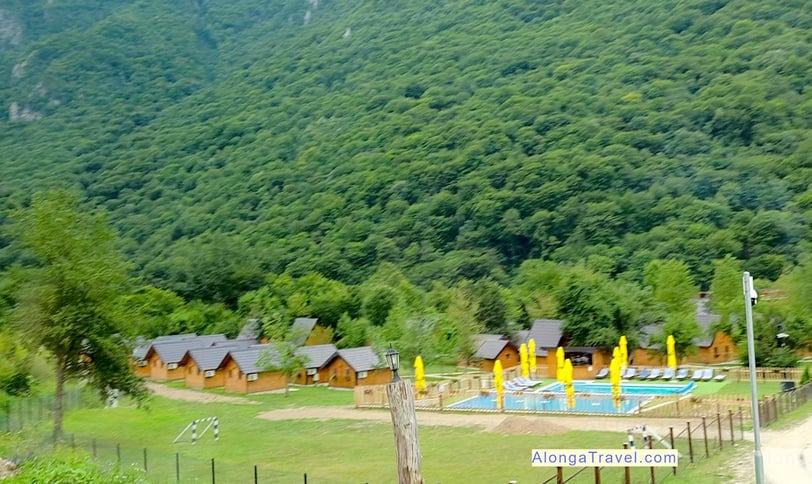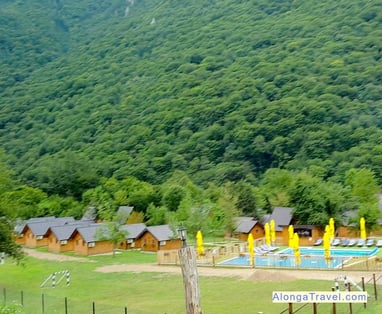 Rafting Centar Drina-Tara
All of these resorts and camps looked fantastic and I decided I wanted to stay there some day.
You will also see Grand Tara Rafting Resort, and here is a map to find it. All other listed above camps and resorts are right next to each other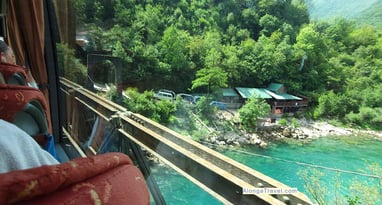 Border crossing between Bosnia and Herzegovina and Montenegro
Border crossing on this route happens not far from Hum. There is going to be a stretch of very picturesque scenery between two countries' border police booth.
Bosnia and Herzegovina border crossing or Hum Border Crossing
First, you'll stop at Hum border crossing. This is to exit Bosnia and Herzegovina.
You need to prepare your passport in advance and a bus driver will take everyone's passport and take it to the border police office. He does it, because you need to get the exit stamp from Bosnia and Herzegovina.
They changed the procedure a bit during the last few months. Now a border police officer will enter your bus, and will pick up your passports, comparing the pictures in passports to peoples' faces. He'll take your passports to the booth, stamp them, and your driver will bring it back.
Be prepared to be asked to walk along the moving bus aisle to handle passports to your fellow travelers!:) Somehow, I always get asked to do that, go figure.:)
Now, starts the fun part. There is a narrow one-lane bridge over river Drina, that divides Bosnia and Herzegovina and Montenegro. Your bus will wait for it's turn to cross the river. The crossing is short, but you'll be treated to some spectacular views of Piva Canyon (Ušće Pive). See picture of this one-lane bridge crossing Drina River,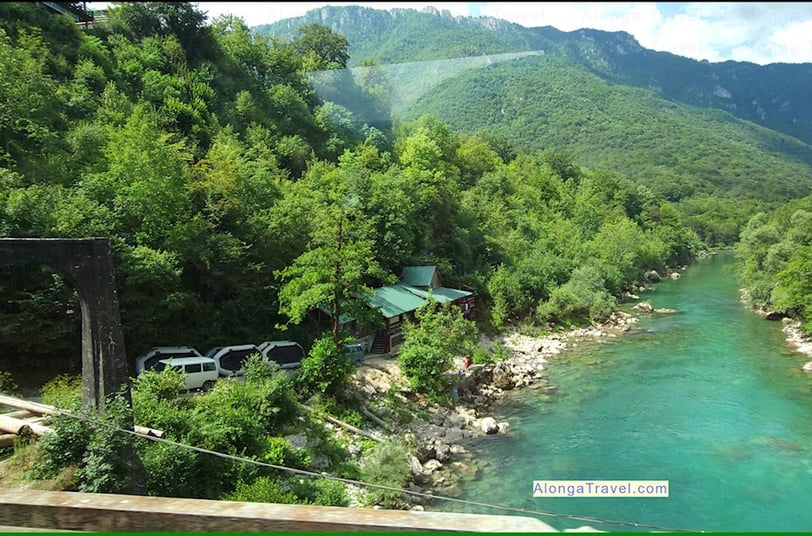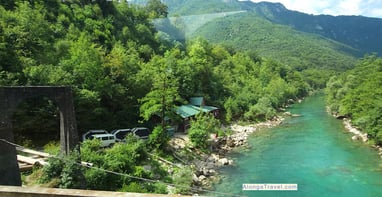 Do you know that people pay money to book tours to take them to Piva Canyon viewpoint? And you will get it for free, complementary to your $22 bus ride between 2 counties. What a deal!:)
Okay, now that you get to enjoy your river crossing, your bus will go to the Montenegrin booth of the border crossing. They are not right next to each other, there is a short stretch between them of maybe 500 meters.
Montenegro Border Crossing
Prepare your passport once again. You need an entry stamp to Montenegro now.
Another border crossing officer will enter your bus, this time – Montenegrin. He will once again collect your passports, comparing to the picture in your passport. Then you will have to wait about 10 minutes (if you are lucky), and your bus driver will bring you your passports back. Make sure you picked up yours!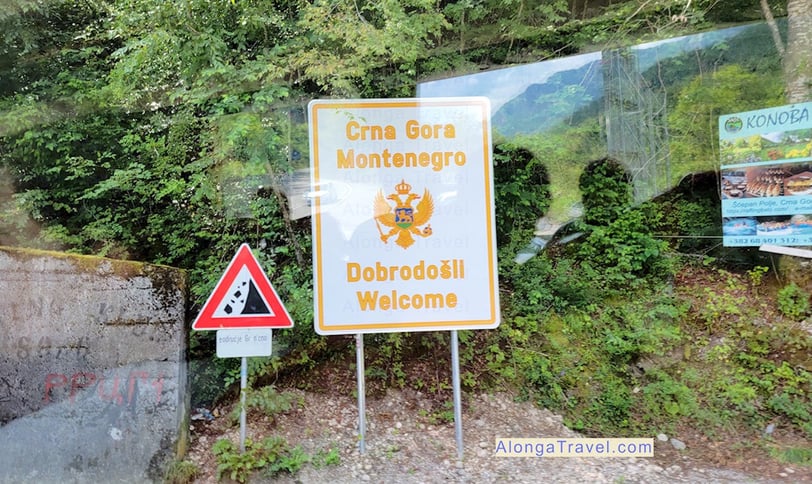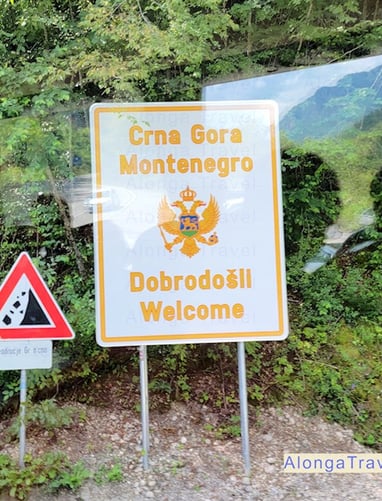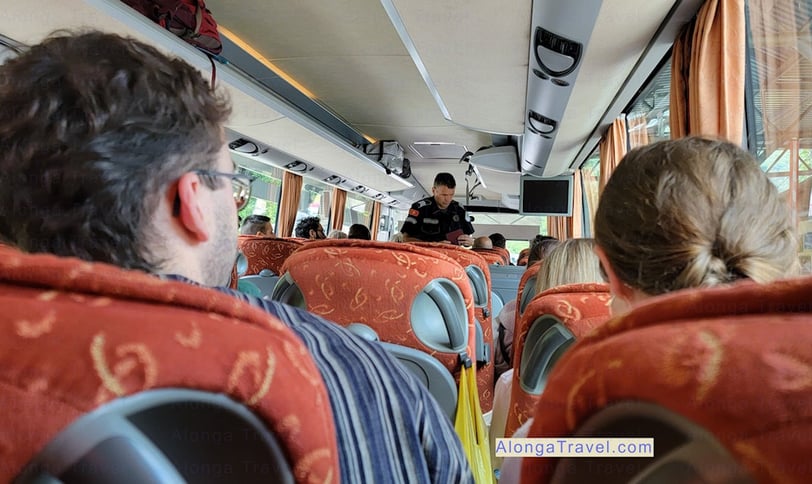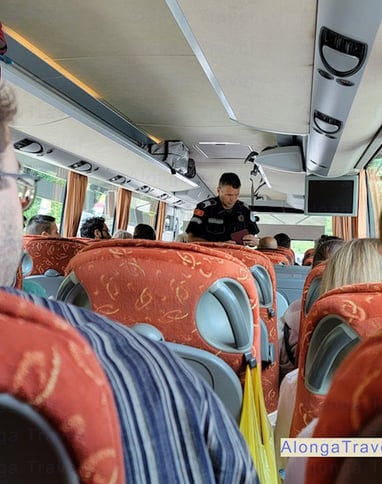 Montenegrin border crossing officer enters a bus to collect your passports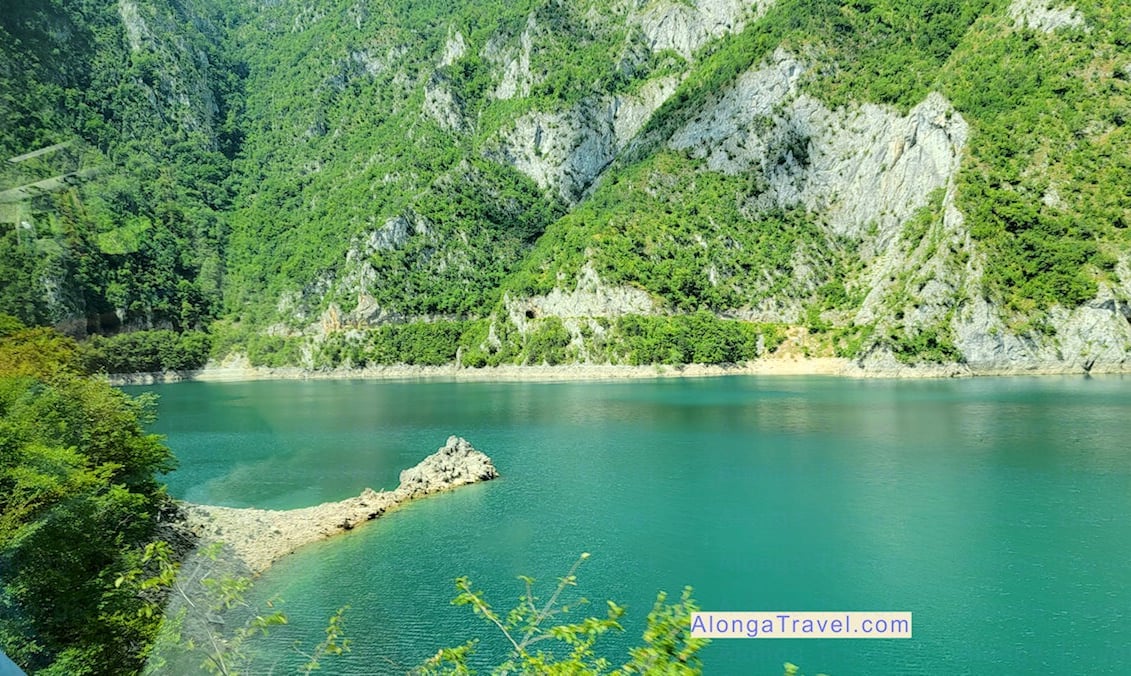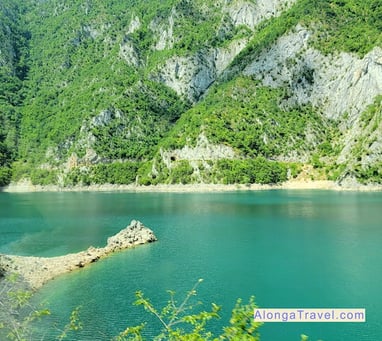 Montenegr0 border crossing to Pluzine (Плужине) route
The Montenegrin border crossing to Pluzine route is the most stunning part of your bus ride. Prepare to be amazed!
Bus will go back on the road. You will see more camping and resorts.
You will pass Blue River Tara - Rafting Montenegro Crna Gora, Rafting Camp Bato and Tourist Info center / Nature Park Piva.
You will also see Rafting Klub "Bodo" Sastavci and Rafting camp "Tara Tour" from afar.
The bus rides on highway M18/E762 for a while, along the river Tara.
Three Canyons Montenegro
You will approach a point where one can see three different canyons: Drina Canyon, Piva Canyon and Tara Canyon at the same time! What an amazing opportunity! This is because Drina river gets divided into 2 almost equally wide rivers: Piva and Tara at some point, near the Montenegro crossing office.
There is a Rafting kamp Three canyons there as well. Just in case you are wondering, you can get a room there for $80, taxes included.
Both Piva and Tara rivers serve as the division line between Bosnia and Hercegovina and Montenegro. Both rivers are roughly equally split between both countries, but Tara River serves the division for many kilometers longer than Piva River, which soon becomes the entirely Montenegrin river after the border crossing.
Tara river later becomes the famous Tara Canyon Montenegro in Durmitor National Park.
But let's get back to your bus ride. You will continue riding on a highway along Piva River and you will have the endless opportunities to enjoy the stunning surroundings.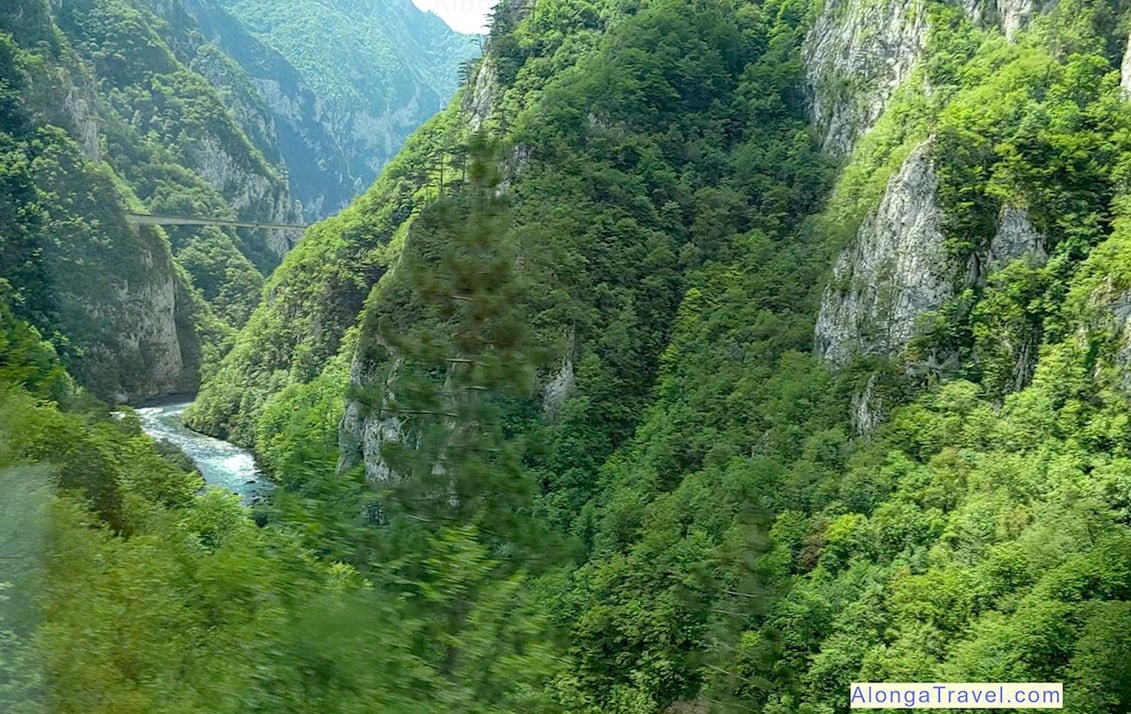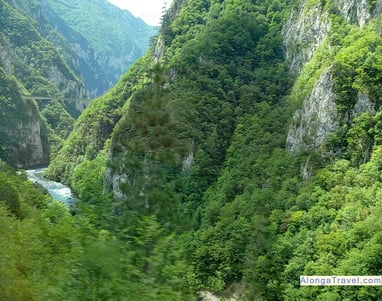 Mratinje Bridge
Here is the picture of Mratinj bridge, stunning, isn't it? If you look closer, you will see this 'tiny' bridge. You will cross Piva river on Mratinje bridge.
Now, you are riding on the other side of Piva River, and wishing you were sitting on the left side of the bus. But at the same time you're feeling generous enough to let the people on the left enjoy for a little bit, since you were monopolizing the view the entire bus ride!:)
But then they see the view from Mratinje Dam, and your generosity is all gone and you want a part of the action!:)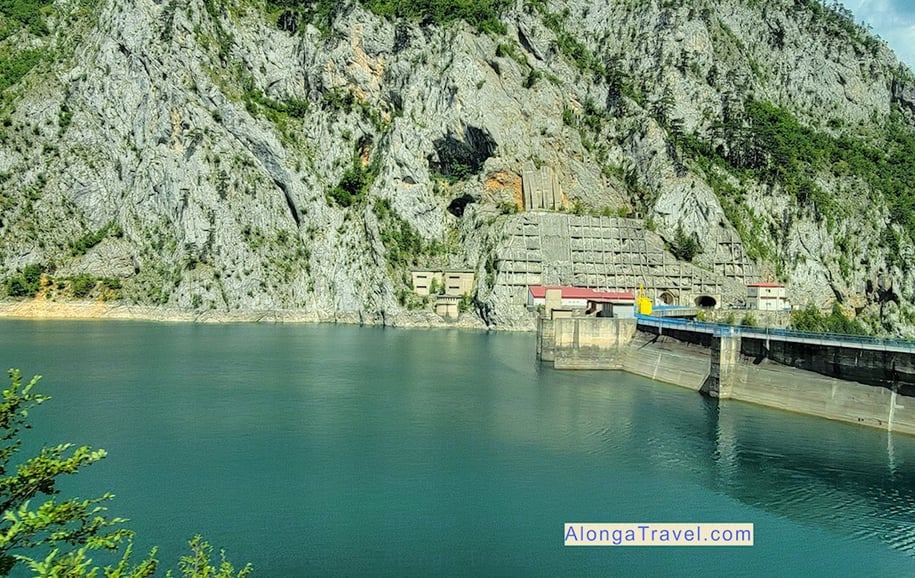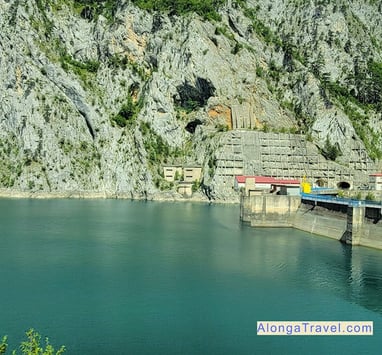 Mratinje Dam
Here is a picture Mratinje Dam.
And below is what you will see while crossing Mratinje Dam. The people on the left side of the bus most likely saw a MUCH prettier view than mine!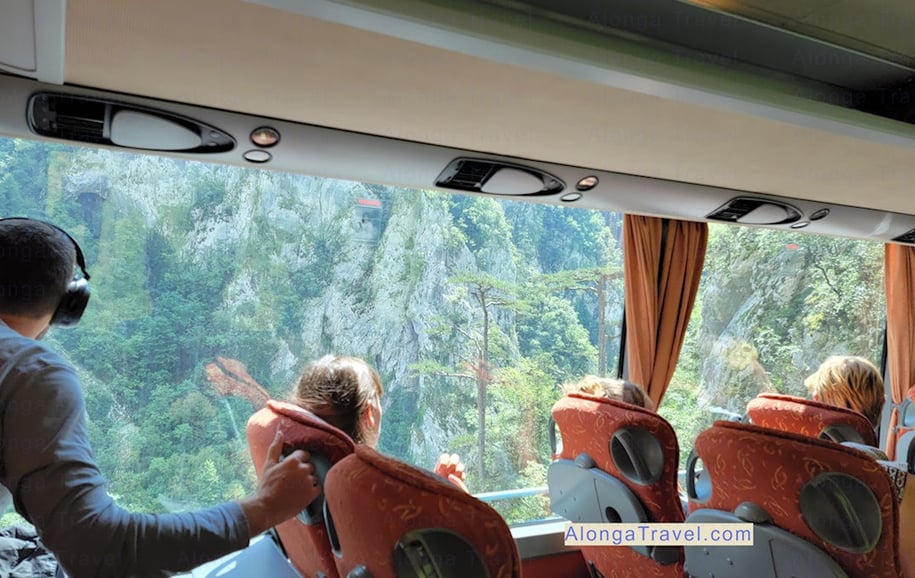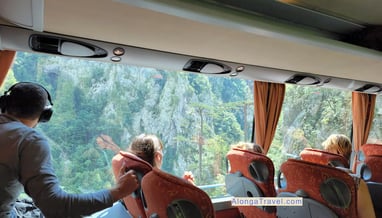 Oh well…😊Especially, all of a sudden, you are on the good side of the bus again and for the remainder of your bus ride! And will see some incredible views non-stop again!
Thing will stay stunning all the way till Piva Canyon viewpoint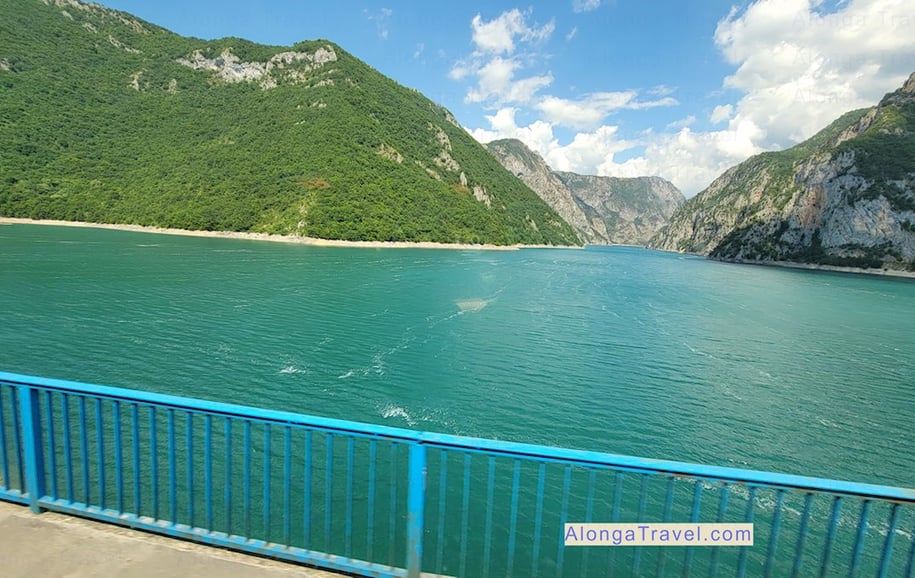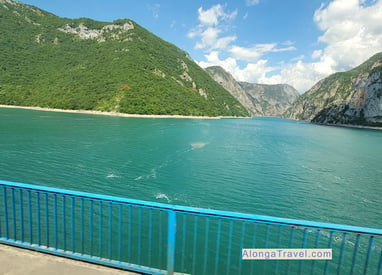 Piva Canyon viewpoint
Piva Canyon viewpoint and Piva lake viewpoint right next to it will be the culmination point of your ride. This is where Piva River divides in two wider parts, that are called Piva Lake or Pivsko jezero.
Here are the pictures of crossing the bridge between the parts of Piva Lake. Simply stunning!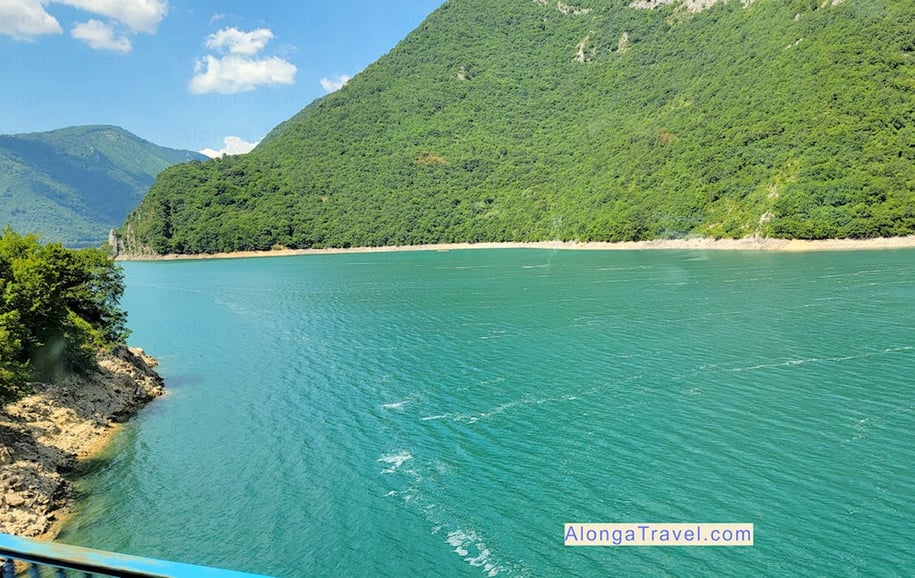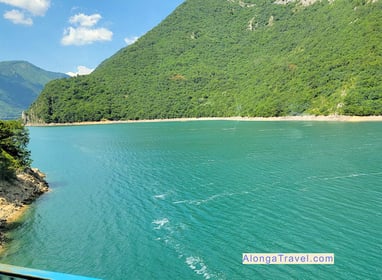 But the most beautiful part of your route is over.
Now, you can take that nap you wanted to take, but couldn't, because things were too pretty to sleep through them!:)
The last part of the bus route Niksic to Podgorica
You will pass Niksic ( Никшић), and eventually arrive at Podgorica, Montenegro. After taking a much-needed nap!:)
Is Podgorica worth visiting
Unfortunately, no matter how much I like the rest of Montenegro, Podgorica is not worth visiting or staying overnight.
Podgorica looks vastly different from any other interesting cities in Montenegro. There are rather unremarkable concrete houses there with badly maintained sidewalks. It gets pretties on the outskirts, but that's, probably not where you will be staying.
This statement was confirmed by every person who actually traveld to there, and not just write posts about places they never visited.
So, my advice – take a bus to somewhere else from Podrogica for staying there at night. Buses are plentiful, going in all directions from Podgorica. Let's talk more about useful Podgorica bus station.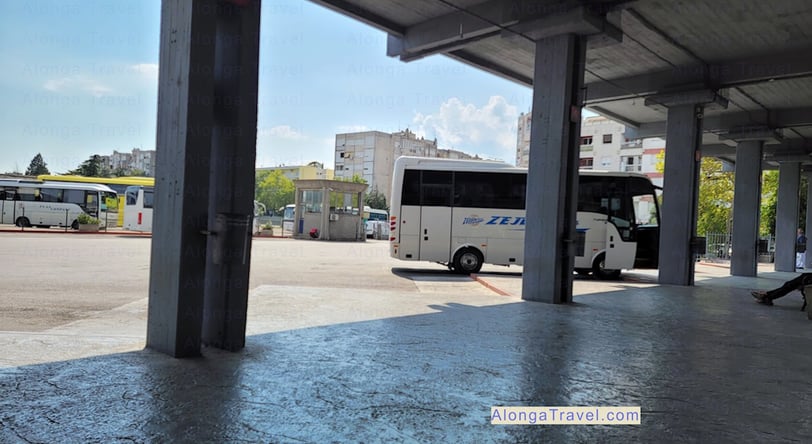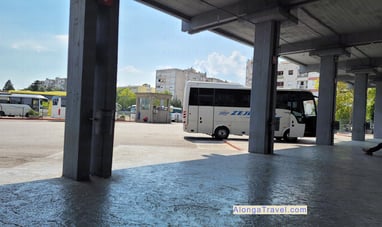 Podgorica bus station
While Podgorica is not worth is to visit, I found Podgorica bus station to be very useful as it's very well connected, and pleasant on many occasions.
Podgorica has a well maintained bus station, with a café, many outdoor benches and a paid toilet (40 cents).
There are many small private bus companies, serving Podgorica bus station, and a bus to somewhere departs every 10 minutes.
Podgorica to Ulcinj, or Podgorica to Bar buses, depart every 90 minutes.
Podgorica to Budva or Podgorica to Niksic are also rather frequent. You don't need to buy your ticket in advance, there are always seats available, and the locals never buy in advance. Check getbybus.com for the complete schedule.
In my case, I went to Shkoder, Albania, to spend the night. I had 1-hour wait at Podgorica café and then – benches in front of a bus platform.
I hope you find my post to be informative, and I answered most of your questions. Check out some of my other posts, and I will write a few other articles about my other bus rides, worth telling about, soon.
Let's connect on social media; the links are below. I am currently (as of August of 2023) only active on Twitter.