let's connect on social media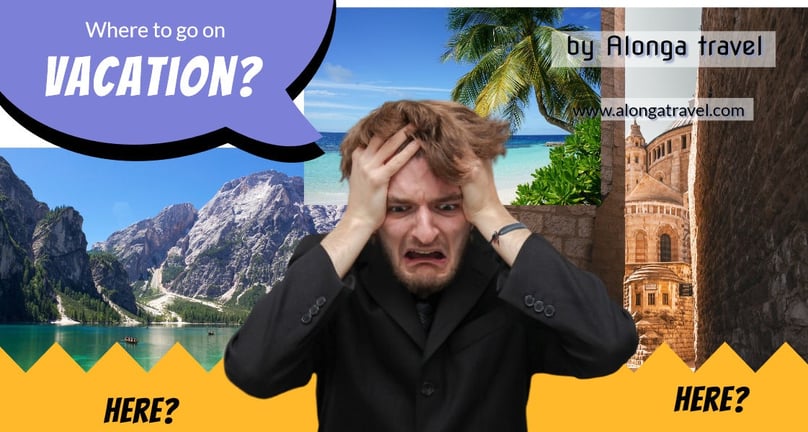 where to go on vacation
Deciding where to go on vacation should be a pleasant task. However, with so many beautiful places out there and so little vacation time many have, it might become a bit overwhelming. Let's see how to make it easier!
How To Choose Vacation Destination
So, how do you go about choosing your next vacation destination? What do you need to take into the consideration?
First, tentatively decide where you want to go. Trust your gut instinct! You KNOW what you like.
What is it? Is it some remote mountain area? Perhaps you're planning to spend lots of time at the sea. Or is it a bustling city, or a town with narrow streets?
Chose the country, the city. Don't worry about HOW you'll get there yet. There are always affordable ways.
check Instagram, YouTube and Pinterest for ideas.
You can check Instagram, YouTube or Pinterest for the ideas. On Instagram search for hashtags: #travel, #traveling, #instatravel, #instatraveling, #traveldeeper, #instago, #travelphotos, #holiday.
There are many million posts, so it will give you some idea😊. As an example, my Instagram is here
Peoples' recommendations, while useful, are subjective and it's much better to see the visual images on the videos on YouTube http://youtube.com to get your own feeling about your future destination. And then make a list and write everything down.
Check out every city and every attraction from your new YouTube list on https://maps.google.com/maps
Where to go on vacation; How To Chose Vacation Destination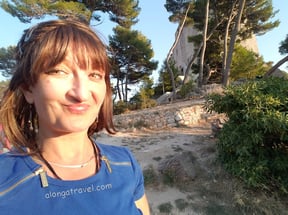 Hello, I am Tatiana. Nice to meet you!:) I am here to inspire people to travel alone and have a blast, while discovering beautiful destinations in Europe. If you would like to learn more about me, you can find it in ABOUT ME section of this blog.
"Walk" on Google map
Type the destination city in. Grub the yellow dude in the lower right corner by left clicking on him and drop him on the city or a street you want to check out. You can only drop him on a street or place marked blue. Once you're on the street, start "walking" by clicking on the arrows.
Don't forget to look around and up. You will feel as if you are walking on the street for real! :) If you landed in a blue circle, it's a 360 degree picture. You can't walk there, but turn around to get a better look of the area.
This step is the most informative for me. I can ALWAYS predict if I will like the place or the city, by "walking it" on google maps. How did we live before Google maps?! ;)
BTW, while you are finding all those great places to visit on Google map, why don't you bookmark every spot you like? This way you will have all the cool places already on the map for you! And the more you "walk" the map, the more you looks around and admire, the more bookmarks you have. This is how I keep track of places to visit. You can create differently colored bookmarks for places, favorites, food, whatever else, you can add any list you want!
Get travel guidebooks from a library.
You should buy the right guidebook eventually, but first why don't you get 5 or maybe 10?;) guidebooks from your local library to try out? Then, if you have really narrowed down on the desired country/city you can just buy one for your own marks.
I used to LOVE DK Eyewitness travel guides. I had so many of them! They had so many pretty pictures that were keeping me warm during cold winter months in my hometown. They had tons of useful information, though, with all honesty I never really used that information for anything other than getting a general idea of where I would love to go next. However, new editions DK books are very shallow, and it's not only my opinion. You can still buy used DK Eyewitness series from the Internet.
Some people, build their entire trip preparation around travel guidebooks. They go through every word in the guidebook religiously, make lists, write down all the names. Especially it seems to be true for Rick Steve's guidebooks fans.
I completely understand where they are coming from, and admire you, if you're one of his fans!:). Just planning the trip can be a very exciting part of the trip! I just could never bring myself to write down all the names. I get bored fast if I do. But I had more than enough patience to pin all the precise locations on the map!:) I guess people just operate differently and there is no right or wrong way, just whatever works for you and makes you happy! And if you don't know what it is, why not try it all and chose for yourself?;)
But let's go to another step. Once you've narrowed down on the city, there is something else to think about.
When Is The Best Time To Visit
Now it's time to research when is the best time to visit your destination. For example, it might be not the best time to visit Rome in August, when it's 106 F every day. Also you might reconsider going somewhere north in winter. It might matter to you that there are masons and hurricane seasons at your destination. Find out when.
If you realize that the travel dates you can go are not great for your destination you're considering, save it for another time and go somewhere else.
I will write a post about when is the best time to travel in Europe soon. For now, you can check out this website for the average weather at your destination during each month. https://weatherspark.com/
Now that you have a pretty good idea where you want to go and when, let me show you how to get plane tickets for cheap.
Let's connect on social media!
If you would like to support my work, that would be greatly appreciated! Thank you!
Subscribe to my periodic newsletter and never miss my latest post
Copyright © Alonga Travel 2021