Planning a trip: how to plan a trip the easy way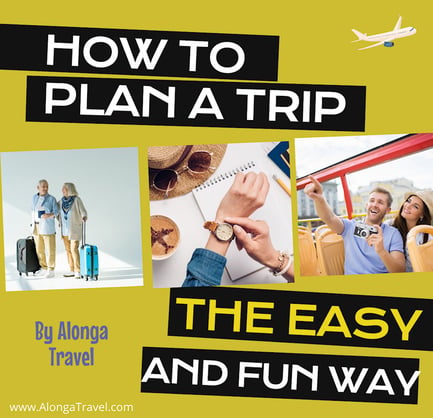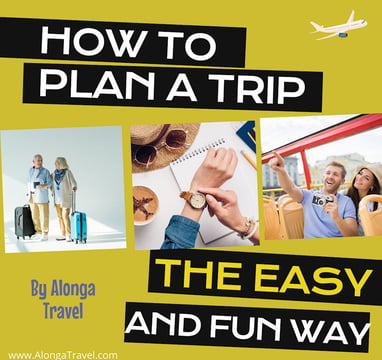 Do you want your trip planning to be fun & exciting, or stressful & expensive? If you've chosen the first option (duh;) - check out this step-by-step guide on planning a trip! You'll learn how to have a blast while planning your trip, and how to save some cash, and avoid stress to have more fun while on your adventure.
Lots of people comment on planning a trip being stressful, but planning a trip could also be a part of your vacation adventure if you know what you are doing. This post will help you learn all you need to plan your trip the easy way, and have fun while planning.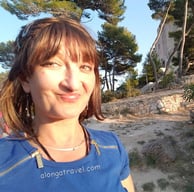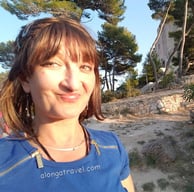 Hello, I am Tatiana—an architecture addict fascinated with beautiful old buildings and the best places in Europe to find them. I share with you how they look and the practical steps for getting there!
Let's connect on social media!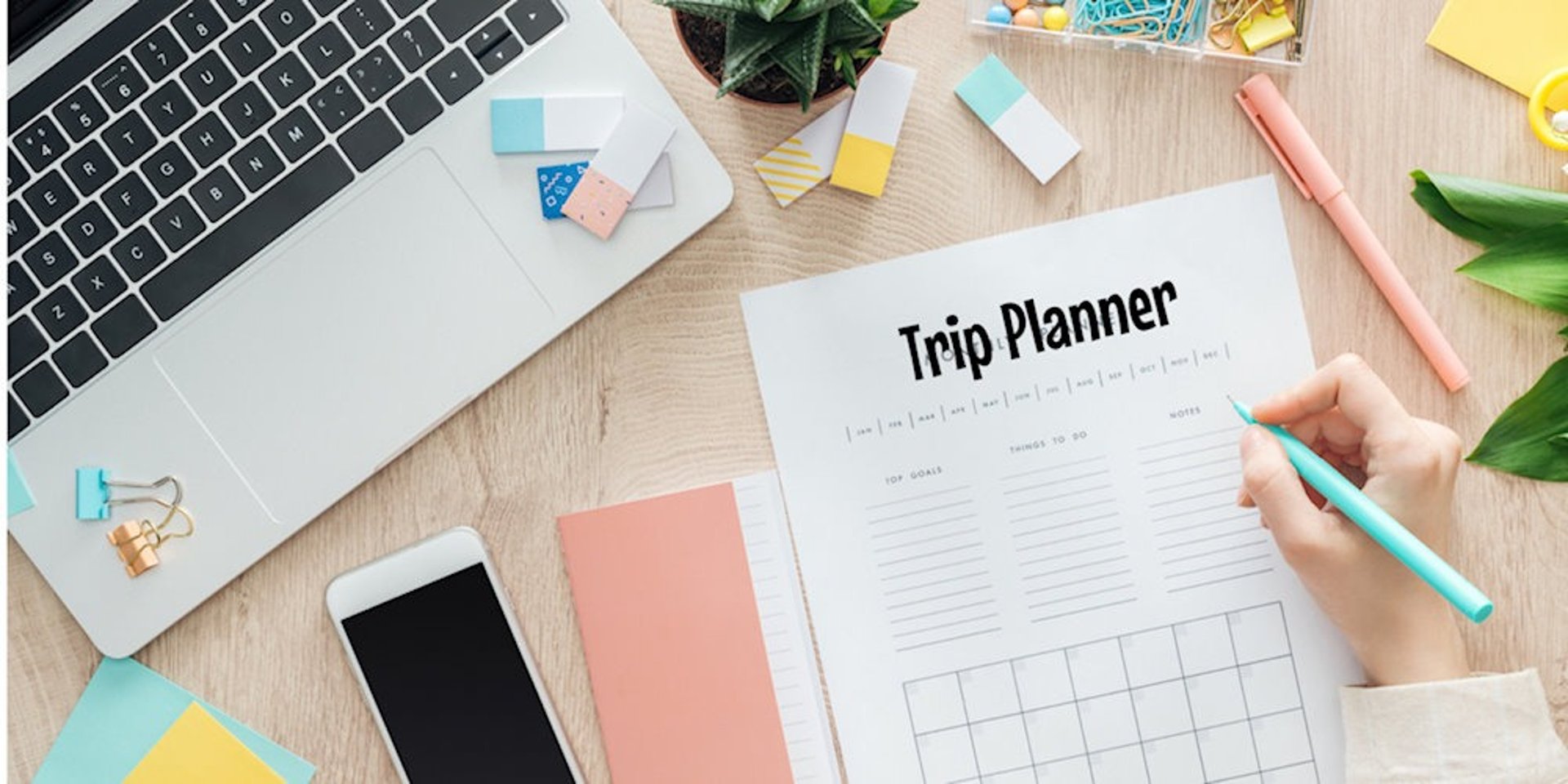 Why plan at all? Can I just go on a trip without planning?
You can. And you should once in a while, especially if you are a solo traveler, and you like adventure and unpredictability. It can be exciting!
Besides, some people naturally have worry-free personalities. However, you still need to buy a ticket, book some place to stay for a night, and bring some stuff with you, right? Unless you are planning to sleep on the beach? I've heard it could be fun, when on Ibiza?;)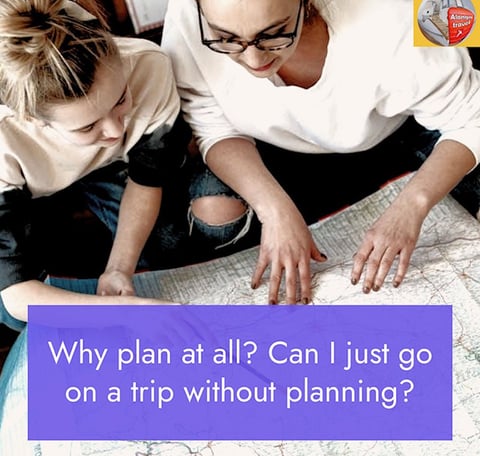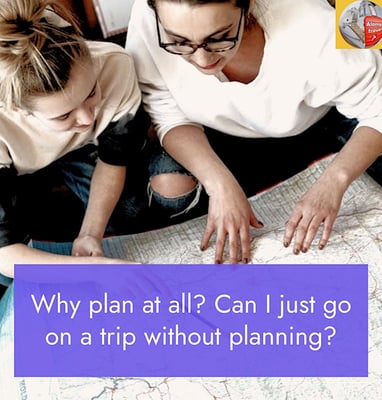 Some travelers claim they bought the last-minute ticket, threw everything into their backpacks, went on a trip and had a great time. And many indeed had a pleasant time. They were on vacation in some place pretty, what's not to enjoy?.. besides paying way too much for their trip?
If money is of no concern at all (congrats!:) - then this last-minute packing and buying your ticket, and searching for the hotel option once already at the vacation spot, can be a viable and exciting option.
But if you need to take money into a consideration or you don't have many vacation days, like most of us in the US, then you need some preparation for your vacation.
Planning a trip saves you money!
Planning a trip in advance saves you a lot of money! How much are we talking about?
Well, just as an example, you can get a $550 (or less) air ticket price from the US to other continents, booking in advance, compared to $800+ (can easily be around $1,000 nowadays for the cheapest airfare). So, $250 per person of saving right here.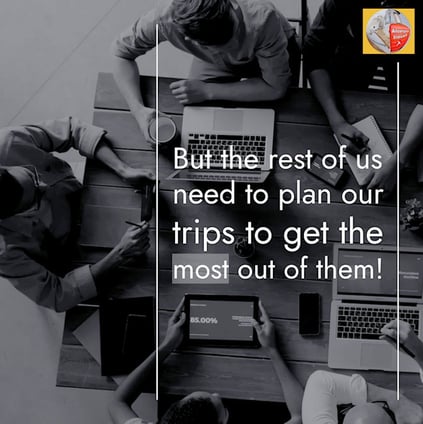 Also, you can get a big discount on accommodations, booking in advance. Like in this example. You can stay in this hotel with the ocean view swimming pool for 38, instead of paying 137 a night. Great deals happen every day; admittedly, the deals are more dramatic in SE Asia, but other places have them too: you just need to find them!
It's very hard to get a great air price, or a cheap place to stay on a short notice. Besides, if you are particular about your accommodations, you really need to book in advance!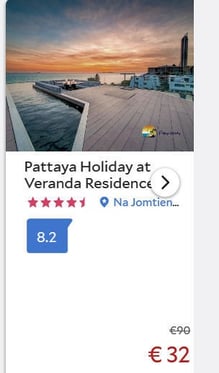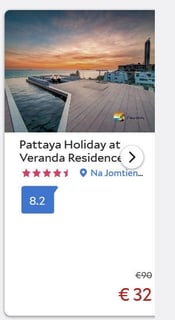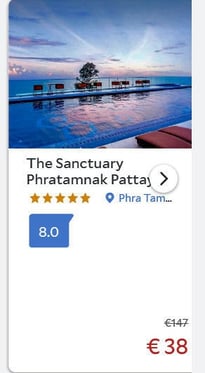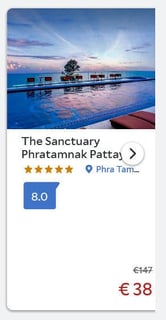 You'll get the most out of your trip with planning.
There is nothing wrong with going somewhere (maybe Mexico) and staying in an all-inclusive resort, not really doing much, if that is what you want.
But if you would like to explore your destination closely, you will need to know your options in advance, so you can choose the best activities, places, food you desire in the limited time you have on your vacation.
Planning all those activities is, actually, fun! First, learning about them, then trying them out in your mind to see how it fits, and choosing the ones who bring you the most excitement!
And once at your destination - you will waste no time anymore: you will have a few plans to choose from depending on you will feel like doing that day.
Plan a trip yourself of hire someone
Planning a trip yourself can be a very exciting and fun experience as it allows you to tailor your itinerary to your personal preferences (fun and creative!). You have the freedom to choose your own accommodations, activities, and schedule.
Planning your own trip can save money as you can compare prices and find deals. However, it is a lot of work to prepare for the trip the right way, and even though I will explain here how to have fun doing all that, some people just don't enjoy planning at all!
Hire someone to plan your trip.
Let's see what your options for planning a trip are if you dislike planning your trip.
Hire a travel agent. Hiring a travel agent or tour operator can save time and provide expertise in planning and executing a trip. They can also offer insider knowledge and access to exclusive experiences. However, this option can be more expensive and may limit your flexibility in terms of itinerary and activities.

Hire someone to do a custom itinerary for you. The best way to plan your trip, if you dislike doing this yourself, is to hire someone to do a custom itinerary for you. This way you will have your trip planned the way you want it, customized for your presences and still save money, compared to just booking everything with little researching, or hiring a travel agent (with more rigid itinerary).

Join an organized tour. If you don't mind following someone's rules and spending lots of time traveling between cities and seeing only highlights of any city, you can join a tour. Many people like guided tours! Maybe it's you.
Ultimately, whether to plan your own trip or hire someone else depends on your personal preferences, budget, and travel experience.
If you choose to plan your own trip, continue reading my guide, and here are the steps involved in planning a trip yourself.
How to plan a trip: step-by-step
The best way to plan a trip is to divide everything into smaller steps, and just follow the plan step by step. Below are the steps involved in trip planning.
Let's get out the boring part out of the way, so you can start all the fun parts of planning a trip.
Consider your travel budget (the boring part)
To plan your travel budget, you need to decide on:
where you want to go (tentatively)

how long you want to travel for
Taking your budget into consideration when planning for your trip is the least fun part of planning, if the budget is rather small. But it's better to get stress out of your trip right there, and then just enjoy a stress-free trip, rather than don't plan for that, spend all your money, and then start stressing in the middle of your vacation.
Just know that it is always possible to find something! You might end up staying in a hostel, but how much of the actual "staying" you will do? Probably just the sleeping part. And you will get to enjoy the same places and attractions as everyone else! (just on much less money!)
This step will be revisited after you decided on your final destination. Visit my other page for the breakdown on setting up a budget for your trip.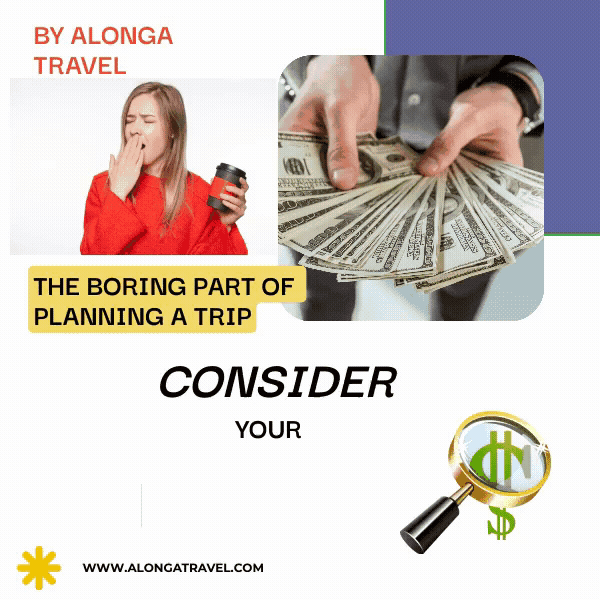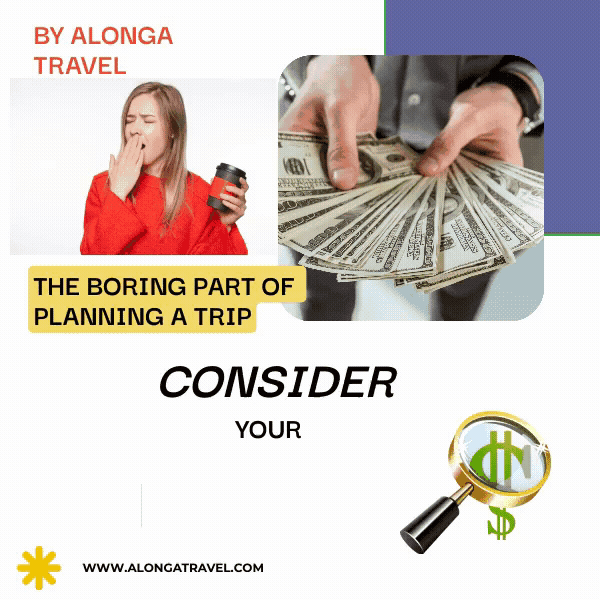 Here is a list of topic I will mention here, but you can check out in details on my other posts in my blog under the travel tips section.
Where should you go on your trip? Here comes the most exciting part of planning your trip!
Begin by brainstorming a list of places you've always wanted to visit and involve your travel companions in the planning process.
It's hard to figure out where you want to go on a trip if you know little about the place or a country. So, it would be very helpful to you to see some visuals. Gather inspiration and information from travel blogs, Pinterest, YouTube travel vlogs or videos, and destination guides.
This is basically, watching TV and reading, but with a purpose! How is this not fun?;)
Finally, choose a specific destination that you are excited about, as this will give you a clear goal to work towards and make planning easier.
To get the detailed breakdown of everything involved, visit my page on how to choose a vacation destination.
When planning a trip, it's important to consider several factors when choosing your travel dates. If you have a limited window in which to travel, such as school breaks or work vacation time, then your travel dates will be predetermined.
You will still need to research your desired destination to find the best time to visit. Because that might convince you to either choose another destination, or travel at another time. You don't want to end up that people in my picture!:)
For a more detailed explanation of what is involved in deciding when to visit your destination, visit my other page.
Check Your Passport and Visa Requirements
When planning an international trip, it is crucial to check the passport and visa requirements for your destination.
1. Check passport and visa requirements for your destination.

2. To check if you need a visa, go to the US Department of State travel visas website or Project Visa (if you're traveling from the US). If you're not from the US, visit your country's embassy page. .

3. Ensure that your passport is valid for at least 6 months after the start of your trip.

4. Ensure that your passport has at least 2 empty stamp pages.

5. Apply for a passport well in advance if you don't have one.

6. Check if your destination requires proof of vaccinations upon arrival.

7. Check specific requirements for your destination on your government's website.

8. Don't leave vaccinations or visa applications until the last minute.
Don't leave this until the last minute as this process won't depend on you, and might take longer than should. I know a couple of people who landed in Europe, only to be sent back home, because they didn't have these 6 months of the passport duration - quite a heartbreak!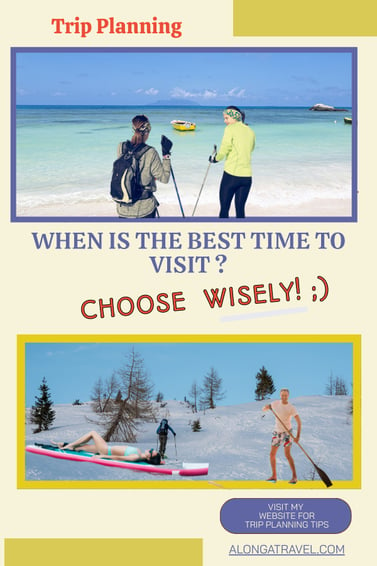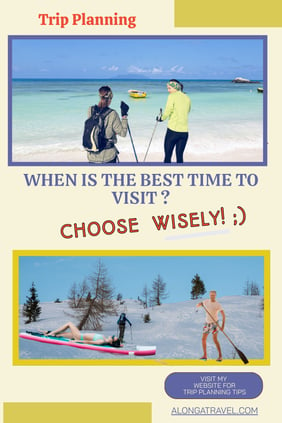 Decide on Your Travel Dates
If your destination can be reached by train or bus - you're in luck!
When planning a trip, booking flights, trains, and buses, you can save a lot of money booking in advance and using the right platforms.
To book a train, or bus ticket, read my post on that in the cheapest Way To Get Around Europe section.
If you need to buy an air ticket, visit my how to get the cheapest air tickets page.
Have you heard about Scott's Cheap Flights service that finds great air tickets? Read more about Scott's cheap Flights $24 here.
Book flights, trains, and buses
Booking accommodation is fun! You get to 'try on' all the different options! And then choose the best for you.
The accommodation you stay in on your vacation will add to or eat up a lot from your enjoyment. Some people prefer to stay right in the middle of everything. Others like to stay in some remote place. If you make a wrong decision, you might end up feeling lonely, especially if you are a solo traveler, so choose wisely!
You can get more details on how to figure out where to stay on vacation in my other post.
Remember to choose options with free cancellation policies. You might change your mind, or things can change.
Book your accommodation (with free cancelation)
Investing in travel insurance is crucial for all travelers. It covers more than medical expenses and can save your thousands of dollars in case of unexpected incidents. Here's what to consider when choosing a policy:
Coverage: Ensure your policy covers all your planned activities, including adventure sports and high-risk activities.

Medical Coverage: Check the medical coverage limit and ensure it covers emergency medical expenses, medical evacuation, and repatriation.

Trip Cancellation and Interruption: Ensure your policy covers unforeseen events like natural disasters, illness, or death that may lead to trip cancelations or interruptions.

Baggage and Belongings: Ensure your policy covers lost, stolen, or damaged baggage and personal belongings.

Duration and Destination: Select a policy that covers your trip duration and the countries you plan to visit.
Travel insurance provides peace of mind and financial protection. Always compare policies and select the one that best suits your budget and needs.
Here is a list of affordable and reliable travel insurances.
I love talking about packing light and smart! If you haven't read my about me section yet, check it out - maybe I can convince you to try it too. I'm a solo female traveler and I truly believe that packing light can make your trip so more enjoyable!
Many travelers (couples included) agree with me on this too. Your stuff will be safer with you in the plane cabin.
Here is the usual list of what is recommended:
1. Choose the right luggage.

2. For shorter trips, consider using a carry-on bag.

3. Lay out everything you need, then remove 20% of it.

4. Prioritize versatile clothing items that can be mixed and matched.

5. Pack a first aid kit, travel lock, and travel adapter.

6. Use packing cubes to stay organized and maximize space.

7. Bring a quick-dry towel and a LifeStraw bottle with built-in filter.

8. Don't forget any necessary prescriptions or copies of important documents.

9. Resist the urge to over pack and opt for a lighter load for a more comfortable trip.
You'll be happier and more comfortable with a lighter load.
To check out the list of my travel stuff, and how I use travel cubes, visit my packing for travel tips page. I also talk about safer sunscreen lotions there.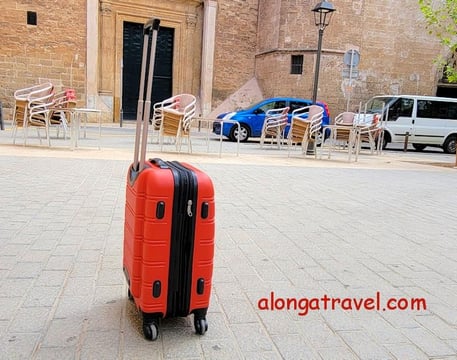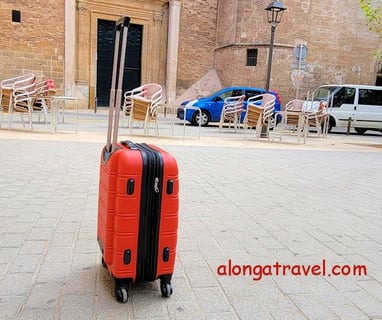 When planning your trip, it's important to research and prioritize activities that interest you
Search online for popular tourist attractions, theme parks, guided tours, museums, and outdoor activities.

Decide what activities are most important to you and plan your itinerary around them.

Remember that some tours and activities are only available on specific days.

To save time, book tours and tickets ahead of time for popular attractions.
However, don't over plan. Keep your itinerary flexible and leave room for spontaneity and mood. By following these tips, you can create a well-planned and enjoyable trip.
Here comes another boring, but necessary part of a trip preparation.
Check if your card is a no ATM fees card - many are! If not, open another travel account.
When planning an international trip, think about how you'll get money while you're away
Using ATMs can be expensive because of the fees. Either bring cash with you, ordering the currency exchange from your bank, or use a no-fee ATM card.
Check if your bank offers a no ATM fees card
Look for banks that offer no-fee ATM cards such as ones in the Global ATM Alliance.
Apply for a no-fee debit/ATM card and transfer money into the account before your trip. Use the card at any ATM in the world and the bank will pay back any ATM fees at the end of the month.
These strategies will leave you with more money to spend on travel expenses. - Some banks may have limitations or requirements for their no-fee ATM cards, so check before signing up. - You might even find that your local bank offers this service already, so no need to switch.
Sign up for a bill pay at your bank.
To avoid worrying about missed payments while traveling, set up automatic bill payments before your trip. Late fees and service interruptions can cause unnecessary stress. Here's what you can do: Contact your bank to set up automatic payments for bills like rent, utilities, and credit cards.
Notify your bank about your trip
This is getting less relevant as most banks don't require this, but in the past, they would block your out-of-town transactions because of suspected fraud or theft. Check if your bank still does!
Have money available for unexpected
Planning for unexpected expenses during your trip is crucial. To make sure you have enough money, follow these steps:
Prepare for emergencies: Save some money specifically for emergencies, like sudden medical bills or canceled flights. This way, you'll feel more secure and ready for anything.

Use travel rewards credit card: Think about getting a credit card that rewards you for making purchases related to travel. This can help you save money on things like flights and hotels. Just remember to pay off your balance every month to avoid extra fees.
This is the hardest step!:)
Because you went into so many details of your trip, while planning, you by now feel you are already on your trip! But you aren't!.. Dang, it's hard to wait until your trip starts, but an excitement is also a pleasant feeling, so nothing to complain about! 😉
You can join different travel forums, or travel chats on Twitter or Facebook if you want to talk (or hear) about your destination.
Try to contain your excitement! :)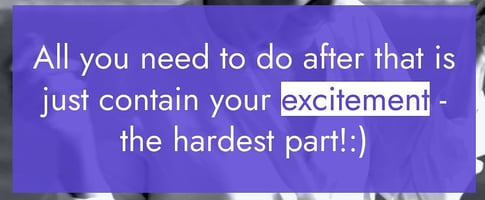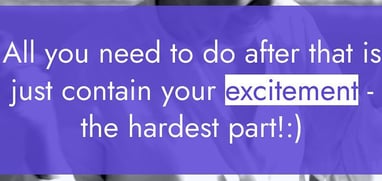 And we you are done with learning how to plan your trip! Now that you know all the steps involved in the trip planning process, you might be even more overwhelmed than before we've started. It's natural. But don't be. Just do one step at a time and remember - your trip will be worth it, and more!
I hope you are all energized to plan a trip now! :) For more information, read other sections of my blog, subscribe to my periodic emails and let's connect on social media!