The cheapest way to travel Europe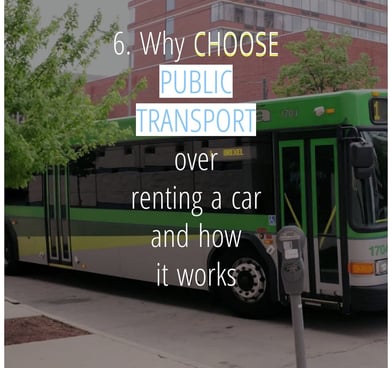 choose Public transport in Europe over A car rental
What is the cheapest way to Travel Europe
The cheapest and also the most Convenient way to travel in Europe is different, depending if you are on a solo trip or romantic/family trip.
If you are looking for the info on how to buy the cheapest air ticket to Europe, you can find it on this page.
Here I will explain to you how to travel Europe cheaply once you have already arrived there.
Many couples like to rent a car, however, I really don't recommend this for a solo trip…. Unless driving a car while reading signs in a foreign language and then parking parallel within 3 mm of other cars is your idea of fun!
Add to that "fun" parking tickets you might get, because the parking rules are not always that obvious! And that is besides worrying if your 2 hours limit is up. PLUS paying for parking and gas.
I do not consider any of this as fun!:). But taking public transport in Europe is very relaxing and cheap. All you are expected to do is to admire your surroundings! That's the job I handle well!:)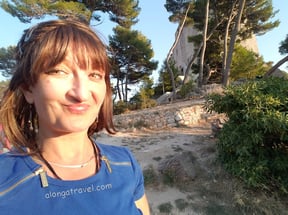 Hello, I am Tatiana. Nice to meet you!:) I am here to inspire people to travel alone and have a blast, while discovering beautiful destinations in Europe. If you would like to learn more about me, you can find it in ABOUT ME section of this blog.
To get the best saving, book your train tickets 60-90 days in advance, as far as the site allows you, but you can book bus ticket any time.
11 Best Train and bus websites and aps for finding the cheapest bus and train tickets in Europe:
RENFE RENFE offers advanced cheap tickets in Spain.
CNSF CNSF provides the cheapest advanced train tickets in France.
.Italo Italo sells high speed cheap tickets to travel in Italy.
Trenitalia Trenitalia is another cheap and good provider for cheap train tickets to buy in advance in Italy.
Eurostar Eurostar sells train tickets between different countries, also in combination with hotels bookings. It's not the cheapest one, but you can find some deals.
Ouibus (cheap buses in France) has a new name now - BlaBlaBus. There have been recent changes and Ouibus, a bus subsidiary of the French state railway, SNCF, has been acquired by BlaBlaCar and is now operated as BlaBlaBus and can be booked under BlaBlaCar website, under bus menu.
BlaBlaCar BlaBlaCar is the long distance carpooling service that makes your trip the most affordable. Great for people on the tight budget! Now, comes with a bus service as well, after acquiring Ouibus.
WESTbahn WESTbahn is a railway company operating express train services in Austria.
Flixbus FlixBus lets you book the cheapest buses all over Europe. The bus stations are usually on outskirts, but its very budget friendly. Start or end your journey during the daylight hours, if you're a solo female! They have night buses that are the cheapest, that are useful for people on the tight budget. Once again, I do NOT recommend taking them , if you're a female due to the bus stop's remote location, as a rule. Even if you take a taxi to that bus stop, you'll be waiting at night possibly alone on a bus stop. But FlixBus is wonderful for daytime trips!
Trainline is a GREAT booking app for both trains and buses in Europe, including the UK, Germany, France, Italy, and Spain. You can book different operators, like; RENFE, CNSF, .Italo, Trenitalia, Eurostar, Ouibus (cheap bus in France), WESTbahn, OBB. The price will be slightly more expensive than ordering directly from any of the listed operators, if you're not from Europe, but keeps all options together! Or just go directly to the listed operated, I will post the links at the bottom of the page. P.S.Travel hack alert!- Trainline charges no booking fee if you use a European-based computer or use a VPN to browse with a European IP address.
DB Navigator is Germany's national train service and lets you book German trains, but also offers train schedules all over Europe.
Use mobile apps for directions, the routes, and wait time for your public transportation.
6 Best APPS For navigating inside the city:
CityMapper CITYMAPPER shows you the timetables of trains, buses, taxis, Uber or Lift, how long it will take and an estimated price.
Google Maps. Google maps is one of the first GPS navigation options for almost any type of transportation. It gives you departure and arrival times estimation, and it's available off-line! So it works even when you put your phone into airplane mode to save your phone's battery power! And it's a very good idea to do that, since GPS tends to drain it a lot!
Google maps is a great navigational app when it works properly! Unfortunately, sometimes it gives you wrong directions. It's an unpredictable occurrence, but it won't take you too far off, and will correct itself soon. Still, back when I had heavy suitcases with me times;), it was not very pleasant to walk around a block in circles. Nowadays I don't care much, my carry-on is very light!:) One extra block once in a while won't kill me and I always give myself an extra time when traveling between cities to provide for unpredicted. That keeps my trips stress-free!
WAZE. Waze for public transport helps you track your bus and shows you exactly where a bus is on its route and how long before it gets to a particular stop.
Cabify CABIFY is an easy ordering and ride estimation app for taxis. Use it if you arrive at night, especially if you are solo female traveler. Though I advice not to book any tickets that make you arrive to a new place at night. But sometimes one can't just help it.
Omio OMIO helps to book trains, buses, flights, ferries, cars.
Rome2rio – RomeToRio is the best trip planning site for both inside the city AND between the cities and countries! You can see the approximate travel times, routes, and costs of each transportation mode. This my favorite and the first choice!
Also, most large cities have their own apps for both navigation and public transport. Download their apps before you leave for your vacation!
Public transportation ticket options inside a city.
Public transportation system is about the same in every large city of the world. Here are your options:
· Buy single ride ticket at a machine at the metro or tram stop. Usually allows 1 transfer and last 60-90 minutes. Many cities allow to purchase tickets and travel cards on-line.
· Pay the exact amount to the bus driver, no change. Keep in mind, some bus drivers on busy routs refuse to sell you the ticket and expect you to buy them at Tobaccos/newspaper booth. On some buses you can only pay with exact COINS amount. Also, the price on-board is more expensive than pre-paid ticket and doesn't allow a transfer.
· Buy a pay-as-you-ride card. The card costs 1-5 euros + you need to load the amount you plan to use. It also gives discount in stores in some cities. Most cards will refund you the cost of the card + unused balance on the card.
· Buy an unlimited day pass, if the city has it. If it doesn't – there could be daily cap on the amount charged on your pay-as-you-ride card. Not every city has it, so check in advance.
· Buy the 3-7 day public transport card, if that brings you larger saving. In most cities you can use it for either mode of transportation, but in some cities – only for certain, like either metro, or bus.
· Buy a city pass card that includes unlimited public transport if you plan to visit museums or attractions.
· There are monthly passes, with different prices for the residents and the visitors.
· Many cities have 10 tickets bundle, which provides a good saving. Example: Barcelona 10 metro rides card for €11.35 , so 1 ticket is €1.13. A single regular ticket is €2.35, the saving of 1.22 euros per ticket!
· Airport tickets. You can pay to the driver €5-6 (usually 1 euro more) or buy on-line. Store on the phone or print out.
Once you bought a pass you need to swipe it on a scanner, either aboard the bus or on the gates to enter and exit (metro)Find that scanner, or you might get fined.
It is all less confusing than it sounds. The only time I get somewhat confused is when the city has different prices for different zones, like in Zürich, for example. So, you really need to figure out in advance which zones you will travel to by looking in the map on their public transport website. Once you did, buy the unlimited pass for that zone, it will save you a LOT of money! Or just buy the more expensive zone 2-3 daily pass and you will be covered and no need to figure anything out.
How to figure out which pass or ticket for public transportation to buy.
If you plan to use public transport at least twice per day, it makes sense to buy an unlimited day pass and just keep swiping it, instead of going through a hustle of buying single tickets every time.
Remember that in some cities a bus driver won't even sell you a ticket and you would have to buy them at Tabaco or newspaper booth. That especially is true for Italy.
3-7 days pass usually makes more sense if you plan to stay that long in your city.
City pass makes sense if you plan to visit some attractions and museums that are not free. The cost of the card is less than visiting 3-4 attractions from the list in my experience. The card often includes unlimited public transportation for the duration of the pass. Some cities save you a great deal of money and a must, others save slightly less. The best benefit is — it eliminates hassle, and buys simplicity which is priceless, in my opinion!:)
You can buy it online, which is an easier option. They are refundable if your plans have changed. Another option would be to buy once in the city, but there will be limitations on where to and which hours to get it.
Let's connect on social media with links below and sign up for my periodic emails so that you won't miss my latest blogs!
Let's connect on social media!
If you would like to support my work, that would be greatly appreciated! Thank you!
Subscribe to my periodic newsletter and never miss my latest post
Copyright © Alonga Travel 2021